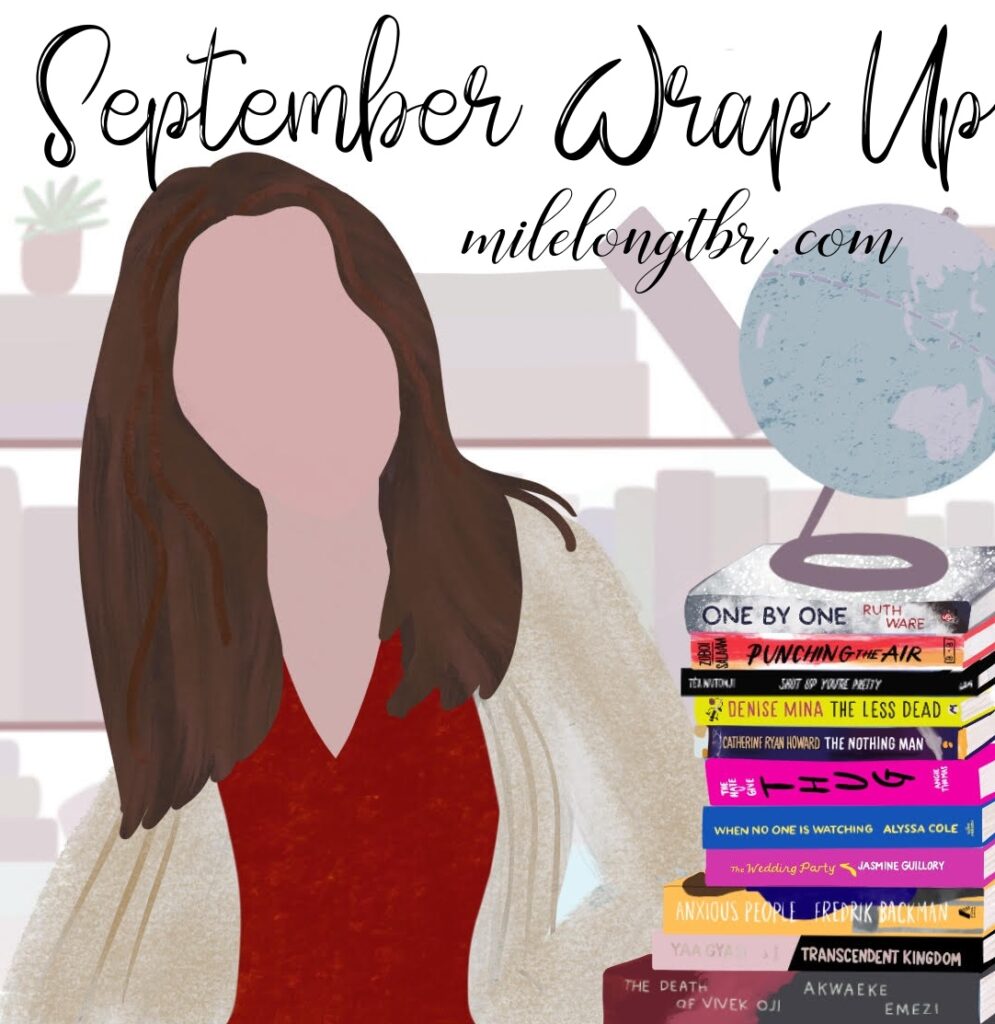 The month of September turned out to be a solid reading month for me.
I read 11 books. This is a solid number for me, especially considering I probably watched more TV this month than I did the entire first half of the year. Between hockey playoffs, football starting, and a Gilmore Girl rewatch I have zero regrets.
And, as always, it's about quality over quantity here.
Thankfully, most of my reads were 4- and 5- stars for me, though there was one dud.
Alright, here are the books!
---
Books I Loved
---
1. Anxious People by Fredirk Backman
This was easily my favorite read of the month. I've been looking forward to it for ages and was so thriller to receive an ALC from Libro.fm so I could listen to the book.
Everything about this book was perfection. The audio was fantastic, the dark comedy masterfully executed, the characters deeply human and real.
Fredrick Backman again got right to the heart of human nature, at a time where we need to be kind and understanding of one another more than ever.
I went into this book not knowing much about the plot and I highly recommend that approach. Like the characters in the book, just buckle up for the ride. The magic is in the journey.
Go check out my full spoiler-free review here.
---
2. Transcendent Kingdom by Yaa Gyasi
If I were handing out Superlatives for the month, Transcendent Kingdom would win "Best Writing." I hung on every word Gyasi wrote in this lyrical novel.
The story centers around Gifty, daughter of Ghanaian immigrants who grew up in Alabama before moving to continue her education, first at Harvard, then at Stanford where she studies neuroscience.
This is a great work of literary fiction that gives readers a lot to think about on a number of subjects.
Listening to my favorite narrator Bahni Turpin tell the story only made it that much more incredible. Thank you to Libro.fm for providing the ALC.
---
3. The Hate You Give by Angie Thomas
This is one of those books I avoided reading because it was so hyped I figured there was no way it could live up.
I'm so glad I finally gave this book a chance- it's defintely deserving of all the praise and buzz you've no doubt heard.
This YA novel is about Starr, whose best friend Khalil is shot multiple times by a police officer at what should have been a routine traffic stop. She watches him die on the street.
He's unarmed, compliant, and sober.
He's also Black.
As if witnessing that trauma wasn't enough, Starr also has to deal with the normal trials of being a teenager; relationship drama with her friends, family, and boyfriend, and how being 'the witness' puts her in a difficult position with each of them.
Although I think I preferred Thomas' other novel On the Come Up. this is a must-read.
---
4. When No One Is Watching
A couple things that immediately elevate a book in my eyes is the ablitity trancend genre and discussing important themes in a genre book.
When No One is Watching did this masterfully, though unfortunately for other readers this has been a reason to give a critical review.
This book is categorized as a thriller. It's definitely got elements of a slow-burn thriller with lots of domestic suspense. There's also some romance going on.
What really takes this a step above is the way Cole incorporated a number of timely social issues into the story, as she tells of the gentrification happening in Brooklyn and the negative effects this has on long-time black residents.
The "worst-case scenario" Cole imagines is a true horror of a different kind- the monsters that are 100% human rather than supernatural. The tension is high all the way through while I listened to the book, but it's the ending really blew me away.
This is definitely worth the read, however, I do suggest going into it with the above in mind- not when you're looking for your typical thriller.
Thank you to Libro.fm for providing the ALC.
---
5. The Nothing Man
If you are on the lookout for a through and through thriller, The Nothing Man should definitely be on your TBR.
This is a bit of a slow-burn too, as we learn of horrific crimes- serial murders and rape that happened years ago, with no trace of the perpetrator left at any of the scenes.
I loved the book within a book element. The survivor of one of the Nothing Man's crime writes a true crime book about him, and the dormant killer comes out of the shadows,.
The ending of this book really blew my mind and it's probably the most satisfying thriller resolution I've read this year.
Many thanks to NetGalley and Blackstone Publishing for the ALC.
---
Books I Enjoyed:
---
6. The Death of Vivek Oji
This book was close to being a "loved it" book, but the way the timeline and perspectives jumped around were a bit tough to follow at times. That ultimately detracted from my overall reading experience.
Still, it was a gripping story, beautiful and heartbreaking and I am so glad I read it.
While it's obvious going into the book that Vivek dies- it's not clear till the end how and why, and at whose hands. While some of my suspicions about the details were correct, it was a joy getting to know the person Vivek was through his eyes and the eyes of those who loved him.
---
7. The Wedding Party by Jasmine Guillory
This was an example of the perfect book at the perfect time for me.
Jasmine Guillory's books are comfort reads for me and I had so much fun im her world wtih these characters and all the descriptions of clothes and food.
This was the steamiest book of The Wedding Date series that I've read so far, but I was here for it- along with the fun enemies to lovers trope.
---
8. Punching the Air by Yusef Salaam and Ibi Zoboi
This is my first experience reading a novel in verse. Despite hearing so many of you rave about various books and enjoying modern poetry I was very hesitant about trying this format.
Punching the Air is a YA novel in verse and it made me fall completely in love with the concept.
Hearing it is spoken word narrated by Ethan Herrise was a wonderful experience as he tells the story of Amal, a wrongfully convicted teenager.
There is so much emotion and movement within the story and the verse excels at everything modern poetry sets out to do.
The story is trying, heartbreaking, yet so beautiful as Amal tries to hold on to hope despite dire circumstances and use his art- his words to rise.
This book is a must-read … and it's a quick one, so there's no reason not to add it to your TBR.
Many thanks to Harper Audio and NetGalley for the advance copy.
---
9. One by One by Ruth Ware
I'm a HUGE Ruth Ware fangirl, so despite hearing lukewarm feedback about One by One, which was one of my most-anticipated books of the year.
And overall I enjoyed it. It has Ware's trademark atmospheric vibe, as the characters find themselves snowed in at a luxury ski chalet. There are some decidedly unlikable- though interesting- characters here, which made it a fun read.
My main issue with the book was the pacing.
I don't mind a slow-burn thriller at all– and this one certainly started out in that direction.
The tension built well enough, but unfortunaltely for me the climax came way too soon, and then things fizzled out and dragged on for too long for there.
If you're frustrated with thrillers that end abruptly or with too many loose ends you may appreciate this aspect more. Personally, I'd have preferred less.
---
10. Shut Up You're Pretty by Téa Mutonji'
---
This collection of stories is captivating, intimate, and beautiful- even as it deals with a number of difficult and unsavory subjects.
It's a collection of short stories about a girl who is trying to discover and understand herself as she grows up.
The writing was great and the narrator brought it to a new dimension withthe rhythm of her storytelling.
This is a great book for those looking for stories that deal with a broad range of themes that involve Intersectional Feminism.
Many thanks to Bespeak Audio Editions and NetGalley for the ALC.
Did Not Like:
---
11. The Less Dead by Denise Mina
I went into The Less Dead with high hopes after enjoying a crime thriller from the same author last year. Mina's Conviction was a Reese's RBC pick and I thought I was in for another good read.
I was wrong.
Guys, I hate writing negative reviews, but there just isn't a lot of good to say about this book.
An attempt was made to humanize sex workers and get readers to consider what may lead a person to that life. I appreciate that.
Unfortunately, it wasn't entirely convincing and the book as a whole was a bit of a mess.
Also, the book has essentially EVERY trigger warning/ content warning imaginable.
Many of these difficult elements seem to be there for shock value and have no bearing on the plot.
You can check out my full review here.
---
There you have it, friends!
Ten hits and one miss to close out the month.
Now on to ALL THE SPOOKY READS for October!
Have you read any of these books yet?
Which ones will you be adding to your own TBR?