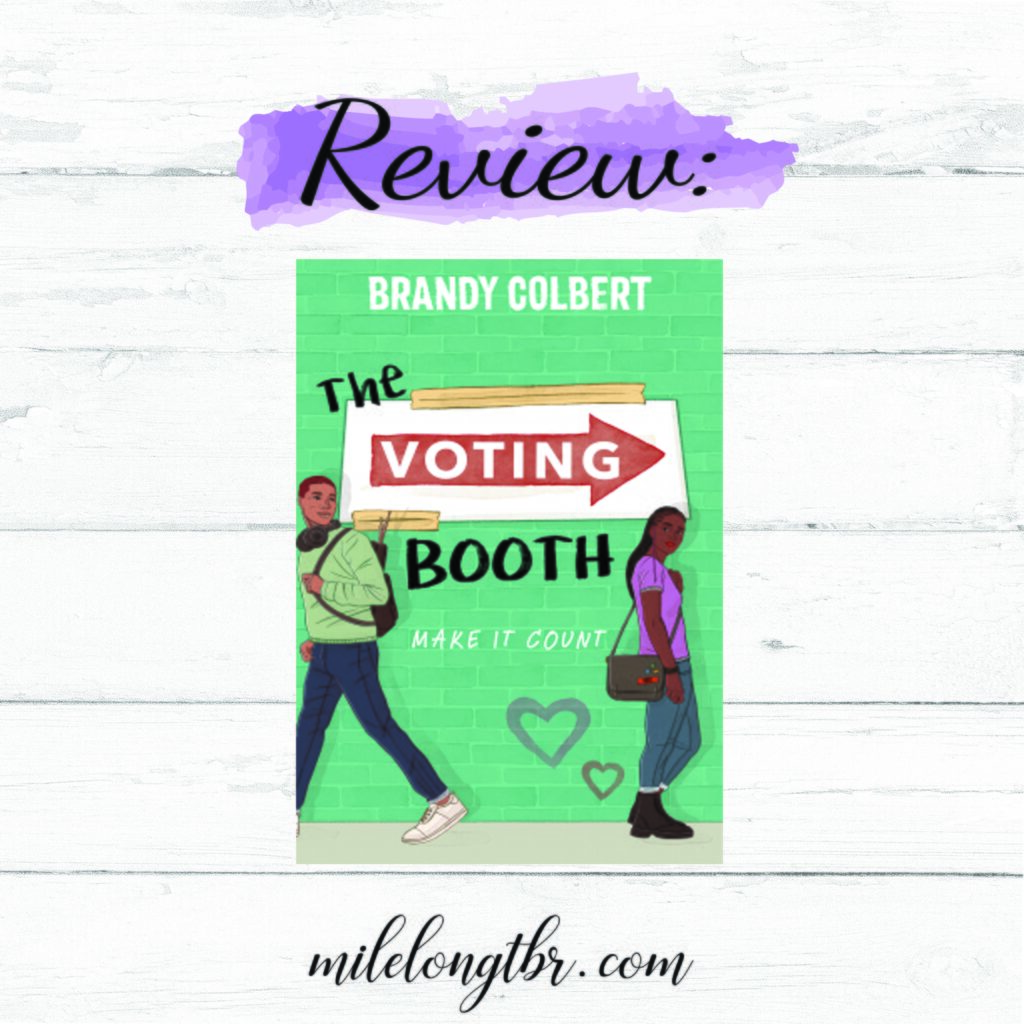 The Voting Booth by Brandy Colbert, out earlier this week, is a great contemporary YA novel that weaves important and relevant topics into a fun and fresh story about two teens on election day.
In today's world, it is increasingly important for teens and young adults to take a stand and get involved in conversations about important matters. And it's important for adults to have better insight into these topics as well.
Discussion of the importance of voting? Voter suppression? No uterus, no opinion? How to be a better ally? Check, check, check,  and check.
Keep reading this review of The Voting Booth to see why it's such an important book to add to your TBR.
Synopsis:
The Voting Booth by Brandy Colbert is a fast-moving YA novel that provides timely commentary on why it's important- especially for young people- to use your voice in voting. 
It's election day and Marva is here for it. She's a warrior for social justice and using her voice and vote to speak up for what she believes in. When Duke gets turned away from the polling place and Maya intervenes in to make sure he isn't being prevented from casting his ballot. Even if that means skipping school.
When it turns out he's at the wrong polling place it unfolds into an all-day adventure to try to get Duke's vote counted amidst a host of obstacles. Marva's got her own set of problems- a missing cat and a boyfriend who doesn't quite 'get it'. 
Analysis:
I love this book for the Own Voice YA representation, fast-moving story, and the way it tackles a bunch of important topics. There's a lot of insight and real talk here. I appreciated it, but I feel like it's especially important for younger audiences right now. Being that Maya is Black and Duke is mixed there's a lot of insight into how this impacts their daily lives and interactions with these communities.
A few of the things that didn't work for me:
Unfortunately, while the characters did have layers and I admire their passion and dedication to the things that are important to them, the didn't really come alive for me in this book. This may have had something to do with the choice of narrator.
Also, I didn't really feel that the flashback scenes flowed as well as I'd like.
And then there's the romance aspect.
I wasn't quite feeling it, and my general opinion is to either go for it or leave it alone when it comes to romance. This book stayed kind of in the middle. I found it so refreshing that the book was more about the teens' passions and activism than their love lives and wish we could see Maya and Duke remain platonic to really let this shine. 
Takeaway:
But, even with those few technical things, this is still a solid four-star book for me. I've seen a lot of praise for The Voting Booth and it is definitely worth reading- and putting in the hands of young voters this year. 
Many thanks to Book Group, Disney-Hyperion and NetGalley for the advance copy.
Also, a huge thanks to Dreamscape Media and Libro.fm for the ALC.