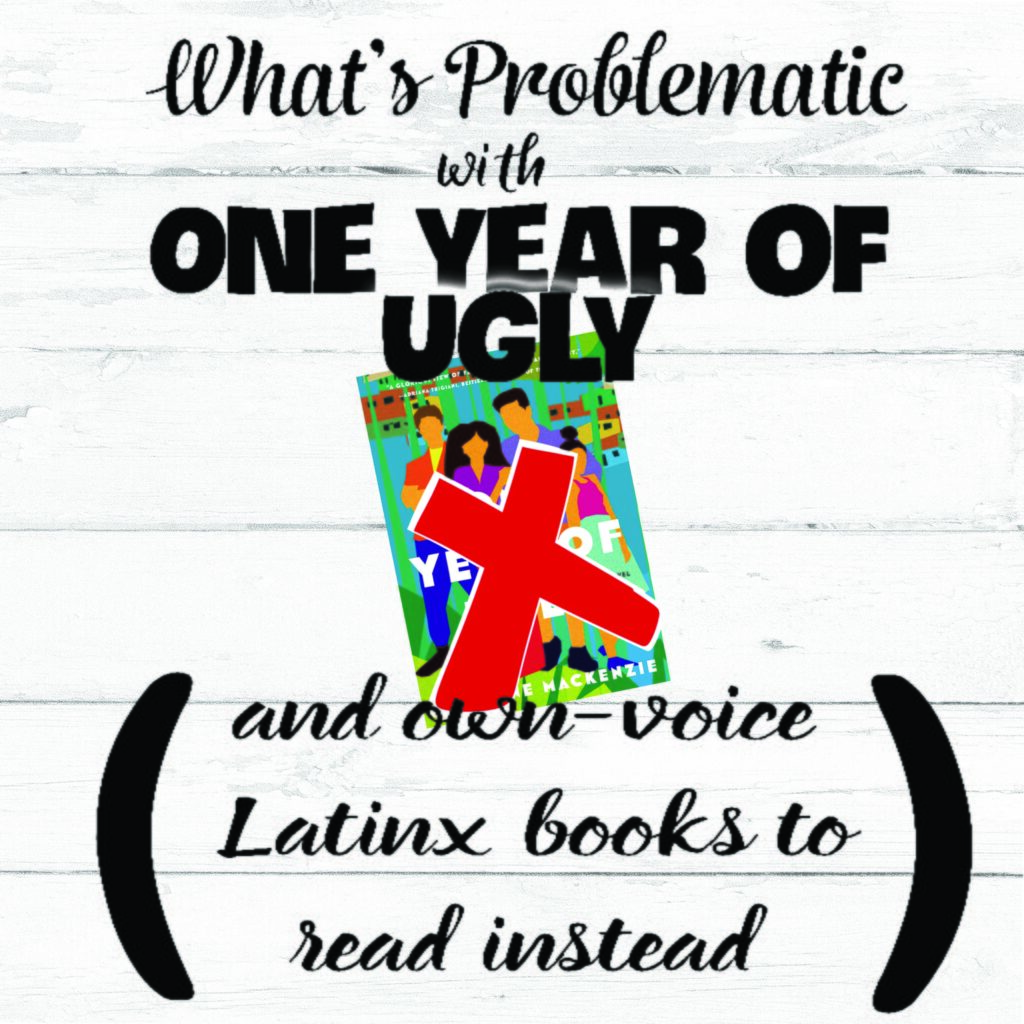 Earlier this week I posted in support about One Year of Ugly, a book which I later realized contains content that harms multiple marginalized communities.
Thanks to Jennifer at Blunt Scissors Book Reviews for taking the time to bring this to my attention and discuss some of the problems with me.
I listened to this book on audio while working on other projects and completely missed a paragraph where gender identity is reduced to the punch line of a joke and a marketing device to sell novels. This is definitely not something I'm ok with and cringed when I saw the passage.
Additionally, some own voice reviewers have said this book is not an accurate description of their culture and perpetuates certain stereotypes.
I apologize for endorsing a book with content that goes against my values and is harmful to those communities which were misrepresented.
For anyone who saw my recommendation, I definitely am not in favor of reading or purchasing the title based on that content.
I was just starting a reread of the book because I knew there were parts I missed but never imagined there would be something so blatantly insensitive in these pages. I'll definitely be reading and examining more closely before supporting a book, particularly one which is not an own-voice narrative.
While I think that writers can write all kinds of different stories and characters, I have definitely put an emphasis on own voice writers in my TBR as I think that they are best suited to tell their own stories.
Mackenzie simply failed at her purported mission of shedding light on the difficulties and mistreatment the Venezuelan immigrants in Trinidad face due to her lack of sensitivity and respect for marginalized groups.
Please consider in joining me in emailing the editor with questions regarding how the harmful content made it to print and calling them to employ editors who look for authenticity and sensitivity when authors portray demographics they don't personally represent.
---
My personal reading is sadly lacking in Venezuelan literature. Though I've since added a few titles to my TBR, I'll keep my recommendations of Own Voice Latinx books to books that I've personally read.
These titles were all standout reads for me and all have great writing as well as representation of different parts of Latinx culture with authors from various countries.
---
1. Next Year in Havana by Chanel Cleeton
I love Cleeton's writing and recommend all of her historical fiction books. If you're looking for the forbidden love element and a story of people leaving their home country in search of better opportunities, Next Year in Havana is a great starting point.
---
2. You Had Me At Hola by Alexis Daria
This steamy romance also addresses elements of Latinx culture such as familial expectations and gender roles. If you're looking for a book that is fun and entertaining but has great representation and something important to say this is the book for you.
---
3. I Am Not Your Perfect Mexican Daughter
Part coming of age, part family drama, with some humor and mystery thrown in, this Young Adult Novel explores a number of aspects of Mexican culture. The discussion of mental health was especially insightful.
4. Running by Natalia Sylvester
This book about a Cuban American teen whose father is running for president and the complications that arise in her life due to his campaign.
I loved absolutely everything about this book from the writing, to the story, Mariana's character, and the fact that parts of the book are based on real events. Mariana's disillusionment with her father was really well captured and a great exploration of growing up and seeing things as they are.
I also love the message in the book about the importance of speaking up for what you believe in.
---
Thanks for sticking with me!
I hope these books give you a good starting point for own voice Latinx books to read! For additional own voice recommendations look here.
Let me know in the comments if you've loved any of these titles, or if you have other own voice recommendations from Latinx writers.