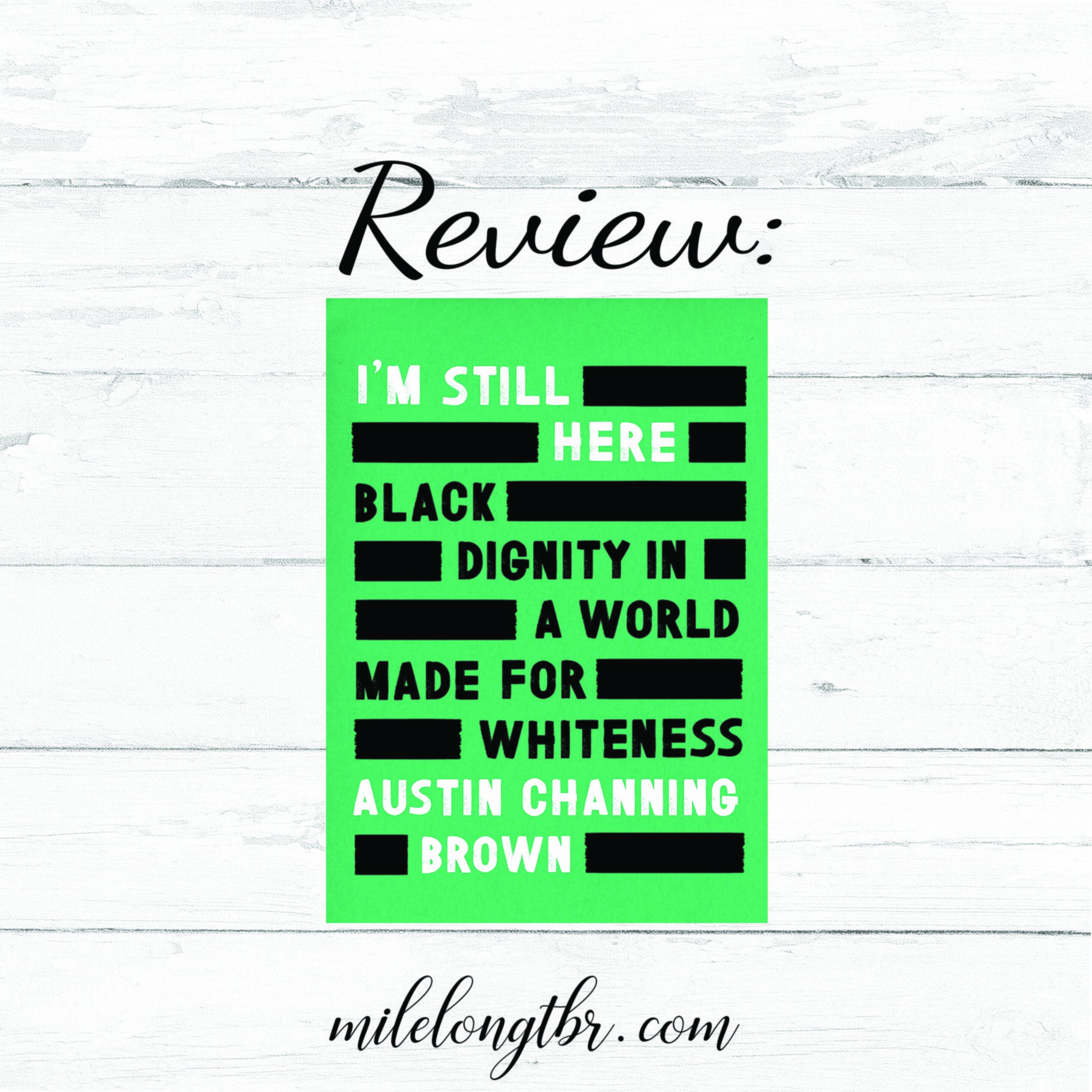 I'm Still Here: Black Dignity in a World Made for Whiteness is a powerful book that explores author Austin Channing Brown's experiences with racial inequality. From her upbringing in a white neighborhood in Ohio to her career working in predominantly white offices, she's dealt with it all; microaggressions from well-meaning "nice" white people, discrimination, being the target of racial slurs and looks of disbelief that she is, in fact, the person in charge.
Hell, she's even met with looks of disbelief that her name is, in fact, Austin Channing Brown.
Now, I'm all for androgynous names for girls. But the fact that her parents christened their baby Austin because it's a white man's name, so that later in life she, as a black woman, could get a seat at the table because she hadn't already been discriminated against by someone who only read her name on a job application should speak multitudes about just how far we are from eradicating racism in this country.
If you can't believe people have to worry about such a thing-YOU NEED THIS BOOK.
If you think that racism is a thing of the past -YOU NEED THIS BOOK.
If you think that racists are only the overt white supremacists -YOU NEED THIS BOOK.
If you are working to become a better antiracist ally -YOU NEED THIS BOOK.
If you ARE NOT working to become a better antiracist ally- YOU REALLY NEED THIS BOOK!
---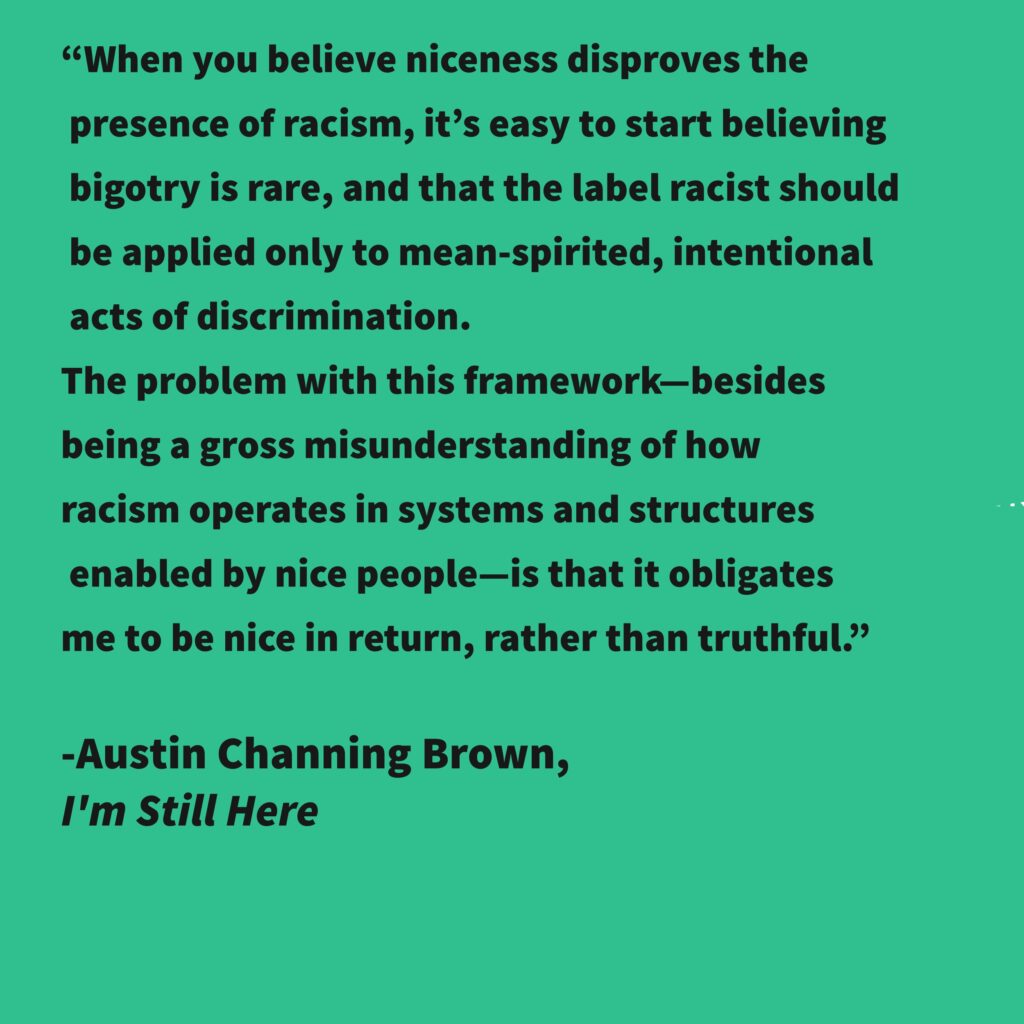 ---
While I primarily classify I'm Still Here as a memoir, (some chapters read more like essays) this is not merely a personal account of one Black woman.
That's not to say that all Black stories are the same, but rather that Brown does a phenomenal job of discussing the broader scope of how these experiences are shared in the Black community, and examining why these problems exist and why they're so harmful.
And that the racial inequality ingrained in our society creates a similar set of challenges for marginalized individuals, regardless of whether they live across the street or across the country from each other.
To say this is a powerful read is an understatement.
It's even more powerful listening to it as an audiobook, where Austin Channing Brown tells her story in her own voice. I love listening to self-narrating memoirs and I'm Still Here is a fantastic one to experience this way. She brings emotion and rawness to her story and it only makes what she has to say pack that much more of a punch.
Brown discusses her earliest encounters with racism and how it's impacted her education, career, and family life.
The chapters that stood out most to me were the ones that followed her experience in education, from early school days through college. Particularly, the whitewashed history that was taught and Brown frequently called out and how from a young age Brown had to actively seek out and be her own advocate for finding representation in literature.
While I think it's commendable that Brown took her education into her own hands, this is yet another failing of our system. This should not be the case and diversity in school reading lists should be the norm rather than the exception.
The one thing that concerned me going into this book is the fact that I have a strong preference to not read books that have religious overtones.
While it's evident that the author's faith is important to her, the religious discussion did not dominate the conversation or come off as if she were trying to preach to anyone.
If this is something you tend to avoid as well, I'd still recommend going in with an open mind and giving it a read. I've seen this book categorized with religious nonfiction, and while Brown certainly discusses her experiences with religion, I'm Still Here is an antiracism book. The religious aspect is examined through the lens of racial inequality and I feel could be useful and appreciated regardless of your personal affiliation as a reader.
---
Takeaway:
I'm so glad that Reese Witherspoon selected it as one of June's RBC books. Without her recommendation, I (and I'm sure many other readers) would likely not have chosen or even discovered it. If you're looking for another summer read, go check out my review of her other June Book Club pick, Lucy Foley's The Guest List.
I'm Still Here reaffirms so much of what we've been hearing over the past month about structural racism, white fragility, & social justice.
But let's be real.
This book was published two years ago.
These messages are not new. The need for change did not arise when George Floyd was murdered a month ago.
Those with privilege have been complicit too long & it's beyond time to listen up to Black stories and speak out against social injustice.
"Doing nothing is no longer an option for me."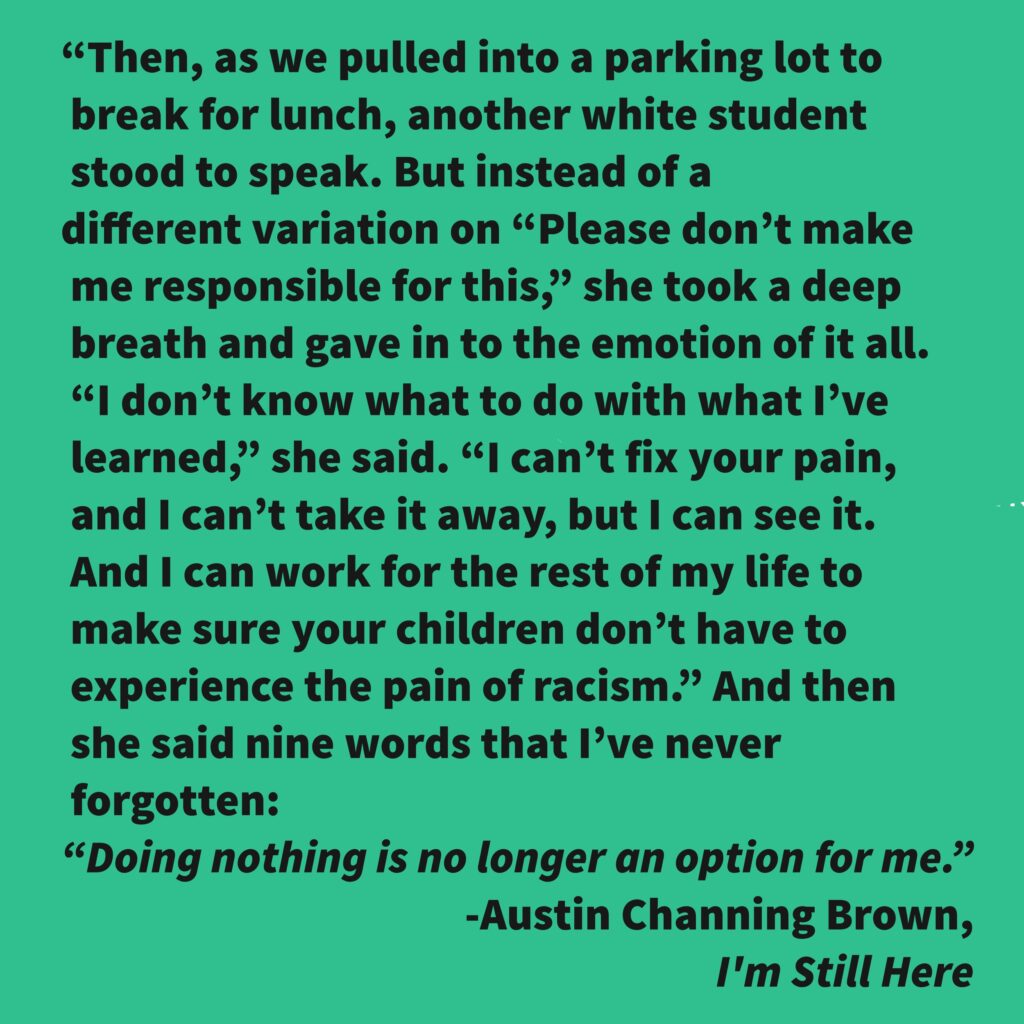 Luckily for us, Austin Channing Brown is still here, and so is her book.
I'm Still Here is without a doubt a five-star book. Whether you're just starting to do the work or looking for more books to add to your antiracist TBR, this is bound to be one of the most important books you'll read this year.
Go order your own copy of I'm Still Here: Black Dignity in a World Made For Whiteness from your favorite Black-owned book store or consider an audiobook to hear Brown tell her story in her own voice.