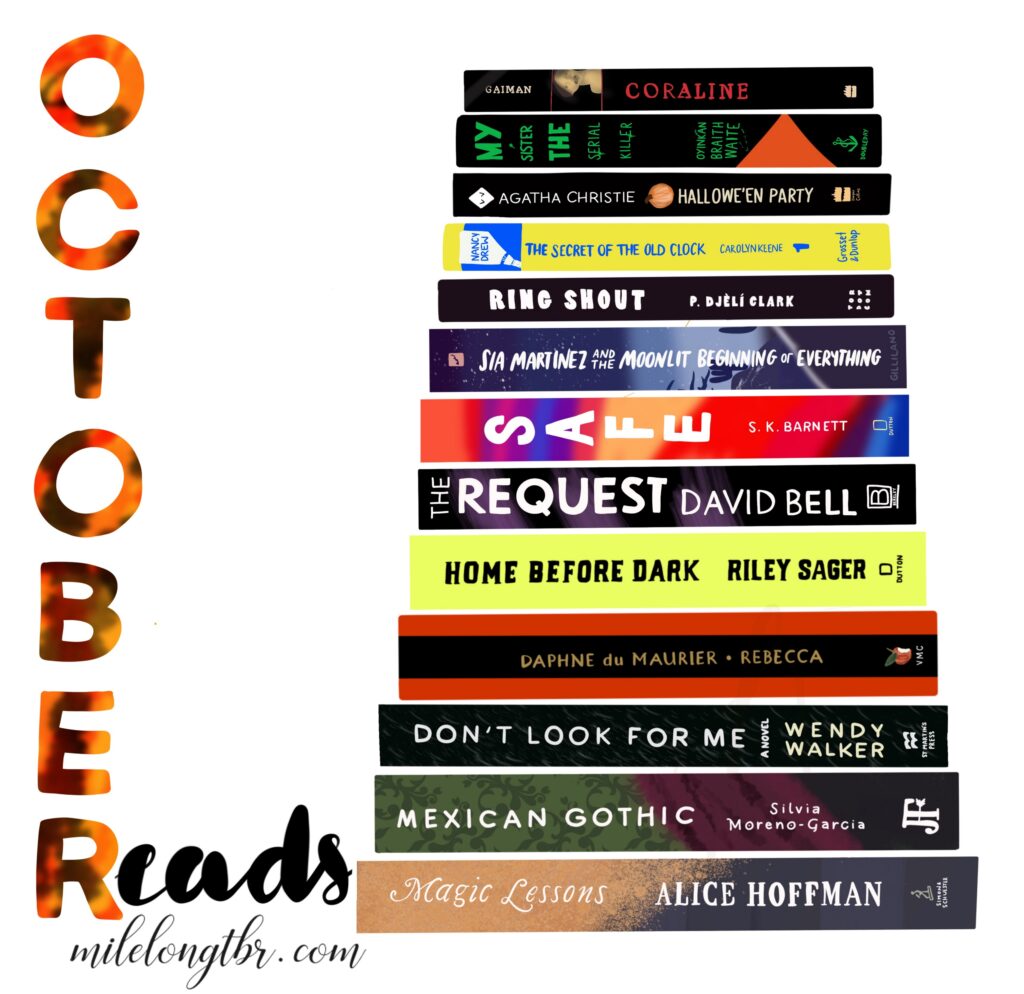 It's hard to believe October is already over. It's one of my favorite months, both for reading and otherwise. I have been planning my spooky month TBR since May, and while I didn't get to everything on the list, it was a great reading month overall. October reads are the best.
I think I really read a diverse assortment of books here- everything from classics to thrillers to magical realism and even some sci-fi and horror. Some of these genres are definitely outside of my comfort zone, but I'm glad I made the choices I did.
There are thirteen books here overall, so let's jump in and look at the books I loved, the ones I liked, and the ones that ultimately were not for me.
October Reads I Loved 
Ring Shout
This book was probably the furthest out of my comfort zone, yet offered the biggest reward. I've seen Ring Shout on many must-read lists this year and hope from this review you can see why it earned a spot there. This is my first read from award-winner Clark and I'm eager to check out his earlier works.
You can read my full review of Ring Shout here. 
Don't Look for Me
This one is up there as being one of my favorite reads in one of my favorite genres- thrillers- this year. Don't Look For me is the story of a woman who disappears. The signs all point to her walking away from or life and family willingly- but did she?
You can read my full review of Don't Look For Me here.
Rebecca
This was my first time reading this Gothic classic all the way through and I'm so glad I finally did. The book is atmospheric and chilling- the perfect classic read for October. I loved everything Du Maurier achieved in writing this. For those interested in the film adaptations of Rebecca, check out my guide to three different versions here.
Magic Lessons
Pratical Magic is one of my favorite books, so this prequel was one of my most anticipated releases of 2020. It did not disappoint. Magic Lessons is a beautiful story that takes us back to the Salem Witch Trials and the beginning of the Owens line. It's filled with the magical wisdom and ethereal prose readers have come to love from Hoffman's books and it's sure to be loved by old fans as well as those just discovering the series.
---
October Reads I Really Liked
---
Sia Martinez and the Moonlight Beginning of Everything
Sia Martinez and the Moonlight Beginning of Everything is a great YA story that has a little something for everyone. It's a coming of age story, there's a mystery element, a love story, family drama, a bit of sci-fi and magical realism, and discussion of  important topics such as immigration, ICE, and sexual assault. 
It's a great story and perfect to listen on audio.
You can read more of my thoughts on this own voice story here.
Safe
Safe is a wild ride. When a missing girl returns home after many years it should be a wonderful reunion. But it quickly becomes clear that everything is not as it seems- who is fooling whom in this wild, mysterious thriller?
My Sister the Serial Killer
I really enjoyed this short, smart novel about a young woman whose younger sister has a nasty habit of killing her boyfriends. I loved the story, characters, and satire- my only complaint here is that I would have liked more.
The Request
Another twisty, edge of your seat thriller, this one featuring old friends bound by a dark secret. I did guess a couple of the surprises, but there were so many and things were changing so fast it's hard to guess how everything comes together.
Home Before Dark
I loved the latest from Riley Sager and the fun, creepy ghost story set in a haunted house in a small town that we get in Home Before Dark. It was a fast read- I loved the multiple timelines and the book within the book.
Coraline
I've loved the story of Coraline since the movie was released, but this was my first time reading the Gaiman novel it was based on. I found them to be very close in plot and characters and enjoyed reading the book and the eerie world that the author creates.
Hallowe'en Party
This Poirot novel takes place after a party on Halloween- where a little girl says she's witnessed a murder and then ends up a murder victim that same night. Fans of Christie's other works may recognize another character- Ariadne Oliver who also makes an appearance in other books like Elephants Can Remember.
---
October Reads That Weren't For Me
---
Mexican Gothic
This book has been getting a lot of buzz, but I think ultimately it wasn't a book for me. I really enjoyed Noemí's character and the creepy atmosphere of the house. Ultimately, though, the pacing of the novel made it hard to get into and I would have liked the book to be a little more developed and for the focus to be more on the scary than the bizarre.
Nancy Drew The Secret of the Old Clock 
I really wanted to enjoy Nancy Drew for my first time reading as an adult, but ultimately found the writing stiff and the characters a little too idealistic for my taste. I was having a hard time getting into it, but eventually, it got interesting enough for me to finish. Of course, everything worked out perfectly for everyone. I didn't hate it, but I'm not in any rush to read more of the series.
---
Alright, there's a quick take on each of the books I read in October. Have you read any of these ones?
I'd love to hear your thoughts and your favorite book of Spooky month.