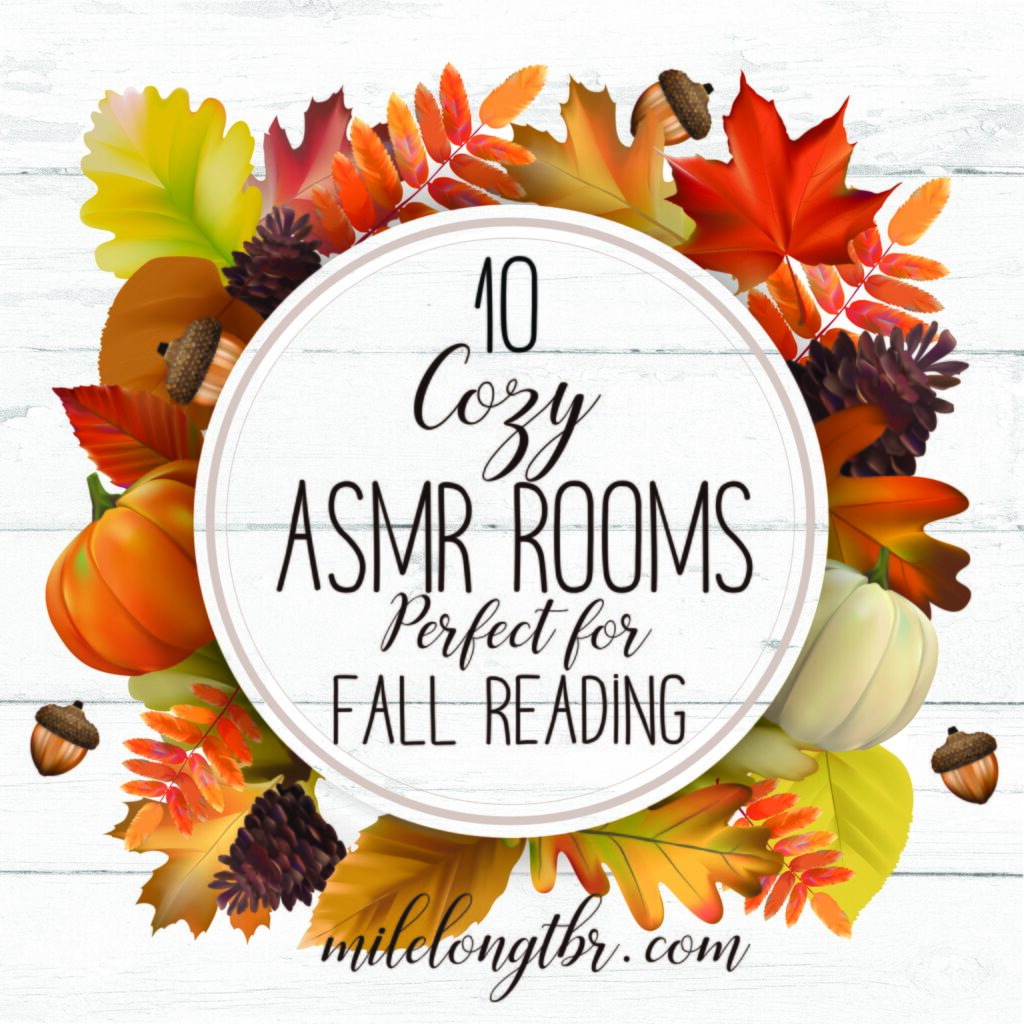 ASMR rooms have been one of my favorite additions to my reading life in the past few months.
For those of you unfamiliar with the term, ASMR is an acronym for Autonomous Sensory Meridian Response, which essentially means that the noises here are meant to soothe and trigger a brain response that leads to deep relaxation. This is, of course, an overly simplified explanation, but you can read more about the science behind ASMR here.
There are over 15 million ASMR videos on YouTube, with videos featuring everything from haircuts, book pages turning, and eating being done in a repetitive and soothing enough manner that people want to watch for this response.
Personally, I love ASMR rooms, which feature animated scenes and accompanying background noise to create whatever ambiance is desired. I've found this not only relaxing and enjoyable but that it helps improve my focus when reading and my productivity when writing. They're also great for studying and getting work done on the computer- any time you want a little white noise in the background.
Here are 10 ASMR rooms with autumn vibes that I'm loving this fall. Pick one, light a scented candle and let's get reading!
---
1. Autumn Porch Tea Time
Name a better spot to have a morning cup of tea or coffee– I'll wait.
This video takes you to a beautiful cabin and has nature sounds to relax you and transport you to an atumnal paradise. This video is my favorite for days I have time to sneak in some early morning reading.
2. Easy Breezy Fall Study Ambience
This video features birds chirping, chimes, and beautiful falling leaves in the background. I especially love it for the inspirational note and picture of the cat on the desk. Our desks might not be this clean and organized, but with this video, it's not hard to imagine! I love this video for when I'm working on my computer.
3. Rainy Day Coffee Shop Ambience
This video transports you to the perfect local coffeeshop. The ambiance is super cozy, and the soft classical music in the background is just like what you'd find in a café. There's also rain sounds in the background, providing another level of depth to the video and the steaming mug of coffee is so inviting.
4. Rain Sounds & Relaxing Music
A crackling fire, piano music, and rain sounds… what could be more cozy? This room is set in a beautifully lavish living room, and let me tell you this is the perfect setting to read a gothic thriller. This was my ASMR room of choice when I read Home Before Dark, and let me tell you it definitely made the reading experience realistic on a different level.
5. Rainy Night Coffee Shop Ambience
This is a perfect ASMR room for those who like a bit more going on in the background. You've got your jazz music and cozy coffeehouse ambiance, but you'll occasionally also hear footsteps and there are people walking down the street outside for another layer of things happening in the background.
6. Walking Into Autumn ASMR Ambience
This video takes you on a beautiful walk through the woods and it's all about the leaves here. You can hear them fluttering in the air, crunching underfoot, and rustling in the wind. It's so soothing and atmospheric- especially if you live in a place without full seasons like this.
7. Autumn Porch Ambiance
The crackling fire takes center stage in this beautiful outdoor living room. There are lots of fun details here, from the pumpkins scattered across the scene, to the Jack Skellington figure.
8. Ancient Library Room
I'm pretty sure there's nowhere I'd rather ride out an evening thunderstorm than in a room just like this. The crackling fire and storm outside make a very relaxing room. You can also hear noises of someone writing, reading, and footsteps in the library, which brings it to the next level.
9. Rainy Day at Cozy Coffee Shop Ambience
This is a room that's great for those who like a lot going on in the background. This coffee shop looks fun and cozy, and the jazz and rain in the background make it extra inviting. You can also hear the chatter from customers and traffic from the street, so there's a lot of layers of sound drown out anything happening in your own environment.
10. Autumn Farm Ambience
Look at that beautiful autumn sky! This video features a farm and pumpkin patch. There's a running stream somewhere in the background and birdsong along with the occasional gust of wind that moves the leaves and windchimes. It's a great place to do some evening reading.
---
Which one are you trying out first?
I hope you'll give these cozy ASMR rooms a chance next time you're reading and see what it's like to read in one of these inviting environments.