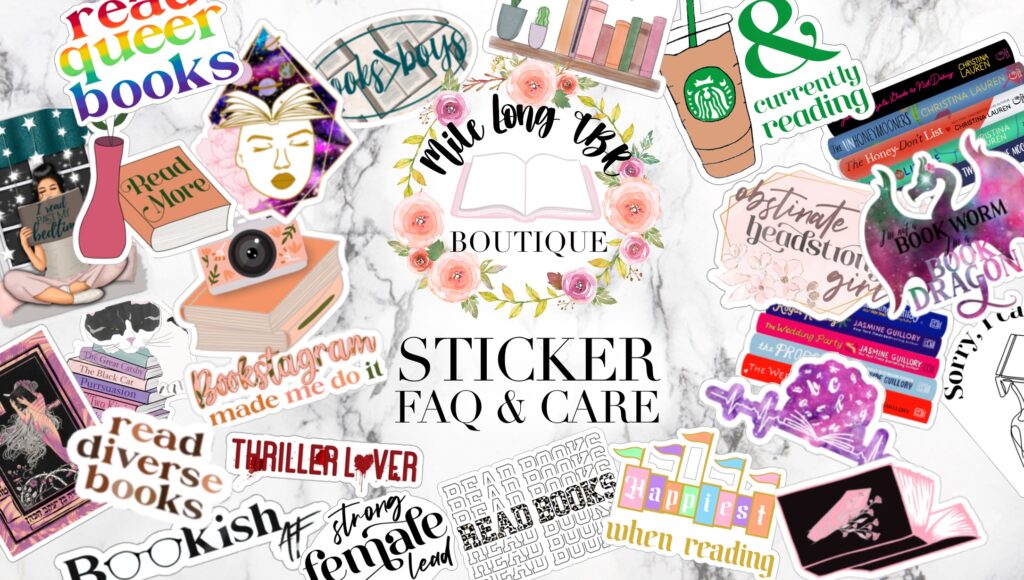 Hello! If you're reading this page, it's probably because you've just gotten your new stickers from the Mile Long TBR Boutique Sticker Shop– so thank you!
This page has everything you need to know about the care and application so you can get the most out of your new stickers. Please note that different stickers have different coatings, so read this guide to see if yours is rated for outdoor use before applying.
Sticker Application
The first thing you'll want to do is choose the spot where you'll place your new sticker.
The type of sticker you purchased will help you decide the best spot.
Our die-cut stickers are rated for indoor use only as it is water-resistant, but not fully waterproof.
A clean, dry surface works best, so go ahead and prepare the item if necessary with soap and water so it's free of dust, dirt and debris. For best results choose something smooth and nonporous and clean with rubbing alcohol before applying sticker. Make sure the surface is totally dry before proceeding.
Once your surface is prepped you'll want to gently peel the sticker from its backing and carefully place it on the desired surface.
The adhesive on both types of stickers is permanent, so make sure you have it in the right spot before pressing down, then smooth it down with your fingers to ensure there are no air bubbles and that the edges of the sticker are flush to the surface.
Paper sticker sheets are intended for planners and journals. They are not repositionable or water resistant, so choose a page in your bookish planner and show your bookish flair!
Sticker Care
As the stickers are not waterproof they should be stuck indoors and cleaned with a gentle cleanser and dried immediately. Do not submerge or put in dishwasher.
Paper planner stickers are not meant to get wet or cleaned.
Sticker Materials
All stickers from Mile Long TBR Boutique are printed with environmentally friendly eco-solvent inks provides extraordinary bright colors