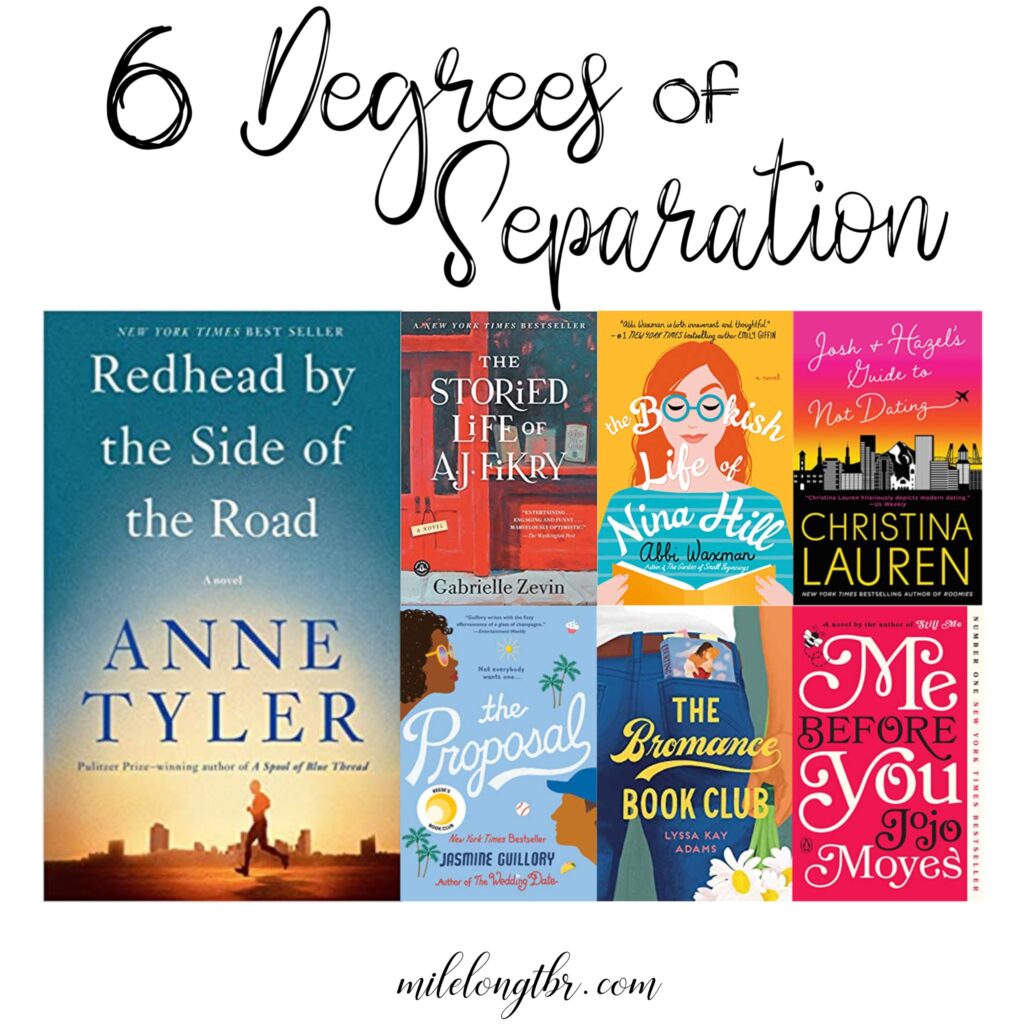 Hi, Friends!
In January I was introduced to the concept of a bookish game of six degrees of separation by Carla @happiestwhenreading .
The concept is simple- make a chain associating the month's title chosen by Kate at booksaremyfavouriteandbest, and see where you end up by linking it to six other titles.
This month's title is Anne Tyler's latest novel, Redhead By the Side of the Road. This month includes a lot of romance- it was mostly unintentional, but by the end I really leaned in to it since it is the month for romance.
It's a book I haven't read and know little about, but the synopsis calls it "an intimate look into the heart and mind of a man who finds those around him just out of reach, and a funny, joyful, deeply compassionate story about seeing the world through new eyes."
That immediately brought to mind another book with a man in similar circumstances, so let's jump in.
First Degree
The first book that popped into my head is The Storied Life of A.J. Fikry, an absolutely charming read about a grieving widower who owns a struggling bookstore.
Like the blurb for The Redhead at the Side of the Road suggests, A.J. goes through a similar arc and ends up getting a new lease on life when something unexpected brings him more than he could have ever imagined. This is a book that I hold close to my heart and recommend that anyone give it a chance.
Second Degree
Nina Hill is a kindred spirit and this is another book that instantly became one that I loved.
Not only does the title have the protagonist's name in it like the above title, but it's also set in a book shop and the character goes through a major transformation when her family and horizons expand.
Third Degree
Yes, we have more names in the title here, but the main thing that makes me choose Josh + Hazel as the next link is that both books include a scene set at "trivia night" that is one of my favorite parts of each book.
Josh + Hazel is one of my absolute favorite romance novels – I love the quirky Hazel and more reserved Josh and their efforts to find love- with other people.
He's Korean-American and I love the way the authors incorporated his culture, family, and Korean cooking into the story.
Fourth Degree
When I think about books that make you hungry with food descriptions Jasmine Guillory is always top of the list. Add in dating with different cultures and a gang of friends and we're at The Proposal.
I'd still love to get Carlo's family recipe for enchiladas to try someday!
Fifth Degree
One look at the cover tells you The Proposal deals with romance and baseball and The Bromance Book Club nails both of those topics!
I can't believe I waited so long to read this one after seeing everyone rave about it!
This is book number one in the series and I can't wait to get my hands on the next books!
Sixth Degree
Thinking about books where I've only read the first in the series Me Before You is the obvious choice.
In this case it's not because I only just discovered the books or because I didn't love book one.
It's because I've never cried so hard reading a book as I did in Me Before You and it has me a little hesitant to give the next one a go. I definitely will one day, but have to be in the right headspace for such emotional reads!
---
Well, there you have it! From The Redhead at the Side of the Road to Me Before You in 6 steps!
If you joined in this challenge please do comment below so I can go see where this title took you!

Next month (March 6, 2021), the challenge starts with Phosphorescence by Julia Baird. I hope you'll play along and check back to see where the journey takes us.