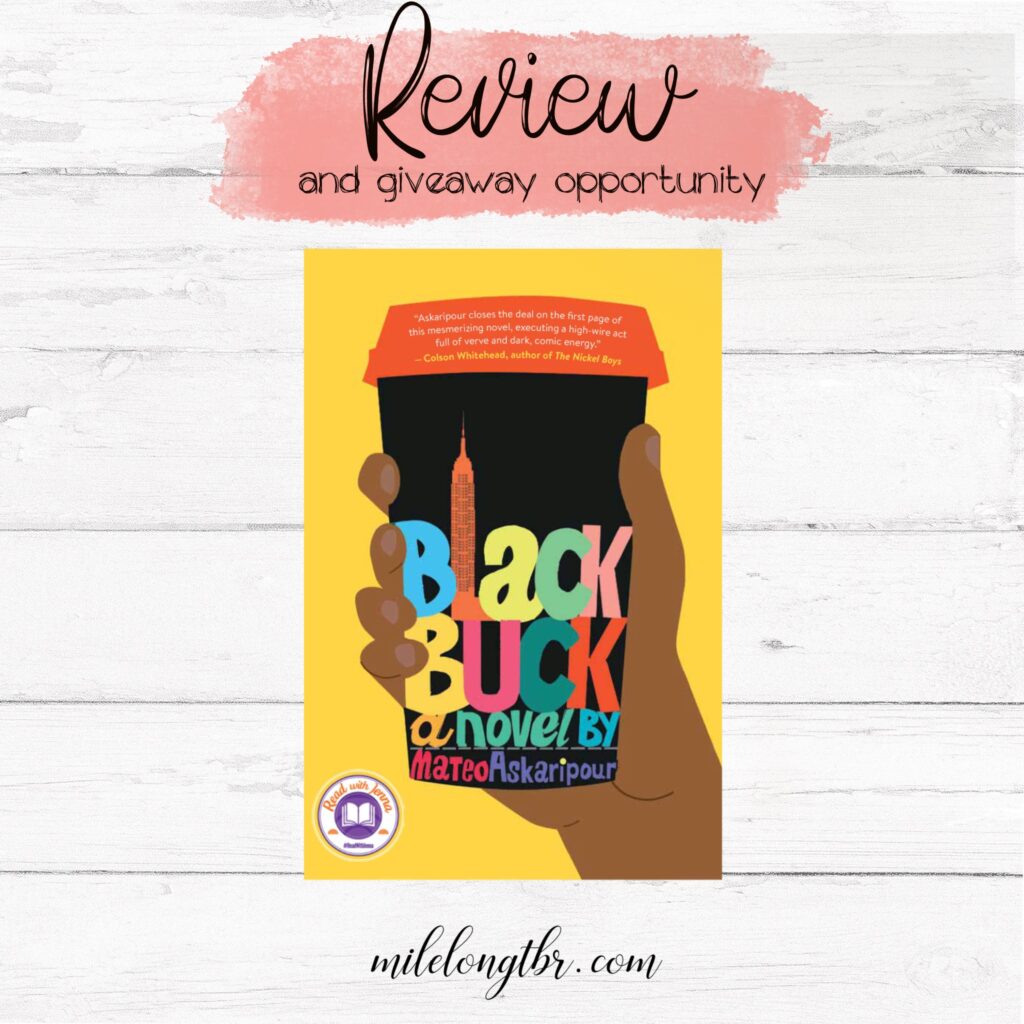 What to say about Black Buck?
I read this book a few weeks ago and I've been sitting on my thoughts before writing a review. 
It was obvious immediately that I LOVED the book, but there is simply so much to unpack with this book amidst a cast of rich characters and a rollercoaster of a plot. 
---
Summary:
---
At 22 years old Darren is working at an NYC Starbucks. Formerly the Valedictorian of his prestigious high school he's now lacking ambition and direction and is happy hanging with his girlfriend in the upstairs apartment of his mother's home.
After impressing a CEO customer by selling him a coffee other than his usual order, he gives Darren an opportunity to join the sales team at his startup. Darren hesitantly accepts – and takes us along on his journey of being hazed at the company for his first week's initiation, his experience of being the only Black salesperson in the company, and all the ways making this jump impact his life. 
It's a wild ride, to say the least as Darren, or "Buck," goes from barista to salesman to advocate for other people of color wanting to get ahead in business. But what is the cost of his advancement? Will he lose sight of the values he held and the people he loves?
In Black Buck, readers who get something out of this book are urged to buy a copy for a friend.

Is debut author Mateo Askaripour having his salesman narrator tell us this as a clever ploy to sell more books?
Maybe, but it's worth the read so I want to give you the chance to read and see for yourself exactly what the story is about.
Keep reading for details on how to get your own copy of Black Buck!
---
Analysis:
---
If there's one thing I love in a book it's juxtapositions, and Black Buck hit the nail on the head in this regard.
The book is largely about everyday life and yet takes us on a number of twists and turns of fate that are anything but mundane.
There are moments that will make you laugh out loud and ones that feel like a punch of the gut- bringing you through every range of emotion. I love books that do this and do it well, and the scope of this story certainly makes this possible,
There's satire on corporate America alongside social commentary about gentrification, class, and privilege.
Additionally, all the characters in this book are so vibrant. From Darrens' girlfriend Soraya to his mother and coworkers everyone is well-developed and could easily have a book of their own.
"Buck" especially is complex, honest, and raw and I love the way Askaripour used the narration style- and even the occasional breaking of the fifth wall. While risky, it absolutely works in this case and I'm glad he made this choice in style.
The writing was excellent and the story was extremely fast-paced, making this a compelling read.
---
Audio Review:
---
I absolutely loved listening to the audiobook of Black Buck.
The narrator, Zeno Robinson, did a fantastic job bringing the character of Darren to life. He brought such great energy and rawness to the story, and I highly recommend purchasing the audiobook of Black Buck.
Many thanks to Libro.fm and Blackstone Publishing for the ALC.
---
Final Thoughts:
---
This is definitely a book to send to the top of your TBR!
Whether you enjoy satire, literary fiction, or are looking for Own Voice stories and books with important and timely themes, Black Buck is the book for you.
Black Buck is easily a five-star read and I recommend it for everyone!
If you want a copy of your own, read the following instructions and let me know the last book you gifted or leant to a friend in the comments!
I'll pick a winner on 31 January 2020 and contact you at the email provided in your comment.