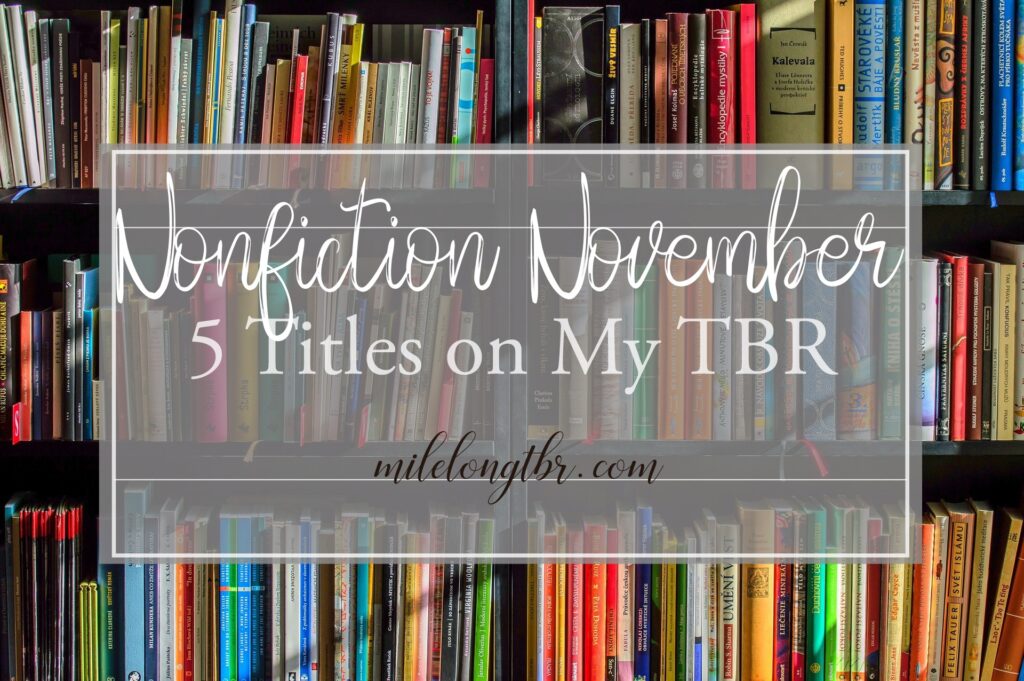 Hi, readers! November is around the corner, meaning it's time for one of my favorite reading challenges- Nonfiction November. 
This is a great way to read out of your comfort zone if nonfiction doesn't featured on your TBR throughout the year. If you do like to incorporate nonfiction titles, this is a great way to read more of them and branch out to different subgenres.
I feel like nonfiction often gets a bad rap because people think the reading can be dry and boring, but if you choose the right title for you it can be anything but that.
Reading nonfiction offers an opportunity to learn something new. It lets us see something from a new perspective, and gain a deeper understanding of subjects.
From memoirs to true crime, here is a list of five titles on my Nonfiction November TBR to inspire you when in making your own. 
Memoirs for Nonfiction November
---
You Belong: A Call for Connection
First on my list is You Belong, part memoir, part self-development. Sebene Selassie, "Nerdy Black Immigrant Tomboy Buddhist Weirdo" may seem like an outsider, but this book is a deeply personal account of how connected we all are.
This message is needed now more than ever, and Selassie's experiences and stories work to show us embracing connectivity is an important part of feeling at peace in uncertain times.
---
Apple
Apple is a unique YA novel in verse, a format I'm loving lately. Gansworth turns a racial slur on its head and uses it to reclaim and reaffirm his identity. This is a great crossover between Nonfiction November and Native American History Month, which also falls in November.
I look forward to reading this lyrical and intimate account from this own-voice author.
---
Nonfiction November for Animal Lovers
---
Tales from Beyond the Pawprint
This book will touch the heart of anyone who has ever loved an animal, and is especially soothing to those grieving the loss of a beloved pet.
The book was inspired by Micky Golden Moore's loss of her own pets and the lack of recourses and understanding she found when dealing with her grief. She used that experience to create the Beyond The Paw Print group. It offers support to those who lose their pet. This book tells the story of 22 group members' life with their furry friends  ― "from first hello through goodbye." It's complete with beautiful portraits of the pets and comprehensive lists of resources for those who need them.
I lost one of my cats in May of this year, and am finding comfort in reading the stories in this book. I look forward to finishing it in November.
---
Nonfiction November for Bibliophiles
---
Furious Hours
This book tells a fascinating true crime story alongside the narrative of  Pulitzer Prize winning author Harper Lee, who researched the case. She planned to write a true crime book about it, inspired by friend Truman Capote's In Cold Blood. It would have been a great follow-up to To Kill a Mockingbird, but never completed the project.
Lee was an enigma in her life. She never published another book and stayed out of the spotlight, so this book has been on the TBRs of those who love American Literature and True Crime alike.
---
The Polysyllabic Spree
Finally, we have The Polysyllabic Spree. The subtitle "A Hilarious and True Account of One Man's Struggle with the Monthly Tide of the Books He's Bought and the Books He's Been Meaning to Read" should give you a good idea of why this one has secured a spot on my TBR. It's essentially an analog book blog, a bookstagram before bookstagram was a thing. 
This is sure to be a fun and relatable read for bibliophiles! I can't wait to read Hornby's essay collection.
---
There you have it, friends!
I hope these 8 nonfiction titles have inspired you in deciding what books to read for Nonfiction November.
Be sure to check back next week for a list of my all-time favorite nonfiction titles for more ideas! 
What are you reading for Nonfiction November? Do any of these titles make your list?
I'd love to hear what you're reading.