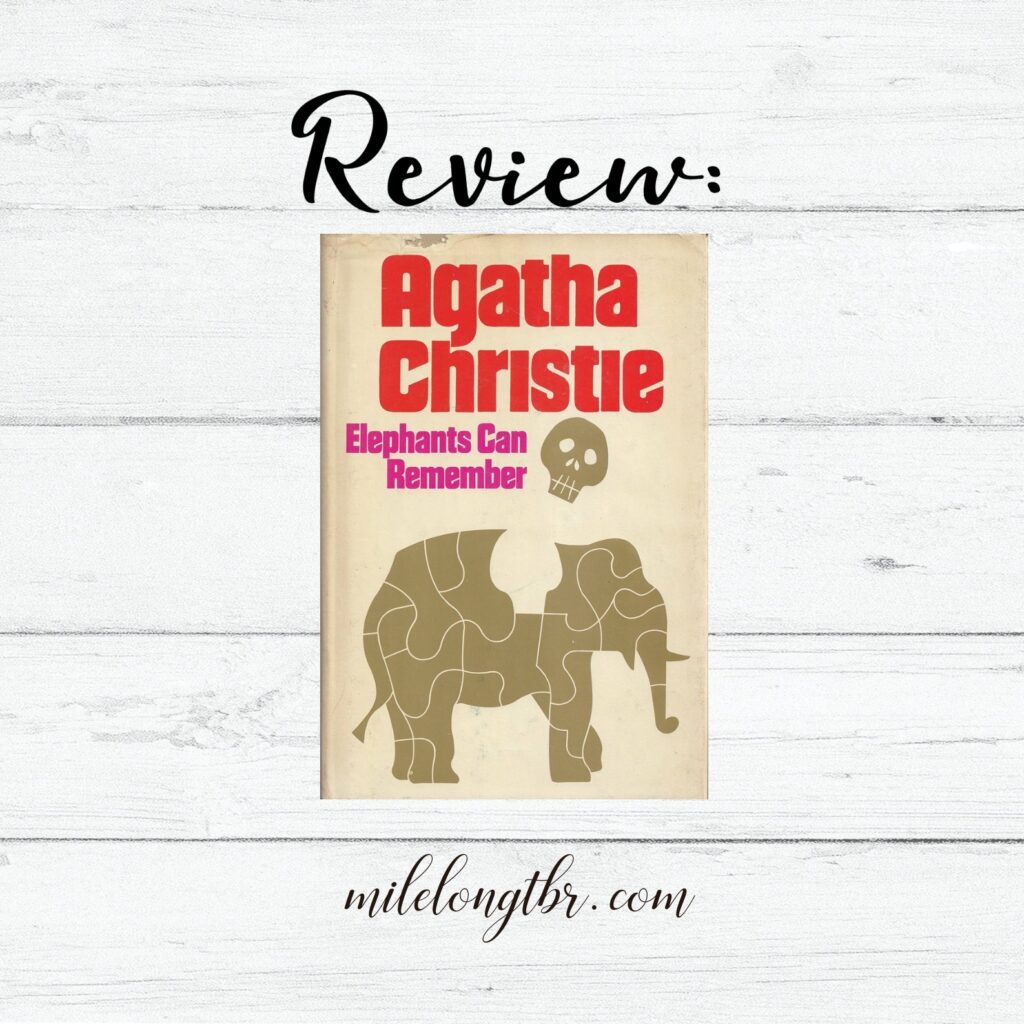 Whether you're new to the world of Agatha Christie or have been reading her books for years it's hard to deny that her mystery novels make a perfect addition to any October TBR.
Known as the Queen of Mystery even 40 years after her death, Christie wrote 66 detective novels, plus a play and a number of other works. Not only is her opus prolific- the stories still stand today as outstanding works in the genre.
Most fans have read her more well-known titles such as And Then There Were None and Murder on the Orient Express it's hard to know what to read next.
Elephants Can Remember is a great choice. Keep reading for a fulll spoiler-free review of this fun and fresh title and see why it's a great addition for those looking to add mysteries to their TBR.
Synopsis:

The story opens with mystery writer Ariadne Oliver, as she reluctantly attends an author's event and a woman approaches her to ask a most shocking question:

Did your goddaughter's mother kill her father and then herself, or did her father kill her mother and then himself?

It's been a decade since that fateful night, but there is little explanation as to why a healthy and happy couple would go out for a walk one day and choose to end their lives.
Oliver enlists the help of her friend Hercule Poirot and together they track down 'elephants' – those who knew the Ravencrofts and may have memories about them in the week leading up to their deaths.
Eventually, they are able to piece together what happened that fateful night and it's definitely a departure from the story that has been told about the family over the years.
Analysis:
Although I put together what happened myself early in the book, I enjoyed seeing the interview process unfold and there were still a few surprises in store.
The character of Ariadne Oliver was a lot of fun. Seeing her work alongside Poirot to get answers is a fresh twist on the typical Poirot and serves as a great introduction to him and a nice change of pace for those familiar with the detective.

It was interesting to see the book rely on oral testimony from years past in the absence of any physical evidence. This certainly makes it hard to uncover the truth, but not impossible, as we see here.
Takeaway
First published in 1972, this is the first of Christie's later works which I've read, and I enjoyed it even though the story wasn't as strong as many of the other books of hers I've read. It was still an enjoyable four-star read perfect for anyone looking for a fun classic English mystery.