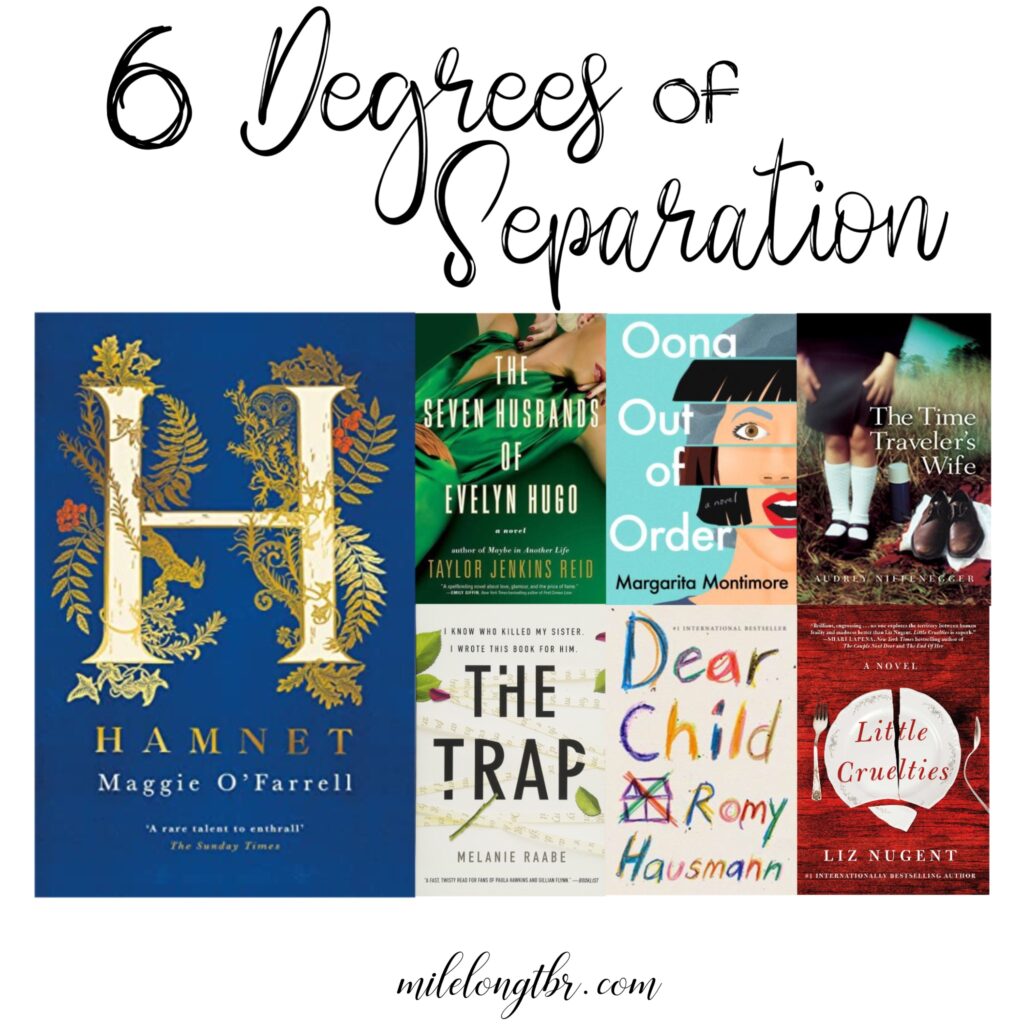 Hi, Friends!
Last month I was introduced to the concept of a bookish game of six degrees of separation by Carla @happiestwhenreading and I've been looking forward to the opportunity to join in January's game!
The concept is simple- make a chain associating the month's title chosen by Kate at booksaremyfavouriteandbest, and see where you end up by linking it to six other titles.
This month's title is Hamnet by Maggie O Farrell.
It's a book I haven't read and know little about, other than it's historical fiction and I've seen nothing but rave reviews for it, so I should probably pick it up even though it doesn't quite seem like my typical read. Where will that book take me? I have the first associated title in mind, and I'm interested to see where this ends up!
First Degree
The first book that popped into my head is The Seven Husbands of Evelyn Hugo by Taylor Jenkins read.
It's also historical fiction, and also one which I've seen one rave review for after the next.
I read Evelyn Hugo in May and picked it up still knowing little about it other than this and that as the title suggests it explores the titular character's relationships with a number of different men.
This book was way more than I expected and packed a serious emotional punch- and became one of my favorite reads of 2020.
Second Degree
Oona Out of Order has been on my mind a lot lately. I think her story will play in my mind at the dawn of every new year because it was Oona's birthday and annual leap to another time. Each year when the clock struck 12 she would find herself transported to another year in her life- sometimes in the body of herself as a much older woman.
Throughout the decades of Oona's life, she is with a number of very different men, which makes the connection to Evelyn an easy one though they're from different genres.
Though this one is lighthearted in fun throughout, it also is heavily emotional – something that seems to be a common thread in books dealing with time travel- and was a standout read for me in 2020.
Third Degree
The Time Traveler's Wife is yet another book that I associate with this time of year. I read it last Christmas and have vivid memories of sobbing on the airplane on my way out of town for the holidays because it's such an emotionally charged read.
Time travel, go figure.
Like Oona Out Of Order, this book has a character who experiencing life out of order and struggling with the burdens of time travel abilities they can't control.
For me, one of the more memorable conversations between the book's two main characters was about The Beatles. I'm immediately thinking about another book where The Beatles play an important role.
Fourth Degree
The Trap is a thriller I read a few years back, but it's one that has really stayed with me in a genre where books tend to blur together.
It's written by Melanie Rabbe, a German author and I read it in translation.
The main character is an author who is living as a recluse, and like in the previous book The Beatles are a memorable part of the story.  If you know, you know- but to say any more would spoil a twist!
Fifth Degree
I read Dear Child, another thriller in translation from a German author, a few weeks ago and really enjoyed it.
The similarities to The Trap don't end there, though. This book also features characters who don't go out of the house- albeit for a very different reason. Each also has a family member trying to take matters into their own hands to seek justice for a family member when the law has failed them. 
Sixth Degree
The sixth and final link is perhaps a bit of a stretch, but this is my game and my first time playing it so bare with me.
I'm picking Little Cruelties by Liz Nugent. On the surface, it's the covers that feel similar- both simple scenes but with a creepy and foreboding vibe.
Also, these books both feature some seriously dysfunctional families, each unhappy in their own way but ones you'll definitely be glad you aren't related to.
Both Little Cruelties and Dear Child were ARCs given to me by NetGalley, and despite not completely being sure about the cover they suited the books well and I ended up enjoying each title!
---
Well, there you have it! From Hamnet to Little Cruelties in 6 steps!
If you joined in this challenge please do comment below so I can go see where Hamnet took you!

Next month (February 6, 2021), the challenge starts with Anne Tyler's latest novel, Redhead By the Side of the Road. I hope you'll play along and check back to see where the journey takes us.