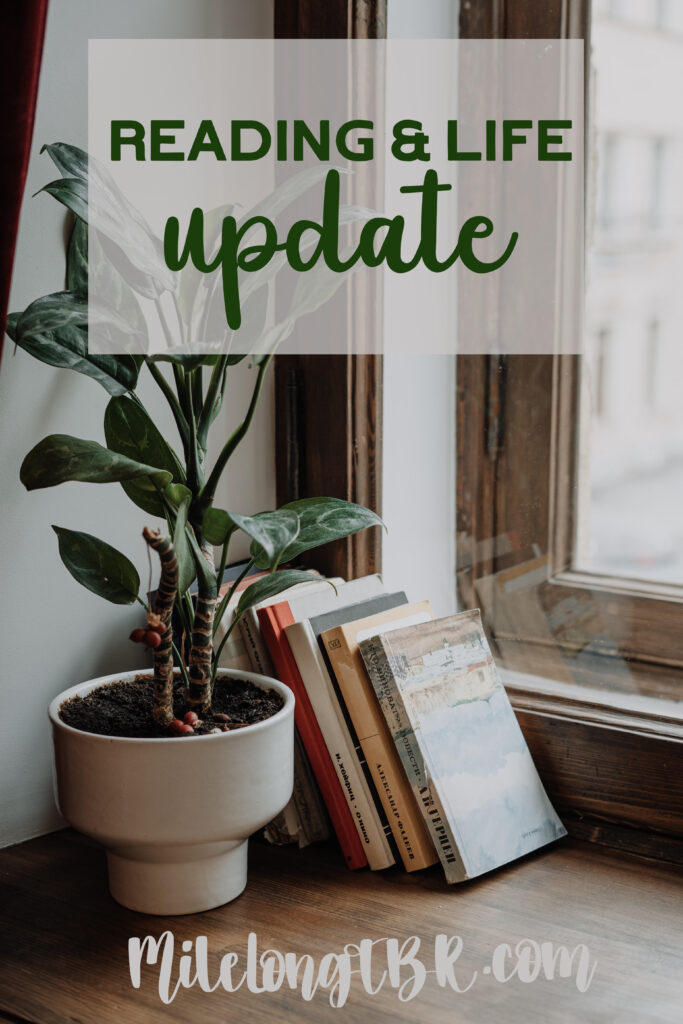 Hi, friends!
It's been a long time since I've posted on here, so I thought an update post was in order. I'll keep it mostly bookish, but there are a few other exciting things I'm looking forward to sharing as well!
It's crazy to think we're a month away from the time we'll be posting yearly wrap-ups (what is time, anyway?) so while this isn't that there's a lot of reflection ahead as well. 
Anyway, let's jump into this reading & life update with 9 things that have been going on in my world over these past few months.
---
I've still been reading, just at a slower pace. I had a shift in goals midway through the year and my reading life heavily reflected this. As always, audiobooks are my go-to.
I took a road trip across the country. This was a different way of traveling for me, and while I can't say I'm in a rush to spend days on end in the car any time soon, I'm grateful for the experience. It was over 3,000 miles of solo driving from Florida to Canada. Did I mention how audiobooks have been my saving grace?
I got to see family I haven't been able to visit since 2019. Like so many I've been separated from loved ones over the course of the pandemic, so reconnecting with them and getting time away from home was long overdue. It made the 23-hour drive totally worth it!
I left a job I absolutely loved and was really focused on soaking up every moment those last few weeks. I believe this coincided with the start of my break from Bookstagram, but it's not the entire reason.
As many of you know, I started my own bookish store, Mile Long Boutique earlier this year. I've been dedicating myself to create the best designs for you guys and grow this business with great products and customer service. I am so grateful that hundreds of bibliophiles from all over the world have purchased my designs online.
My online retail shop has branched out into wholesale! I couldn't be more excited about this opportunity! I've pinched myself more than once to be sure it's all real, but it is. My stickers can be found in multiple independent bookstores across the country and have been featured in bookish subscription boxes as well! I love sharing my happy designs with y'all.
Because this apparently isn't creative enough for me, I've also decided to rededicate myself to writing and finishing my first novel. If you couldn't tell by my 6-month blogging hiatus, I sometimes have trouble seeing projects through to completion. It's going to be a lot of work, even more than I initially thought, but I'm not giving up this time around.
I hinted at this earlier, but I've been having a BIG social media detox. There were so many factors involved, but I think it served me well to step back for an extended period of time. Still, I miss the bookish community on Instagram, so I won't be gone for good. Things will look a lot different this time around, though.
I'm going to end on a bookish humble brag. Earlier this year my NetGalley feedback ratio dipped below 80%. It now sits at 94%. I may not have read any nonfiction for Nonfiction November, but I think this is crushing it when it comes to NetGalley November efforts. And I still have three audiobooks (Audiobooks! They're books too!) I finished this month I'll post reviews of tomorrow. Or maybe next month. I'm all about showing myself grace in this season.
---
There's a peek at what's happening here. I'd love to hear what's new with you in the past few months! Let me know in the comments.