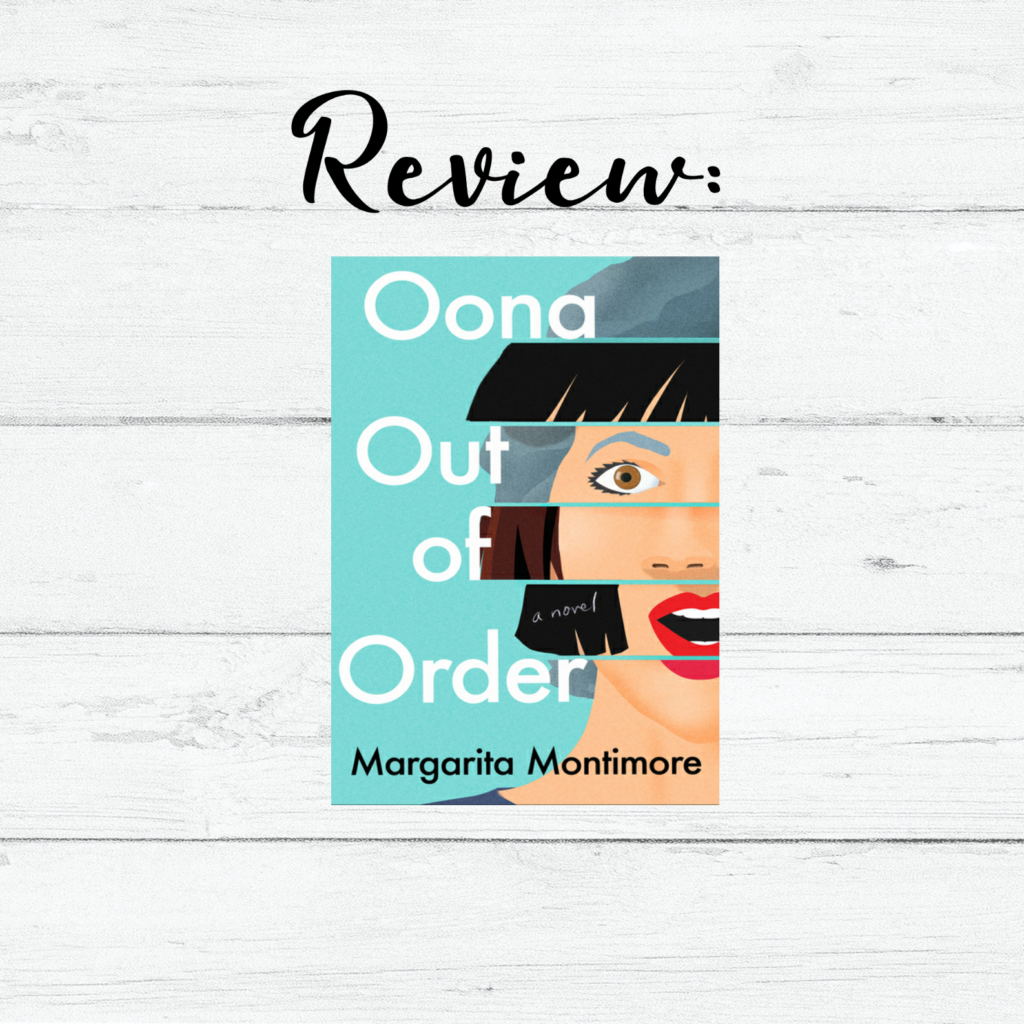 I picked up Oona Out of Order by Margarita Montimore on what turned out to be my last trip to the book store before the quarantine. I'm so glad I did because I could not think of a more delightful read to get me out of-a self-isolation reading slump.
Oona has the unique experience of aging unchronologically.
She is a girl who could definitely relate to this time-warp we are all finding ourselves in. I may have no clue what day it is because I haven't left the house of weeks, but Oona has to figure out what year it is because every year on her New Year's birthday she wakes up in a completely different year and form of her body.
I don't typically think of myself as a time travel reader, but I am quickly proving myself wrong. If you love books that include time travel elements you will likely adore Oona… and, if you are not yet sold, this will hopefully convince you to be a fan.
Synopsis:
The clock is nearing midnight, and when it strikes it will be 1983– and Oona's nineteenth birthday. At a time when she should be carefree and excited, she finds herself at a crossroads. Torn between the choice to pursue her passion with her band or leave everything behind to study abroad with her best friend, she can feel the pressure of the clock ticking against her.
Her fate, however, is something else entirely. When the ball drops Oona is whisked away to another time and place– which happens to be New York City in 2015. The most alarming part is that she's aged more than 3 decades overnight; She's in the body of her 51-year-old self and her mind hasn't had time to catch up.
After the initial shock, Oona starts coming to terms with her new reality. She struggles to adjust to the world around her and herself, but with the help of Future Oona's assistant Kenzie she catches up to speed just in time to take another leap back at the start of the next year.
This time it's 1991. Oona's body is a little closer to matching her mental age, but there are a whole new set of difficulties waiting for her in the next phase of her life.
This is how it is for Oona, every year going to a different place and time in her life; sometimes knowing too little and sometimes knowing too much.
Living out of order makes everything harder, from maintaining relationships to having peace of mind, but Oona tries her best to live a full life in all the ways she can. 
---
Analysis:
If this book sounds like a fun ride, you are absolutely right. The pop-culture references through the years were loads of fun and Montimore's musical taste shone through in the characters' conversations.
I enjoyed a number of the characters here as well. Kenzie, especially, was warm and bright and the years where he was in the story were especially a joy to read. Oona's relationship with her mother went through a number of challenges over the years, but even without the complications of aging out of order, coming into your own as a young adult can often mean not seeing eye to eye with your parents.
It's easy to forget that Oona is mentally only a teenager at the start of the book and still in her early twenties throughout. I've heard criticism of Oona's maturity and handling of a couple of key situations in the book selfishly. Personally, I considered this a part of the coming-of-age element in the book. Oona is a deeply human character. She makes mistakes, messes up, makes outright bad choices. She struggles, both internally and with the circumstances that make up her life.
This didn't detract from my enjoyment of the novel or Oona's character at all but rather made her even more endearing to me. The time travel element certainly complicates things for Oona, but I find that it also opens the door to a number of heart-wrenching and character-defining moments. When Oona finally learns to lean into her annual leaps and be present in whatever moment she finds herself in she opens in it is a beautiful moment. I laughed, cringed, and cried along with her through the journey as she tried to make sense of her unique life.
Montimore's writing was fresh, modern, and kept the story moving at a pace that gave us the sense of going through this whirlwind with Oona. She created quite a few emotional moments and did so while keeping a unique perspective and not giving into cliches. I was surprised by a number of elements in the plot and the way she was able to go above genres. Whatever you see this novel categorized as it's not going to fit in the box. The book is so much more than the sum of its parts.
Takeaway:
Oona Out of Order is everything. This book got my "all the stars" rating. This means it not only got a five-star rating but also stands out by presenting important themes for contemplation and taking me through the full spectrum of emotions.
The book was one of my top favorites from last month, and is currently shaping up to be on my favorite books from 2020 lists, and I'm sure you'll see it on many book award lists as well.
The story and characters are ones that will stay in your heart, and if you're anything like me you'll want to listen to the music referenced in the book, staying in Oona's wild world even after you've finished reading.
It's definitely one of my top recommendations so far this year, and provides an escape right now that many will welcome, so take a leap with Oona and enjoy the ride!