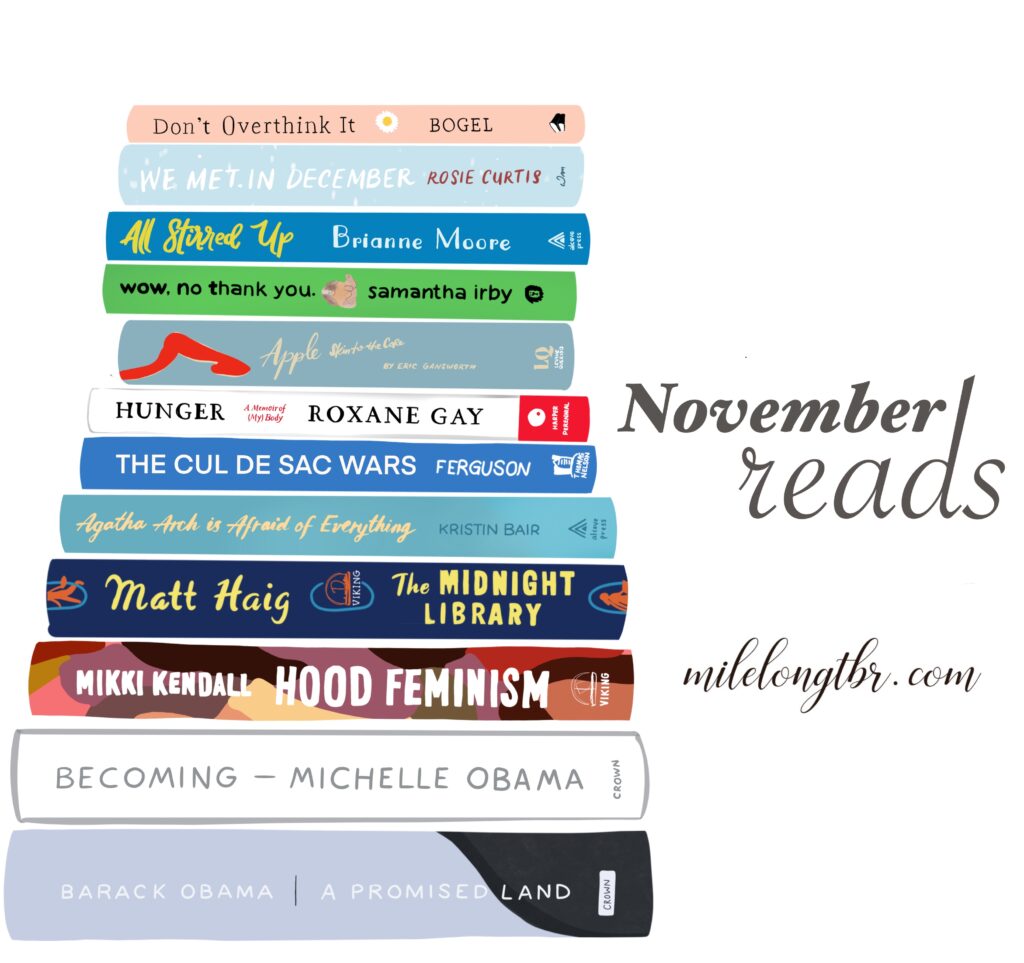 Hi, friends!
Another month in the books! I'm glad to say November was one of my best reading months of the year! How was reading for you this past month?
In November I read 12 books, which Is awesome for me, especially as there are a couple of thick ones among them.
While I deviated from my original Nonfiction November TBR, half of the titles I read were nonfiction. I'm beyond pleased with that number!
I enjoyed all the books I read this month- some more than others- so I have them all listed here broken into two groups. There are books I loved and books I enjoyed.
Let's jump in to my November 2020 reads!
---
LOVED!!
---
1. Agatha Arch is Afraid of Everything
First off, let's look at this fun read!
Agatha Arch is Afraid of Everything – from driving on the highway to beans. Yes, beans. Especially Willow Bean, the woman she finds her husband sleeping with and eventually leaves her for.
This book is laugh-out-loud funny, relatable, and inspiring all at once and manages to be both fun and thought-provoking.
I especially loved Agatha's character arc and growth. She may be an unlikely heroine, but you'll find yourself rooting for her by the end of the book. (Think Eleanor Oliphant, Bernadette Fox)
Many thanks to Dreamscape Media and NetGalley for the advance copy.
---
2. Becoming
For one reason or another I hadn't read this book despite seeing nothing but glowing reviews for it. I decided this was the perfect book to start off Nonfiction November with- and I'm so glad I did!
I loved hearing Michelle's account of her life. From growing up in Chicago to her life in the White House and her struggles as a woman. Despite her notoriety, her story is relatable and the warmth she brings to it through her narration makes it so comforting. That's why we love her so much, after all.
---
3. A Promised Land
Again, I feel like I'd be the least likely person to pick up this book- anything over 400 pages is a commitment for me and I don't especially gravitate towards political nonfiction.
Still, I couldn't resist picking up the 700page first volume of 44's account of his time in office- or the opportunity to hear him tell his own story on audio.
President Obama is wordy- he's the first to admit it, but I love the way he speaks and writes as he explains so many of his decisions and struggles during his tenure as president.
This is an intimate look into the office as well as how a man balances family with one of the most demanding jobs on earth. Highly worth the read and I can't recommend the audio enough.
---
4. Hood Feminism
This powerful collection of essays is a call to action t enure Intersectional Feminism isn't just a catchphrase but a movement that makes feminism inclusive for all. I love this book for showing certain topics in a different light that some may not have considered and for taking the time to explain how things are feminist issues.
Hood Feminism should be required reading for those who consider themselves feminists- and everyone else- to see why feminism for all is so important.
5. The Midnight Library
Sometimes I'm wary of super-hyped books, but I just knew that The Midnight Library was going to be a five-star read for me.
In Haig's latest, he imagines a place between life in death- a library filled with books of other lives we might have lived if we'd made different choices.
This is a introspective and emotional read- I had tears in my eyes a few times in the early chapters, but as the main character Nora is dealing with the loss of a pet it may have been a little close to home for me.
This is definitely a standout book for me- the end didn't quite deliver the emotional punch I was expecting- possibly because I seemed to be realizing much of what was happening a step or two ahead of Nora- but that didn't stop me from appreciating it in the least.
Definitely pick this book up and see for yourself what the buzz is all about!
---
6. Wow, No Thank You
Wow, No Thank You is a hilarious collection of essays on a wide range of subjects from her personal struggles to things all of us are sure to relate to. I love her deadpan sense of humor and observational wit.
This is my first time reading Irby but I definitely plan on reading her earlier books next time I'm in need of a good laugh!
---
7. Don't Overthink It
I am prone to overthink everything, including my overthinking, especially in these times.
@annebogel had great practical advice on the subject and offeres many ways to streamline small decisions we make daily that can lead us to feel overwhelmed and indecisive.
I will definitely read through this book again to come up with a plan to put some of the ideas in action.
Anne narrates the audio version, which is perfect because many of us know her voice from her podcasts.
Overall I highly recommend this one if you have a tendency to overthink things and would like to save yourself that energy.
---
8. Apple: (Skin to the Core)
Apple (skin to the core) is a moving memoir in verse by Eric Gansworth,  is "a member of Eel clan, enrolled Onondaga, born and raised at the Tuscarora Nation."
The verse is haunting and well-crafted but for me the real beauty came in the name and structure of the book. Gansworth reclaimed a racial slur used against him and drew a number of parallels to The Beatles and their music, albums and history, which he explains at the end.
I listened to this as an audiobook and while I enjoyed hearing the author narrate, there is other content to consider as well. Gansworth is a visual artist as well as a writer, so be sure to check out the accompanying artwork which is included in the print edition.
Many thanks to Libro.fm and Dreamscape Media, LLC for the ALC.
9. Hunger
Roxane Gay's Bad Feminist stands as one of my all-time favorite nonfiction reads. With that in mind I was excited to read this book, which explores her relationship with her body and food.
This book is moving and gives a look into a life and how those with larger bodies than are socially accepted are often mistreated. As always, the writing here is concise and compelling and I'm glad I read it.
---
Enjoyed!!
10. The Cul-de-Sac War
First of the books I liked is this fun enemies to lovers romance with lots of pranks as these neighbors try to one-up each other.
I really enjoyed the characters and their antics, as well as how the eventually see past their misconceptions.
All the elements going on in the story really added to the experience. There was more character growth than I expected and it made for a well-rounded read.
I listened to the audiobook and thought Kate Rudd was a good choice as a narrator and I highly recommend the audio format for this book. Many thanks to Thomas Nelson and NetGalley for the advance copy.
---
11. We Met In December
Next up is this darling contemporary romance! This friends to lovers romance set in London is a lot of fun and just as sweet.
These housemates looking to shake up their lives found a deal renting from a friend- with the caveat that they aren't allowed to date.
Over the course of a year they spend time together as friends- but this rule and a few other things stand in the way of making it more than that.
The book starts at Christmastime and circles back to end there too, so this is a fun light holiday read and was perfect to listen to while decorating to get into the Christmas spirit!
---
12. All Stirred Up
Finally, we have this Persuasion retelling!
All Stirred Up is a fun read, though not quite the light rom-com I was expecting. There was more focus on familial relationships, delicious food descriptions. But, that only made it an interesting and more complex novel- just like your favorite dish.
The audio version was great- loved the accents- and was an enjoyable way to experience this second chance romance and Austen reimagining.
Many thanks to Alcove Press and NetGalley for the advance copy.
---
There you have it! All the books in the first group were standouts and highly recommend them!
Have you read any of the books from my November 2020 reading list?
Let me know which ones you're excited to get your hands on, and what your favorite November 2020 read was!