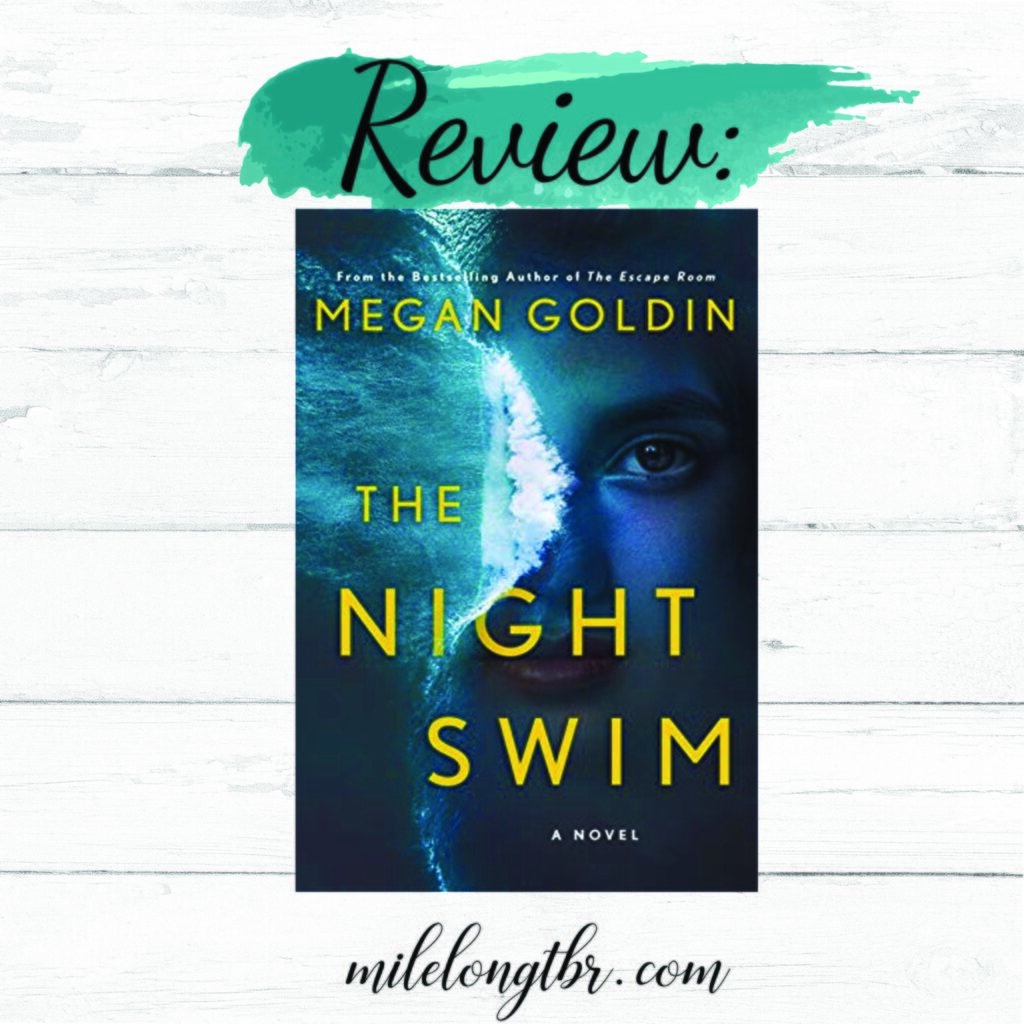 Okay guys, I officially have a favorite thriller of 2020!
The Night Swim was a total binge read, I may or may not have stayed up until 3 AM to finish reading it because I COULD. NOT. PUT. IT. DOWN. (Spoiler, I did and it was 100% worth it.)
This is my first time reading Megan Goldin, so those of you who read her debut The Escape Room please let me know your thoughts on it!
The Escape Room is out today, so go order your copy and keep reading this full review to see why it's such a fantastic read!
Synopsis:
The Night Swim is about a big-time True Crime podcaster, Rachel, who goes to a small North Carolina town to cover an ongoing rape trial. Though her success has made her a household name, she's kept her face and identity anonymous. So when a mysterious note is left on her car at a highway rest stop asking her to investigate another crime, Rachel is a little unsettled.
Though she tries to focus on the work that brought her to the area, the notes keep coming, and the more Rachel looks into the decades-old death of Jenny Stills, who was officially said to have drowned, the more it looks like something more sinister may have been at play.
Things heat up even more as the past catches up to the present. Could looking into what happened 25 years ago be the key to making sure justics is served in the ongoing case?
It seems they are link, but Rachel may put herself in danger as an outsider digging around trying to uncover a small town's secrets.
Analysis:
The Night Swim really is a bit of everything.
It's a gripping psychological thriller, with a bit of procedural and some courtroom drama thrown in. There's both an old case and a current day one, which makes the alternate timelines an easy choice. There are also alternating points of view between Rachel and the woman who is leaving her notes. Goldin executes these transitions seamlessly, and the overall effect leads to a fast and compelling read.
Fair warning, it has basically every trigger warning imaginable, but if you don't mind the darker content this is definitely a book to send to the top of your TBR.
One big positive is how the book handles the heavy subjects with care. There's some fantastic commentary on how sexual assault crimes are handled and the stigmas and challenges faced by the victims. I really appreciate that the author took the time to have this conversation, rather than give us a heinous crime for thrills.
Also, I really love the characters in this book. Lately, a trend in thrillers seems to be the unlikable and unreliable narrator, so it's refreshing for Rachel to be someone you really want to get behind.
And then there's that ending.
When things finally come together, this book has the perfect blend of a believable ending while having a few surprises in store for the reader.
Audio Review:
I was lucky enough to listen to parts of the book on audio and the narration is fantastic! It's a great way to enjoy this story.
I especially loved that the chapters of the book which were the "podcast eposides" had their own intro theme music. It was a fantastic way to transition and move the story along while giving it an extra level of authenticity.
Takeaway:
The Night Swim is easily a five-star read and an "unputdownable" thriller perfect for when you're looking for a fast summer read with some substance.
What's the last book you stayed up way too late reading?