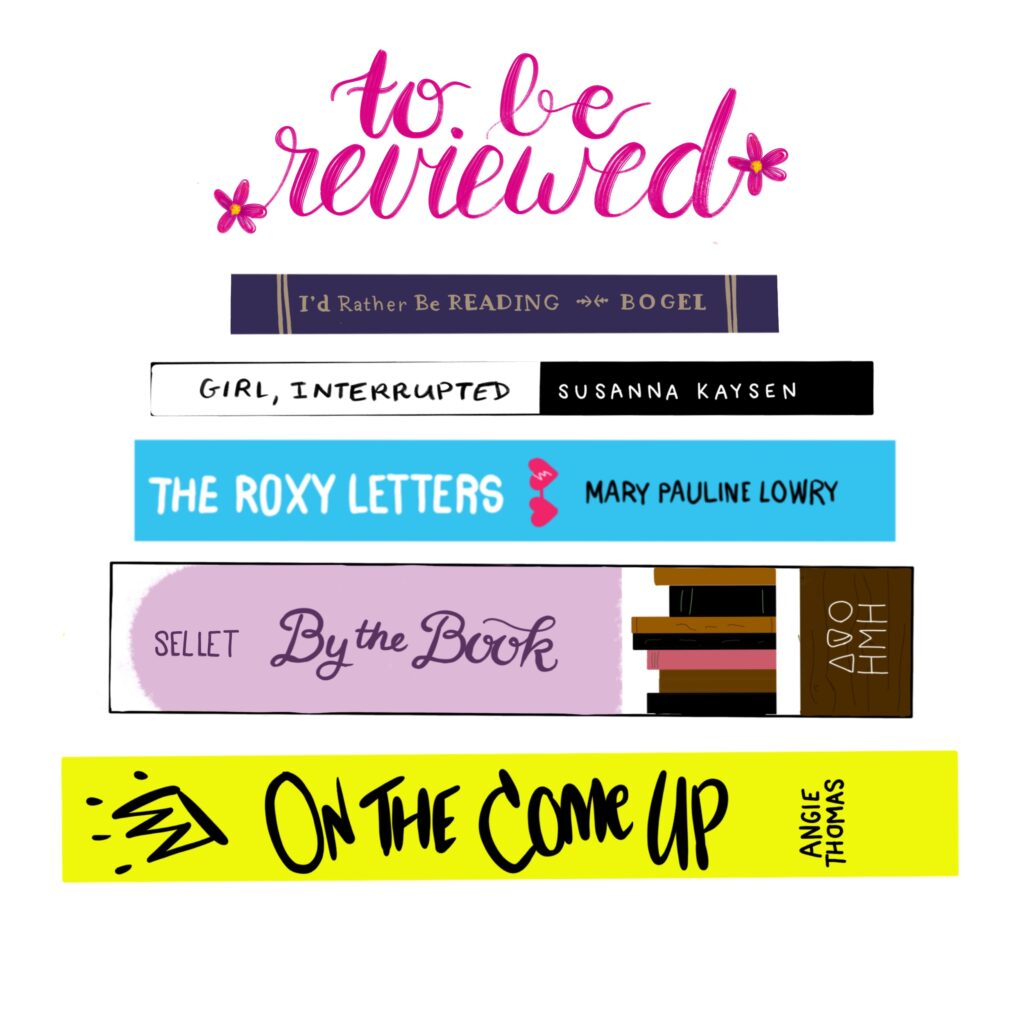 What do these five books have in common? They've all been sitting in my "To Be Reviewed" pile for too long! So, today I'm doing "Lightning Round Reviews" and giving my take on each title in one short paragraph.
Let's go!
---
1. 📚 I'D RATHER BE READING
This book spoke to my bibliophile soul. I'm a longtime fan of @annebogel and loved her musings on life as a reader. I also appreciate that she too struggles to write reviews at times and discuss what exactly she enjoys about a book. Reading this was so comforting and felt like a chat with one of my best bookish friend who gets all the #bookwormproblems we face. 
I gave this book four stars.
---
2. 🏨GIRL, INTERRUPTED –
I read this for my nonfiction pick in May for Mental Health Awareness Month. It was troubling to hear Kaysen's account of the mental healthcare system in the 1960s. Still, it was insightful and an important reminder that having these conversations and shedding light on mental healthcare will help normalize and make care more accessible to those who need it. 
I gave this book four stars.
3. 📝THE ROXY LETTERS-
I liked the idea of the book more than I actually liked it. Told entirely in letters, this follows Roxy, a bit of a hot mess as she tries to get it together. There were some funny parts, but Roxy's immaturity and poor choices made it hard to really enjoy. 
I'd probably skip this one. I gave it three stars.
---
4. 📚BY THE BOOK-
Such a cute read!  This YA book is filled with quirky characters, myriad literary references, and plenty of moments that will make you laugh as Mary Porter-Malcom learns that books don't hold the answer to everything in life- some things she'll have to experience for herself. 
This book is a delightful read for bibliophiles. I gave it four stars.
While I didn't review this book on Instagram, I did feature it in my June Reading Wrap Up, where you can read more about the plot and my thoughts.
5. 🎤ON THE COME UP-
I adored this book! This was my introduction to Angie Thomas and I absolutely loved her storytelling and characters. I also appreciate the very important themes getting discussed in YA novels. Looking forward to THUG, whuch I've heard fantastic things about as well.  I listened on audio with Libro.FM and Bhani Turpin, one of my favorite narrators did such a fantastic job bringing it to life, especially the rap scenes. 
I gave On The Come Up five stars and recommend it to teens and adults alike!
---
Do you struggle to keep up with reviewing what you read, or are you good about getting them written and posted? This is a great way to play catch-up on books and get that other TBR pile under control!