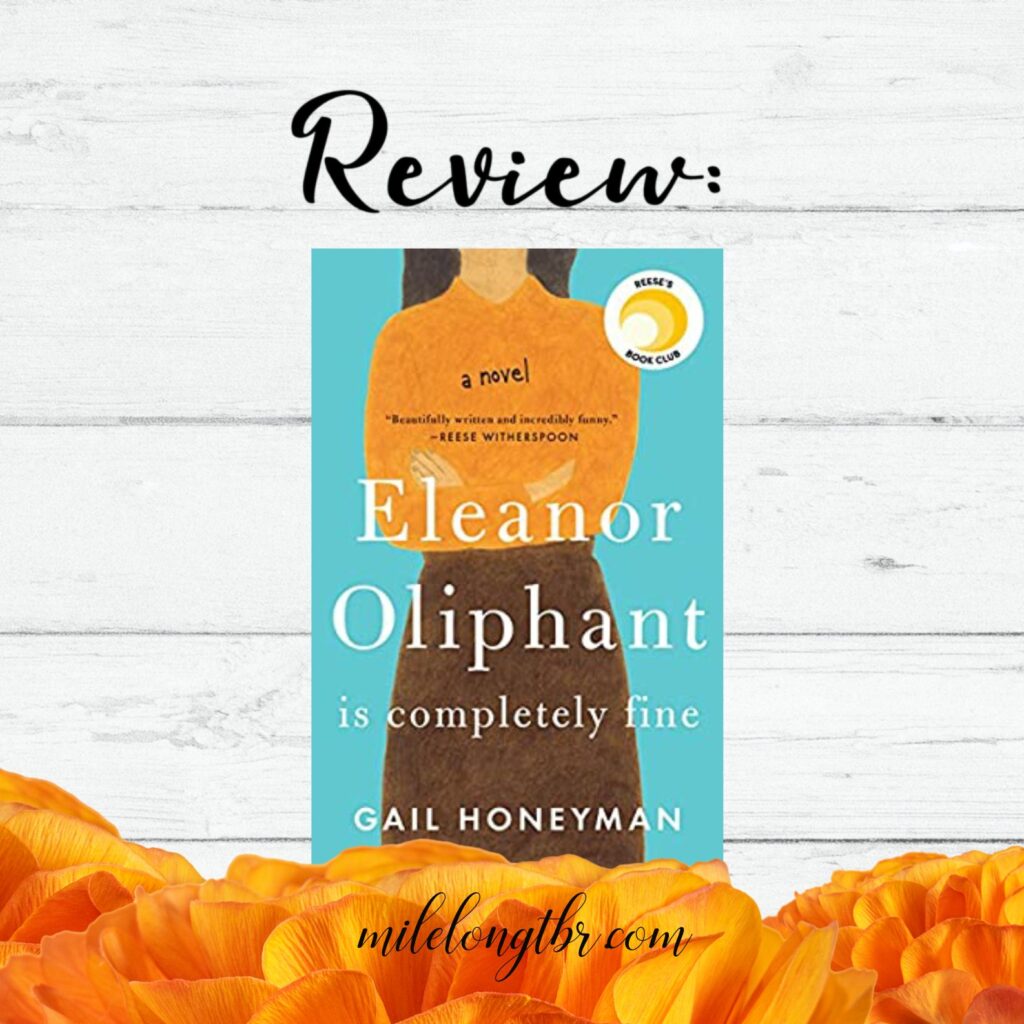 This is one that I feel that the majority of people here have read, but it's one of my absolute favorites and I felt it was timely to post a review of it up here since May is Mental Health Awareness Month. The book talks about a number of mental health issues and does so in a manner that is sensitive, realistic, and destigmatizing.
I first read Eleanor Oliphant in 2017 when Reese Witherspoon picked it as her inaugural book club title, and after I finished it I started rereading immediately. At the time of writing this in 2020, I believe I've read the book five times.
That itself should speak volumes about how much I love this book, but check out the full review for more information about why this is one to prioritize on your own TBR. And if you have read it, tell me your take on whether Eleanor is completely fine or not and what that means to you!!
Synopsis:
Meet Eleanor.
She's a 29-year-old office worker in Glasgow who loves routine and loathes small talk.
She doesn't have many friends, but that doesn't bother her in the least. She's perfectly fine with her predictable schedule; weekend pizza and wine night, weekly calls with Mummy, and daily lunches doing the crossword by herself.
"But, by careful observation from the sidelines, I'd worked out that social success is often built on pretending just a little. Popular people sometimes have to laugh at things they don't find very funny, do things they don't particularly want to, with people whose company they don't particularly enjoy. Not me. I had decided, years ago, that if the choice was between that or flying solo, then I'd fly solo. It was safer that way."
Eleanor is not especially interested in expanding her social circle until she sees a musician and instantly knows: This is the man she's meant to spend her life with.
Her attempts at turning herself into the type of woman the musician would date provide good comedy, but if you're expecting a love story don't hold your breath.
While Eleanor struggles to get the attention of the musician, her coworker Raymond decides to insert himself into her life.
He's the embodiment of all the qualities she can't stand. He smokes, his appearance is always somewhat disheveled, he uses "text speak" abbreviations in email.
But, he's a good person. He's an optimist and he has decided that Eleanor is worth getting to know.
Her life expands as she starts to spend time with him, and the reclusive and awkward Eleanor learns that coming out of her shell a little might bring bigger, better things than she'd realized into her life.
And, when the bad days come, like they always do, Raymond is a supportive and encouraging friend, helping see her through the dark times and come out better on the other side.
Analysis:
Eleanor Oliphant instantly became one of my all-time favorite books, and largely because of the characters; quirky yet relatable Eleanor, Raymond the impossibly kind IT guy from her office, and Eleanor's sinister Mummy.
The characters are all very well developed, but witnessing the scarred and reclusive Eleanor step outside of her comfort zone to become the kind of person who goes to weddings, visits friends in the hospital, and helps care for people who need it is inspiring.
I love that she retains her quirks even as she leaves behind the unhealthy coping mechanisms she's used to deal with things for so long.
Also, I think Raymond is one the most 'good' characters in all of literature. He's such a kind and caring person and brings so much heart to the novel.
He also brings humor. There are many laugh-out-loud moments in the book, from Eleanor's observations to Raymond's goofy demeanor and the rapport between the two of them. The humor may be sardonic at times, but it works well. You'll likely relate to Elenor's commentary even if you'd never say those thoughts aloud and in public.
The comedy is needed to balance the difficult themes and topics that are discussed in the book. It discusses things such as isolation, depression, abuse, and suicide, but is handled in a respectful manner and does not stay too dark for too long thanks to that balance.
Two things particularly stand out to me about this book; that Gail Honeyman avoids cliche by not following the formula of Eleanor's physical transformation from awkward and unfashionable to beautiful, and that Eleanor's relationship with Raymond stayed a friendship.
Yes, she does go through a number of physical changes but they are without a doubt secondary to the changes that are taking place within her. Eleanor's attempts at changing her appearance are misguided, but the deeper changes are not suggested to be a result of introspection, brutal self-honesty, and hard work.
Another thing that I appreciate is that Eleanor and Raymond are friends. He is loyal and accepting while encouraging her to be honest with herself, which are invaluable qualities in a friend. But, even when Eleanor is shiny, he doesn't make any advances on her or take advantage of her in any way. Having him become a love interest to her would have cheapened the story and I'm so glad Honeyman didn't take it in that direction.
Considering this is Gail Honeyman's debut novel, it's especially impressive. She's set the bar high for future works, but I can't wait to see what she puts out next.
Takeaway:
Eleanor Oliphant is Completely Fine is a book I will never stop recommending or rereading.
This book is one that makes you think, laugh, cry, question things… It's hard to find a book that achieves this, especially with such grace. Eleanor Oliphant is Completely Fine is a truly touching work of contemporary fiction that I see being regarded as a modern classic in the years to come. It's one of the two books I feel should be required reading for practically everyone which is why this five-star read also earned my "all the stars" rating.
If you've not already read it take my word for it and give this book a chance.
Content Warning:
childhood abuse and trauma, suicide, physical abuse, death, alcoholism, mental health issues, adult language