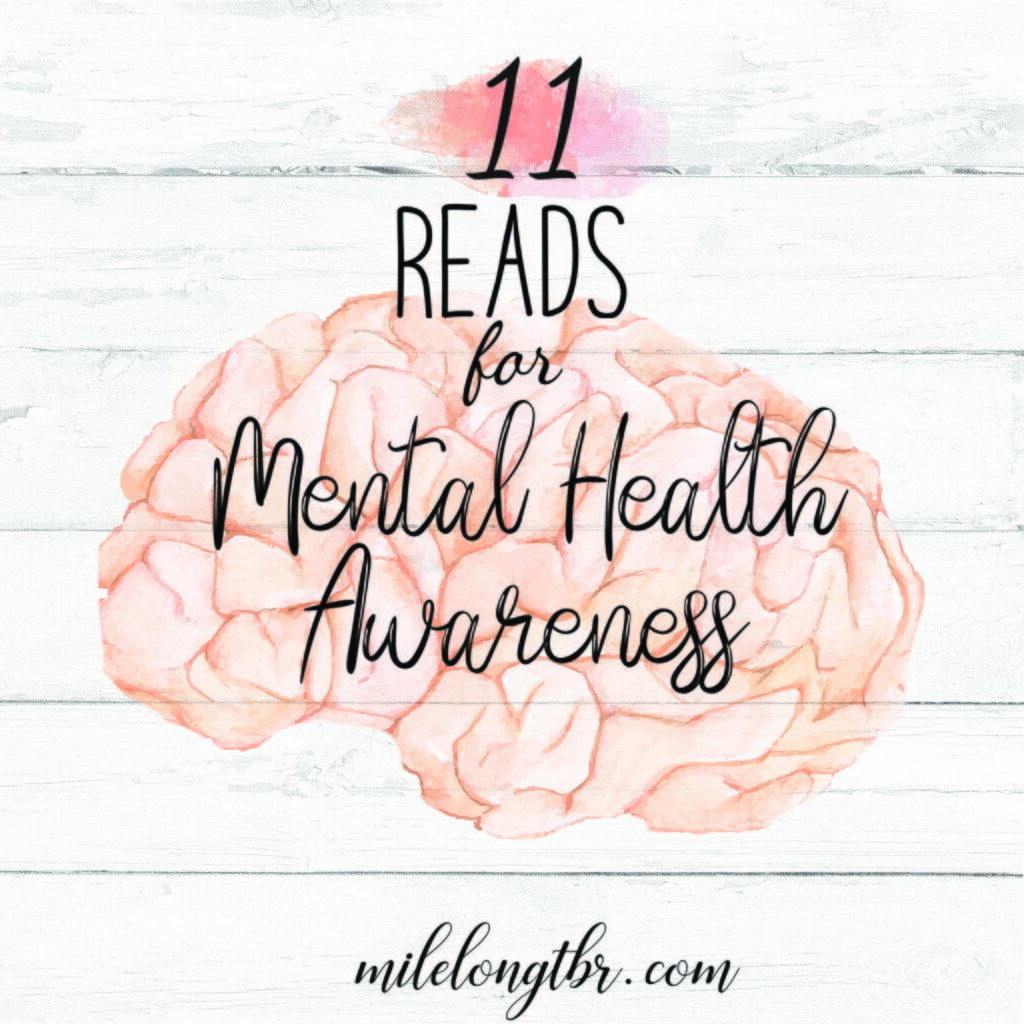 Reading provides an amazing opportunity to put ourselves in another person's point of view and May is Mental Health Awareness Month, so it's a great time to start a conversation about this important topic and read some books by and about people who have dealt with mental health troubles.
I've compiled a list of eleven titles across many genres to appeal to readers with a range of tastes. You're sure to find something that will be an interesting and eye-opening read, no matter what books usually fill your TBR.
Books to Read for Mental Health Awareness
---
Nonfiction
First let's talk about some nonfiction titles. What better perspective on mental health than from someone who has struggled personally with their own?
1. Furiously Happy by Jenny Lawson
Furiously Happy is my absolute favorite nonfiction book and one of my all-time favorite titles. Jenny Lawson is a successful blogger at The Bloggess, an author, and an artist. She's also someone who struggles with depression, anxiety, and a number of other mental disorders. In this book she gets real about the struggles she has and the things she does to better herself every day. This book changed the way I see mental illness, and I can't recommend it enough.
It's not for the easily offended reader, but Jenny's humor is amazing. I've never laughed so hard while reading a book in my life, and still do even though I've read and listened to the book a handful of times. She narrates the audiobook herself and does an amazing job, so check out the audio version if you want a great listen. Check out my full review of Furiously Happy here.
2. Maybe You Should Talk to Someone by Lori Gotlieb
Maybe You Should Talk to Someone was my nonfiction pick for January, and I absolutely love Gotlieb's account of therapy… from both sides of the couch. The book not only gives us insight to the lives and struggles of her patients, but also her account of seeking therapy herself after a breakup leaves her questioning her life and identity.
Lori's honesty and insight is invaluable, and the memoir is heartfelt and emotional. I'd never even considered a therapist having a therapist, and love what Gotlieb has done to help normalize talking to someone, specifically a professional, about our lives.
3. Girl, Interrupted by Susanna Kaysen (TBR)
I'll be reading Girl, Interrupted in the coming days for my monthly Nonfiction selection for May. Thismemoir inspired the Angelina Jolie movie of the same name and gave cutting insight into life in a mental institution in the 1970s. Eighteen-year-old Kaysen was sent to high profile McLean Hospital after twenty minute session with a new psychiatrist and stayed there for nearly two years. Her personal reflections and observations on the hospital and other insight are sure to provide insight on the history of mental healthcare and the experience of those who are struggling.
---
Classic Literature
If fiction is more your style, here are some selections that have characters facing mental health issues.
4. The Bell Jar by Sylvia Plath
I will not say it's an easy or 'fun' read. It is, however, an important read. Evocative and immersive , with lyrical prose rich imagery. The book follows Esther Greenwood, a character author Sylvia Plath more or less based on herself, as she struggles to find herself as a writer and as a woman in the 1950s. Esther seemingly has a fabulous life, but still finds herself dissatisfied and uninterested. Eventually, Esther finds herself trapped by her life and the bell jar that is her depression, containing and suffocating her at once. She loses hope, and after failed suicide attempts finds herself in a hospital, undergoing some of the treatments of the time.
Though the book ends on a hopeful note for Esther's future, Plath herself lost her battle with depression and committed suicide shortly after it's publication. Even with its difficult subject matter The Bell Jar is worth the read and its status as a modern classic.
5. Tender is the Night by F Scott Fitzgerald
Tender is the Night is a novel heavily based on the Fitzgerald's lives and explores the strain that his alcoholism and depression and her alleged schizophrenia put on their relationship and wellbeing. Scott Fitzgerald considered this his best work, and though the tone and themes explored are dark, the writing is luminous and it's a very introspective and captivating exploration of what can happen when facing mental health struggles.
6. One Flew Over The Cuckoo's Nest by Ken Kesey (TBR)
One Flew Over the Cuckoo's nest is a novel set in a psychiatric hospital. It's such a powerful read that it was instrumental in changing the mental healthcare system, which was dehumanizing, still practicing lobotomies at the time it was written in 1959.
For that reason alone it's incredibly important, albeit not an easy read.
The book has some unique and symbolic characters in McMurphy and Nurse Ratched, who are not only iconic characters, but also symbols of the thematic struggles between good and evil; the individual and the institution.
---
Contemporary Fiction
If you prefer your fiction a bit more modern than the above selections, check out these books.
7. Eleanor Oliphant is Completely Fine by Gail Honeyman
Eleanor Oliphant is another of my all-time favorite books, and Eleanor's character holds a very special place in my heart. She's damaged and has suffered a number of traumatic events in her life that have molded her into the woman she is today; awkward, reclusive, and very damaged. Eleanor works through her past and her depression and though she has very bad days, undergoes amazing character growth. The book is packed with quotes pertaining to mental health struggles, so it's a perfect read for mental health awareness.
Check out my full review if you're interested in hearing more about Eleanor Oliphant.
8. Tear Me Apart by J.T. Ellison
Part gripping medical thriller, part family drama, Tear Me Apart tells a captivating story that weaves an important discussion on mental health and suicide into the plot. I can't think of another book in the genre that does this so sensitively. Elison's acknowledgments are especially heartwarming, and I appreciate her using the book to explore deeper and meaningful themes. If you like thrillers and want to try something with a mental health angle this is the book for you.
9. Where'd You Go, Bernadette By Maria Semple
Bernadette has some mental health struggles, but her character still made it to my list of the 8 Greatest Literary Moms I put together earlier this month. Despite her reclusivity and anxiety, Bernadette manages to break out of her comfort zone and reignite her passion for life through admittedly unorthodox methods. Bernadette's struggles aren't necessarily understood by those close to her, but she makes no apologies and that attitude of self-acceptance is a great force to destigmatize the types of things she's facing.
---
Poetry
Finally, if you're looking for poetry collections dealing with mental health themes, here's a good place to start.
10. Anything by Amanda Lovelace
Amanda Lovelace is a powerful wordsmith, crafting beautiful poems about often difficult topics. Her books probably contain most of the trigger warnings, so go in with that in mind and expect to be amazed by the force of her words.
Each of the books in her "women are some kind of magic" trilogy are uniquely interesting explorations of love, trauma, loss, grief, and healing. I own all three titles in the series, which all use different elements of classic fairy tales and myth to help tell the tales of women overcoming and finding strength within themselves. Find a title that speaks to you. You'll feel understood and empowered reading her poems.
11. Love Poems for Anxious People by John Kenney
Love Poems for Anxious People is a great collection that explores topics the anxious and socially awkward among us are sure to relate to. It muses on everything from forgetting someone's name, fighting "monkey mind" during meditation practice, and self-diagnosing on WebMD, as well as complications of working and parenting in the modern age.
Kenney's words show that he intimately understands the struggles of an anxious person; the things that keep you up at night and the intricacies of who you are at your core. If you suffer from anxiety in today's day and age, you're sure to relate.
---
We all know that we can read for mental health benefits, but what we read can be important too. Especially when it gives us the opportunity to better understand other perspectives and
This list of eleven titles perfect to read for Mental Health Awareness Month is a great starting point to consider other's struggles and keep the conversation going so we can beat the stigma that surrounds mental health.