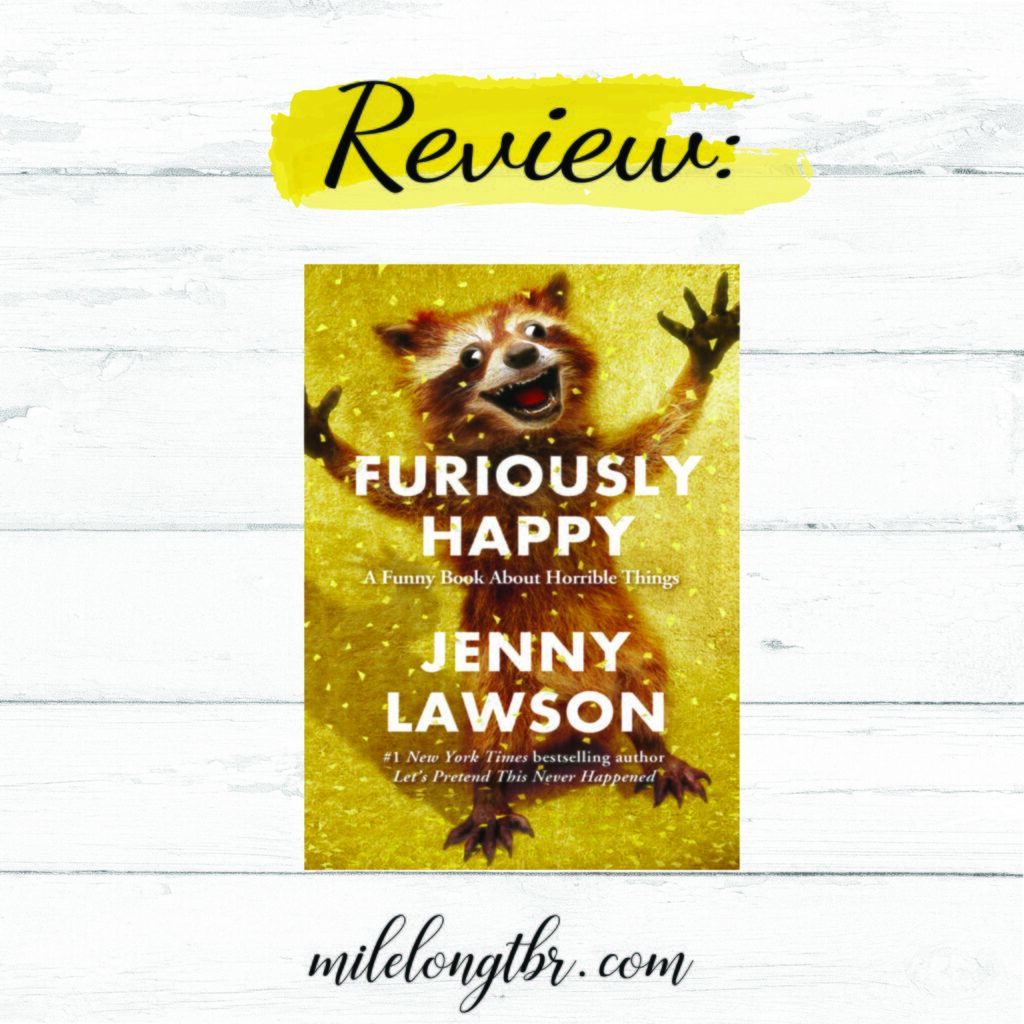 Furiously Happy: A Funny Book About Horrible Things is the second memoir by Jenny Lawson. She is a successful blogger at The Bloggess, a best-selling author, a mother, an artist, and a small business owner.
She tackles quite a lot, and by standard measures does it all very well, though if you asked her, she may not feel like a success.
That's because she's also someone who struggles with depression, anxiety, and a number of other mental disorders, which she candidly discusses in this book.
Keep reading my full review of Furiously Happy to hear more about what the movement is all about, and why this is one of the most insightful and entertaining books in print.
Synopsis:
Jenny Lawson lives in Texas with her husband Victor, their daughter, and their pets Dorothy Barker, Ferris Mewler, and Hunter S. Tomcat. She has an affinity for taxidermy, dressing in costume, and finding humor in every situation.
While Lawson's first book Let's Pretend This Never Happened focuses on her upbringing and early life, Furiously Happy is primarily centered around Lawson's experience with mental illness and the various ways it has impacted her life.
The title comes from an idea that came to Lawson as a way to combat the dark days and reclaim some of the good things in life that depression and anxiety often take from people.
"I am furiously happy. It's not a cure for mental illness … it's a weapon, designed to counter it. It's a way to take back some of the joy that's robbed from you when you're crazy."

― Jenny Lawson, Furiously Happy: A Funny Book About Horrible Things
Despite this radical approach, Lawson still struggles through the hard days, but with it she is able to keep in the back of her mind that better times are ahead, which is so important.
In chapters titled things like "How Many Carbs Are in a Foot?" "Cat Lamination" and "Well at Least Your Nipples Are Covered" Lawson explores some of the different ways her mental illnesses has colored her life.
Lawson is completely unfiltered and is as open with her struggles as she is with the various adventures she's found herself on. In this book she shares how on the hard days how difficult it can be to manage her mental illness and the things she does to manage them. This includes therapy, medication, and a number of self-care and self-preservation tactics she's fine-tuned over the years .
She talks about her experiences and how difficult it can be to even get out of bed while in the depths of a depressive episode. She doesn't make any claims to be an expert in the field of mental health and fully recognizes how unique mental illness is.
"My mental illness is not your mental illness. Even if we have the exact same diagnosis we will likely experience it in profoundly different ways. This book is my unique perspective on my personal path so far. It is not a textbook. If it were it would probably cost a lot more money and have significantly less profanity or stories about strangers sending you unexpected vaginas in the mail. As it is with all stories, fast cars, wild bears, mental illness, and even life, only one truth remains: your mileage may vary."

― Jenny Lawson, Furiously Happy: A Funny Book About Horrible Things
Still, at her lowest Lawson was able to find support and encouragement from her blog readers, which
Analysis:
Furiously Happy is hands-down the funniest book I've ever read. I've never laughed so hard while reading a book in my life, and still do even though I've read and listened to the book a handful of times. Jenny's sense of humor is amazing, though not for the easily offended reader.
As irreverent as she can be with her jokes, she uses an equal amount of care to discuss the heavier topics discussed in the book. I love her way of talking about difficult things in a light and approachable manner. While hilarious, the yet never pokes fun at anyone's struggles and there are parts that make me tear up without it being dark and depressing.
She narrates the audiobook herself and does an amazing job, so check out the audio version if you want a great listen. You'd never guess it didn't come naturally to her if she hadn't literally written a chapter about it in the book.
For a sneak peek of her narration skills, I've included a video of her reading her book when it accidentally got published with pages of George R. R. Martin's Game of Thrones mixed in with it. She took the printing error in stride and shared the hilarious results for her readers to enjoy.
Overall, Furiously Happy is a fantastic book to help eradicate the stigmas associated with mental illness and give insight into what it can be like to live with these conditions. Jenny's heartfelt and hilarious honesty honestly changed the way I see mental health, both in myself and in general with Jenny's heartfelt honesty.
Takeaway:
Furiously Happy is one of my all-time favorite titles and my absolute favorite nonfiction book. It's definitely an all the stars rated read and listen for me.
It's a great exploration of a number of health topics, and, I'd recommend this book to anyone with mental health… which is to say everyone. And definitely anyone who struggles with theirs.
Content Warning:
mental illness, suicide, adult language and humor, self-harm