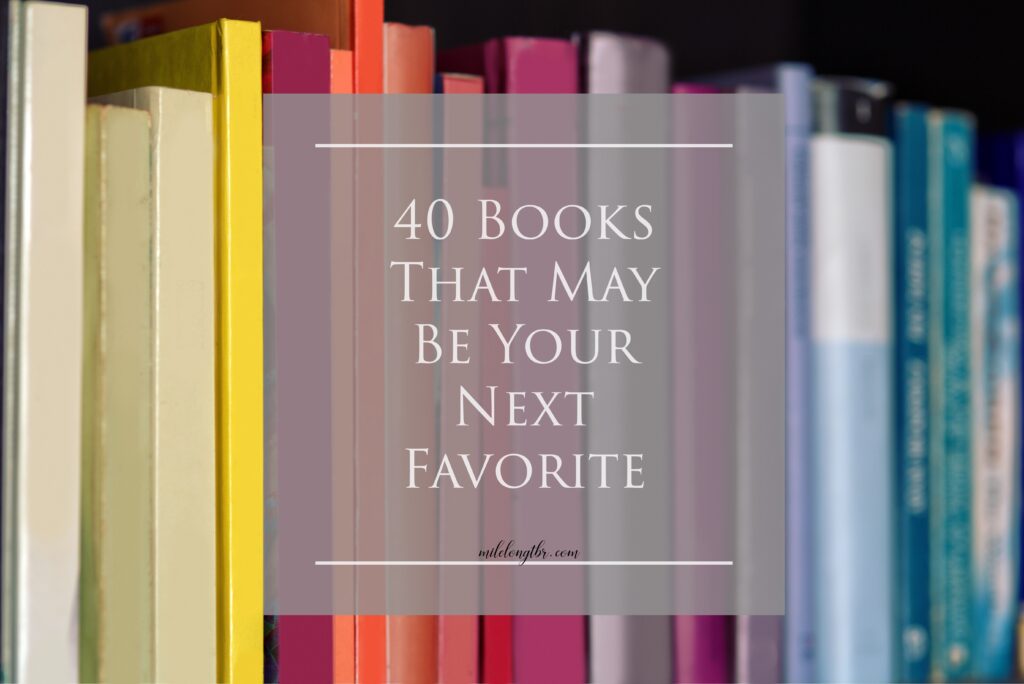 A year ago I asked all of you for your must-read favorite book recommendations.
I posted a list of my top favorite books, which included The Little Prince, Eleanor Oliphant is Completely Fine, Furiously Happy , A Tree Grows in Brooklyn, and Practical Magic, to name a few.
And then I asked for your help finding my next favorite book.
Here was the original post:
Well, the bookstafam delivered, and gave me 40 recommendations for books they love and recommend– so I figured it was high time that I shared that list.
Maybe you'll find your next favorite book here too?
These books all came highly rated and personally recommended to me.
There are a bunch of genres to choose from; everything from classics to nonfiction, historical fiction to fantasy.
Your list made my TBR grow.. a lot and introduced some new titles to me, as well as gave me a nudge to read ones that I'd had on my mind for a while.
Take a look at the 40 recs and see if there's something you're ready to finally move to the "read pile."
---
Classics:
---
1. Pride & Prejudice
2. Dracula
3. The Brothers Karamazov
4. Jane Eyre
5. The Grapes of Wrath
6. Little Women
7. The Old Man and the Sea
8. The Outsiders
9. To Kill a Mockingbird
---
Contemporary Fiction:
---
10. Queenie
11. Angle of Repose
12. Close Enough to Touch
13. Fried Green Tomatoes at the Whistle Stop Cafe
14. Summer Sisters
---
YA:
---
15. The Perks of Being a Wallflower
Everything, Everything
Life After Theft
The Giver
Boys Don't Cry
---
Historical Fiction:
---
21. The Nightengale
22. All the Light We Can Not See
23. The Book Thief
24. Cold Mountain
25. The Beekeeper of Aleppo
26. Forty Rules of Love
27. The Girl You Left Behind
28. Sarah's Keys
29. The Bronze Horseman
---
Nonfiction
---
30. Life After Life
31. Tuesdays With Morrie
---
Thriller
---
32. Pretty Girls
33. The Eight
34. Verity
35. . The Whisper Man
---
Romance:
---
36. The Kiss Quotient
---
Fantasy / Sci-Fi
---
37. A Darker Shade of Magic
38. Serpent & Dove
39. Flowers for Algernon
40. The Selection
---
Wow! 40 awesome books- maybe one of them could be your next favorite?
Are any of these titles already among your favorites?
What other books would you add to the list?