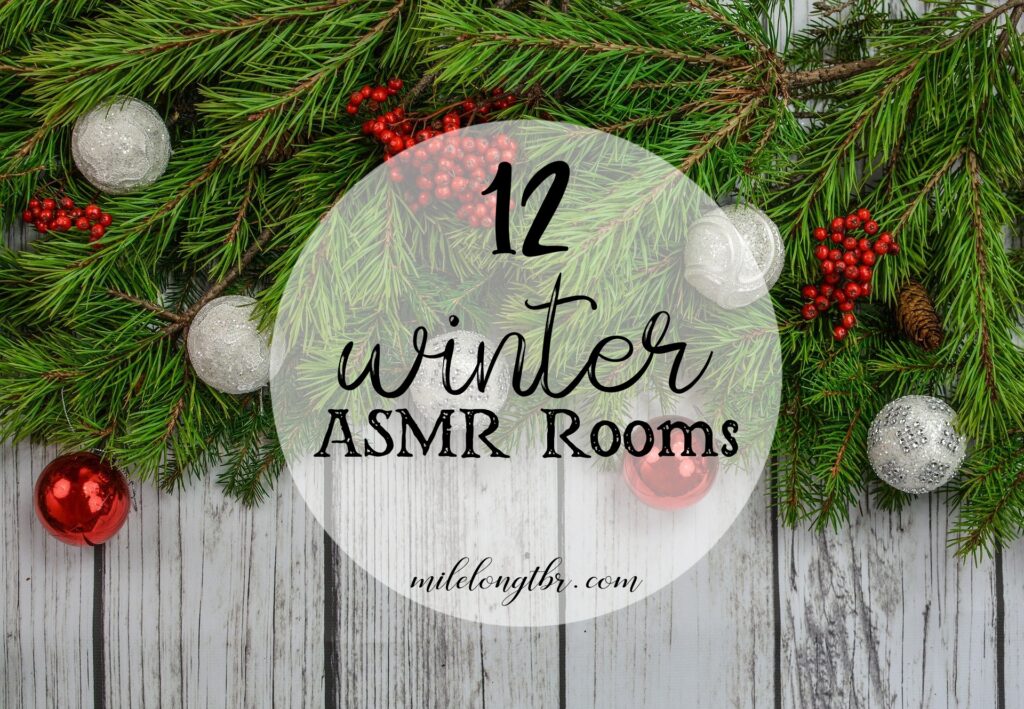 ASMR Rooms have been a game-changer for me this year. I love turning one on for a cozy and relaxing night of reading.
For those of you unfamiliar with the term, ASMR is an acronym for Autonomous Sensory Meridian Response, which essentially means that the noises here are meant to soothe and trigger a brain response that leads to deep relaxation.
This is, of course, an overly simplified explanation, but you can read more about the science behind ASMR here. There are over 15 million ASMR videos on YouTube, with videos featuring everything from haircuts, book pages turning, and eating being done in a repetitive and soothing enough manner that people want to watch for this response.
Personally, I love ASMR rooms, which feature animated scenes and accompanying background noise to create whatever ambiance is desired. I've found this not only relaxing and enjoyable but that it helps improve my focus when reading and my productivity when writing. They're also great for studying and getting work done on the computer- any time you want a little white noise in the background.
Also, as a bonus, all of the rooms featured here are free from ads in the middle of the video to keep you focused.
Here's a list of 12 of my favorite winter ASMR rooms for your holiday reading!
1. Beautiful Snow with Wind and Fireplace Crackling Fire Sounds
This cozy bedroom is the perfect place to curl up with your current read and relax. There may be a blizzard whirring outside, but with the crackling fire noises and all the blankets and pillows you'll feel nice and cozy.
2. Cosy Living Room Snow Falling
This rustic cabin in the woods is an absolute dream! The snow is falling softly outside, but this interior is so warm you won't mind at all. The main focus of the audio here is the fire so it's a very peaceful and relaxing video.
3. Beautiful Christmas Fireplace 
This festive scene is so inviting . There's a roaring fire and Christmas music playing in the background. It's primarily instrumental, but there are some vocals here so keep that in mind when selecting this beautiful scene.
4. Christmas Eve Ambience
This ASMR room transports to a beautiful silent night. It will make you feel like you're looking out the window at this church as you hear the wind and falling snow outside and the faint ambient noise from the church. It's such a peaceful scene for an evening of reading.
 5. Christmas Fireplace Scene with Snow and Crackling Fire 
This giant tree is hard to top and so is this cozy ASMR room. The snow is coming down hard outside, but you'll feel warm and insulated from this beautiful living room with its blazing fire.
6. Winter Tea Time
This scenic winterscape features beautiful scenery and wildlife from the porch of a cabin in the woods. There are many layers to the audio, including strong winds, a crackling fire, and the occasional sound of someone pouring and stirring their tea in its cup.
7. Cozy Winter Hut
This ASMR video features a cozy reading nook with the sounds of howling wind and a crackling fire. It's so inviting! I wish I could curl up here and sip the tea and see what books are waiting on the shelves!
8. Falling Snow by Fireplace
This dreamy winter scene is super cozy and realistic. The beautiful arched windows show the snow falling outside, but the crackling fire is sure to make you feel warm inside while you listen to it in the background.
This room is definitely my current favorite to read with.
9. Snowy Night in Starbucks
For those who like a little more noise and music, this Christmas coffeeshop is the perfect holiday ASMR room. There's instrumental Christmas music playing, as well as the sounds of café guests and steaming milk. Grab a cup of your favorite warm beverage and enjoy!
10. Cozy Christmas Coffeeshop
This merry and bright café is so much fun and a little quieter for those who want a coffeeshop vibe with a little less music. Everything is a bit more subdued here and it's a great environment to read and relax in.
11. Winter Manor Library
Bibliophiles will love being transported to a different place- and time in this fun and cozy ASMR room. There's an approaching horse-drawn carriage at the start to set the scene, then things quiet down to she soft burning of a fire and the purring of the cat.
12. Christmas Tree Farm Ambiance
This fun outdoor ASMR scene is beautiful and fun with the retro Hot Chocolate stand and sunset over a Christmas tree farm. This quiet room is great scenic background noise for reading as you can hear quiet nature noises and sounds of drinks being made. This is perfect for those looking for outdoor winter ASMR rooms!
---
Enjoy these rooms and happy reading!
If you're looking for more be sure to check out my other lists featuring rooms with autumn vibes or ASMR rooms for writing.
I'd love to hear your favorite winter ASMR rooms in the comments!