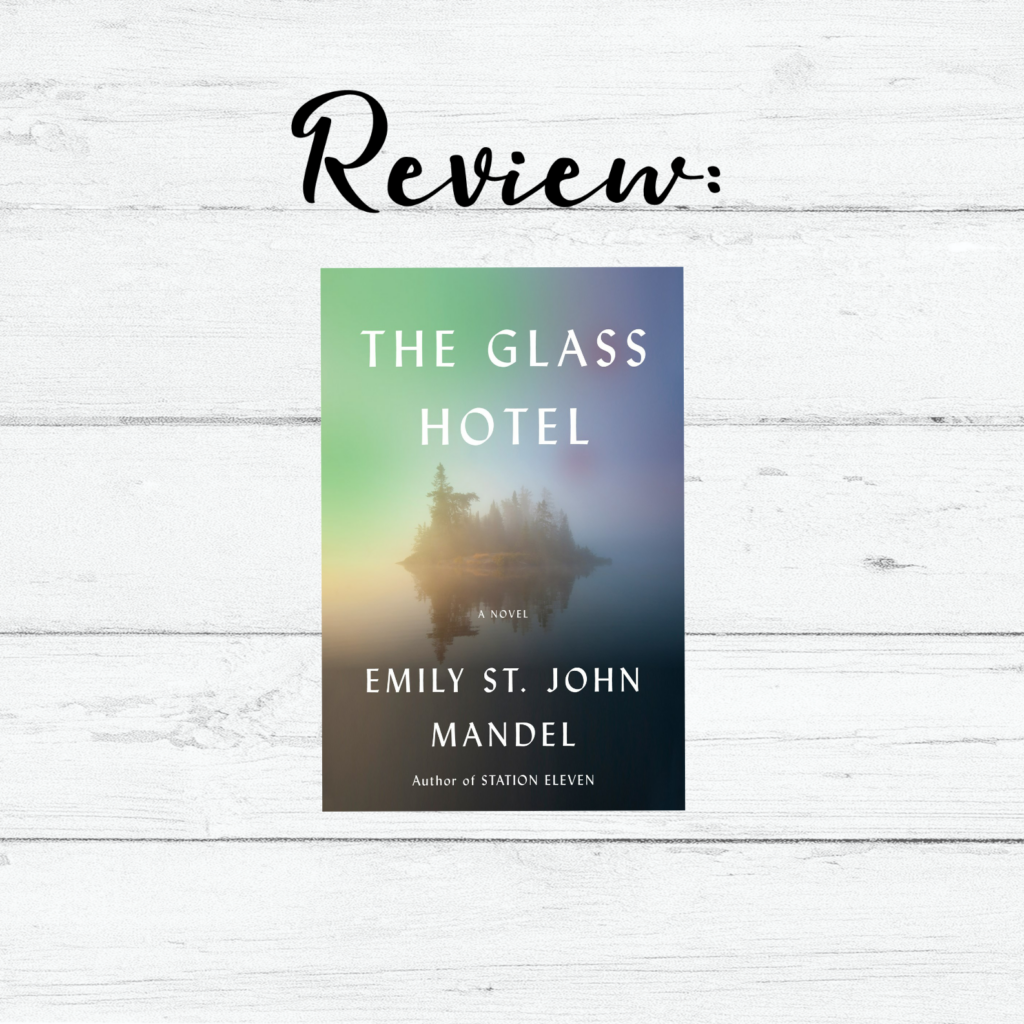 Emily St John Mandel's latest novel The Glass Hotel was one of my most anticipated releases of 2020, and I went in with high hopes. Hopes for more of the lush prose I've come to love from Mandel, and hopes for significantly less plague in the plot than in her beloved Station Eleven.
I'm pleased to report that she delivered- on both fronts. The prose is lush and tantalizing and the plot is unique and, thankfully, pandemic-free.
I went into this novel not knowing too much about the plot. I did a cursory check to see what the premise was, but honestly didn't need much more than a Mandel by-line to sell me on the book.
I'm glad I took this approach, because some of the summaries I'm seeing on bookseller's websites do not do a good job of conveying what the book is actually about.
Here's what you should know about The Glass Hotel if you're interested in reading.
Synopsis:
This gripping, suspenseful novel opens in a haunting manner, then takes readers back decades to tell the stories of a number of characters; a painter, a college dropout, a Saudi Prince, a shipping executive. Individually, fascinating vignettes that can easily make the reader forget the larger picture of the novel, especially as it is still taking shape.
Together, these smaller players are woven into the lives of the novel's central characters – Johnathan Alkaitis, a businessman and financier – and Vincent, a young woman constantly reinventing herself, transforming from a hotel bartender to Alkatis' wife, then to a chef when the Ponzi scheme her husband is operating unravels.
Vincent isn't the only one who is shaken in the aftermath of the Ponzi scheme. Alkatis' investors, employees, and friends come crashing down along with him. Everyone tangled up in the scheme is forced with the prospect of reinventing themselves as well. Many investors have lost everything; some employees are behind bars for their role in the coverup. Everyone has shattered, their lives splitting into a distinct 'before' and 'after.'
Eventually, Vincent takes a job as a chef on a container ship, cooking for the crew six months at a time, then taking shore leave for three to explore the world. It appears she's happy with her new life, until one day she vanishes from the boat.
From there, things begin to come together and even more when the shipping company launches an internal inquest into Vincent's death, and yet diverge as the plot turns towards the investigation.
Analysis:
The Glass Hotel has been billed as a thriller, a ghost story, a book about the 2008 financial crisis, a detective novel. It is all of those things –and yet none of them.
To me, it is a stunning work of literary fiction, with the best elements of all of the above genres.
However it is categorized, you will be drawn under the captivating current of Mandel's writing from the opening pages until the end that takes us right back to those opening lines.
Mandel's ability to move between and transcend genre is incredible, and the way she carries her signature prosaic style through them all speaks to her talent as a writer.
Fans of Station Eleven will appreciate the similar style. The plot in The Glass Hotel explores the unraveling of a different scale; the Ponzi and the lives of all those caught up in its scheme instead of society at large. The intricacies of the character's lives are just as beautiful. The characters are complex, nuanced, and the portraits she Mandel paints of them are so gripping they could each have a book of their own. Reading everyone's response to the fallout of the Ponzi is a truly fascinating exploration of the human condition and the ways we respond in dire times.
Keep an eye out for two characters in particular: Leon Prevant and his assistant, Miranda Carrol who were also characters in Station Eleven. This subtle connection is a gem for avid Mandel fans, and gives credence to the "counterlife" aspect in Glass Hotel, suggesting that the two stories could indeed take place in the same universe.
Vincent's character is complex and contradictory in the most delightful ways. She is vulnerable, yet guarded; resilient, yet flawed in a fundamental way. She's as happy floating around the world without a permanent home as she is playing house with a billionaire. This may be because Vincent is never truly satisfied, instead filled with a visceral longing for something perpetually out of reach. Readers will connect with her honesty; you can't help but feel things along with her as she sheds her skins and moves through the worlds she inhabits.
Mandel is a master storyteller and the more intimate scope of the plot allows for her writing to truly shine. The book had such graceful movement, which, juxtaposed with the heavy themes and eerie mood is nothing short of mesmerizing.
Overall, these stunning elements combine to make a novel that's not to be missed, and that will linger with readers long after the final pages.
---
---
Takeaway:
Just go buy the book.
It's amazing.
If you've read this far and still have any interest in The Glass Hotel I can't say it any more plainly. It has already received so much critical praise and will easily be on the "Book of the Year" lists for 2020.
For me, this is easily a five-star read. I am already wanting to reread and revisit this world, and I can see this book making it to my personal list of favorites as well.
I wouldn't rely too much on the synopsis you see at your book retailer to get a feel for this book but can say if you're a fan of the author's writing style or enjoy a tensely woven narrative with complex characters and evocative writing, this will be a great choice for your next read.
Content Warning:
suicide, substance abuse, adult language,