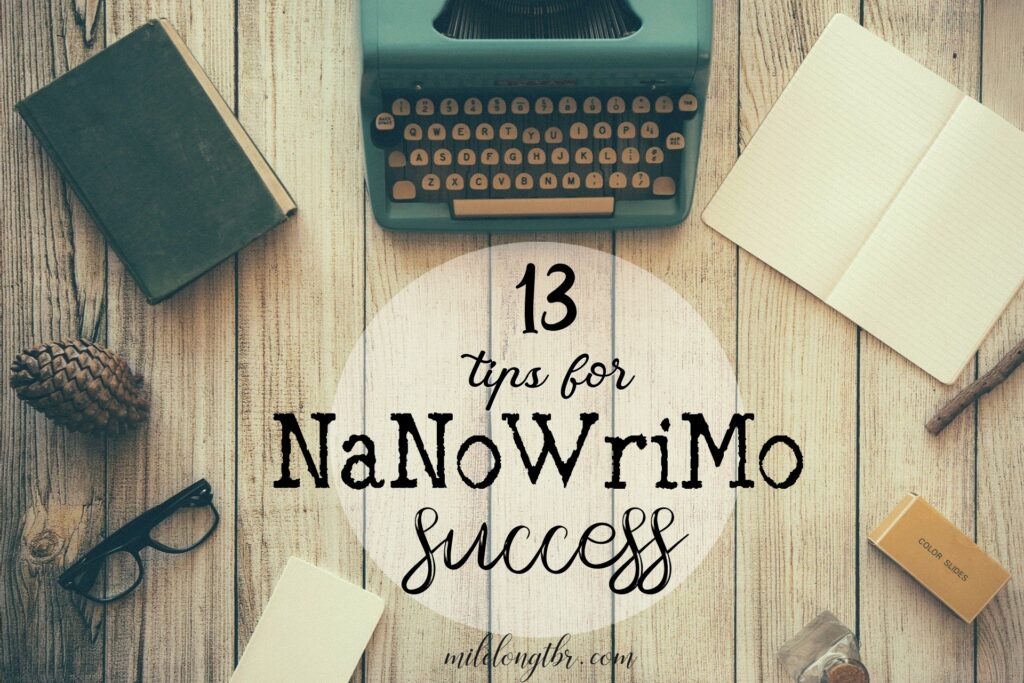 Writing a novel is hard.
Even more challenging is setting out to write it in a month, but to those of us who embark on NaNoWriMo, it's a challenge we're ready to face.
These tips can help ensure your success in writing, both for NaNoWriMo and beyond, so take a look and use these ideas to set yourself up for productive writing.
---
1. Schedule your writing time.
The first tip seems fairly obvious- and it is- but it's something that many overlook.
Once you commit to NaNoWriMo you need to have an idea of when you'll do the work. You may want to dedicate a certain number of hours each day to writing, or just plan to write in the evenings until you hit your word count. Whatever your approach, come up with a plan and stick to it.
It's too easy to say you'll write later, but when you commit to writing at a specific time and write it in your schedule it's harder to find excuses to skip it.
2. Create a Functional Writing Space
Again, this is a simply but easily overlooked tip for NaNoWriMo. Figuring out where you will write is just as important as knowing when you'll write. Once you choose your space, try to tidy up a bit – a clear desk is a sign of a clear mind, after all.
Then, do something to make it a bit more inviting and do something to signify that your time here is for writing. This is especially important if you're using a space that does double duty-say your dining room or kitchen table, or a desk where you also work from home.
This could be something like lighting a scented candle when it's time to write to associate this time with writing, or turning to an ASMR room for added ambiance.
3. Find Your Tribe
NaNoWriMo's website is made up of a great community of writers like you and is a fantastic starting point to find a writing group- and even to start your own.
I belong to two online groups through their website- one local and one made up of writers all over the world and love the support and accountability they provide.
You may also want to consider looking locally- your library system, Meetup, or bookstores are all great places to look for and advertise local writing groups.
4. Participate in Virtual Events
Though many in person events have been scrapped this year due to safety concerns, the writing community has certainly come through in organizing virtual ones.
There are a number of official write-ins, as well as ones within your aforementioned groups. Writing sprints are great ways to challenge yourself to get into gear and increase productivity.
There are also a number of social events to connect you with other writers, which is even more welcome in these times than ever.
There are a number of different events, so branch out and give them all a try and see which ones leave you feeling productive and inspired.
5. Buddy Up
Once you've found a group and interacted in the above steps, you may want to pair off or form a smaller accountability group.
Perhaps you have a friend who is also participating in NaNo, or connected with someone in one of the events.
A buddy can be a great accountability partner to bug (remind) you about sticking to your writing schedule and bounce ideas off of.
The beauty of this is that your buddy can be anyone, but bonus points if they're in a compatible time zone or genre so you have the potential for a write-in buddy and potential beta reader down the line.
6. Make a Vision Board
This one is open to interpretation. You may want to print out pictures that remind you of your setting or clip images from magazines that resemble your characters. Personally, I have a board on Pinterest with images and resourses for my work in progress saved digitally.
I've heard some writers say they make a playlist for their project with songs that have the mood they're looking for or remind them of where their story takes place.
Whatever medium you chose, having a source of inspiration to turn to can make a big difference as your write your novel.
7. Come Up With A Strategy for Writer's Block
Few things threaten progress in writing like the dreaded writer's block. When you're struggling to feel inspired have a plan of what to do to get back into the grove so the words will start flowing again. Make a list of ideas to keep in your writing space, and be sure to check back for a blog post with a list of advice from published writers on how to get unstuck.
8. Resist the Urge to Edit
This is a huge downfall of mine, and I know a lot of other writers can relate. Remember, the goal is not to write a perfect final draft of The Great American Novel in one month, despite our fantasies.
NaNoWriMo is about getting words on the page, and time spent doing revisions is time not spent writing. There will be time to go back over your work after the month is up, but for the proposes of the challenge try your best to just keep writing.
9. Focus on Your Daily Word Count
Writing a novel is a daunting task, so break it down into chunks to make it more manageable. For the standard 50,000 word NaNoWriMo goal that averages out to 1667 words every day.
Of course, this isn't a one-size fits all scenario. Your total WC goal may be different and you may also want to consider adjusting your word count according to what you have going on from day to day.
Use that schedule and try to come up with a word count that will help you fit your goal. For example, if you work during the week and only plan on carving out an hour each weekday, those daily goals will be less than your weekend's daily goals. If your kids are at school during the week and weekends mean more family time it may be the opposite.
Also, remember to factor in holidays and other special days that may mean less time working on your novel.
The key is figuring out what works for you and sticking to it!
10. Try a Distraction-Free Writing Browser
If you're focusing too much on word count and the previous paragraph you wrote, you may want to switch to a simplified word processor. My personal favorite is Calmly, which is a blank canvas to start writing on and also has a dark mode feature for late-night writing.
11. Be Ready to Take Notes
Inspiration can strike at the most unlikely – and inconvenient of times. Be prepared. You may want to carry a notepad with you to jot down brilliant ideas while you're on the go. Or if digital is more your style, have a voice recording or note taking app ready to go on your phone so you can remember your ideas the next time you're sitting down to write.
12. Plan to Make Sacrifices…
Social calendars already look more sparse than usual in 2020, which may be a good thing because writing a novel often means having to skip doing other fun things. Be sure to carve out some time for self-care, and remember that saying no to achieve this goal is necessary sometimes and will be worth it when you have your manuscript in hand.
If you have to wake up early, stay up late, or skip movie night to get it done you won't be the only one.
13. …But Plan for Things Not to Go to Plan
Despite our best efforts things are bound to come up that threaten our well-laid plans. Whether it's writer's block meaning you don't hit your word count one day, or a demanding work day that takes from your writing time, don't let it deter you from your goal.
It's easy to fall into the trap of giving up on the week because one day wasn't as productive as you'd like, but don't do it! With dedication, you can push through and still have a great draft of your novel by the end of the month.
---
Hopefully this NaNoWriMo Guide gives you a great starting point for how to succeed in your quest to 50k.
Happy Writing, and be sure to check back for more in this series including tips on how to get through writer's block from published writers.
What tips would you add to this list?