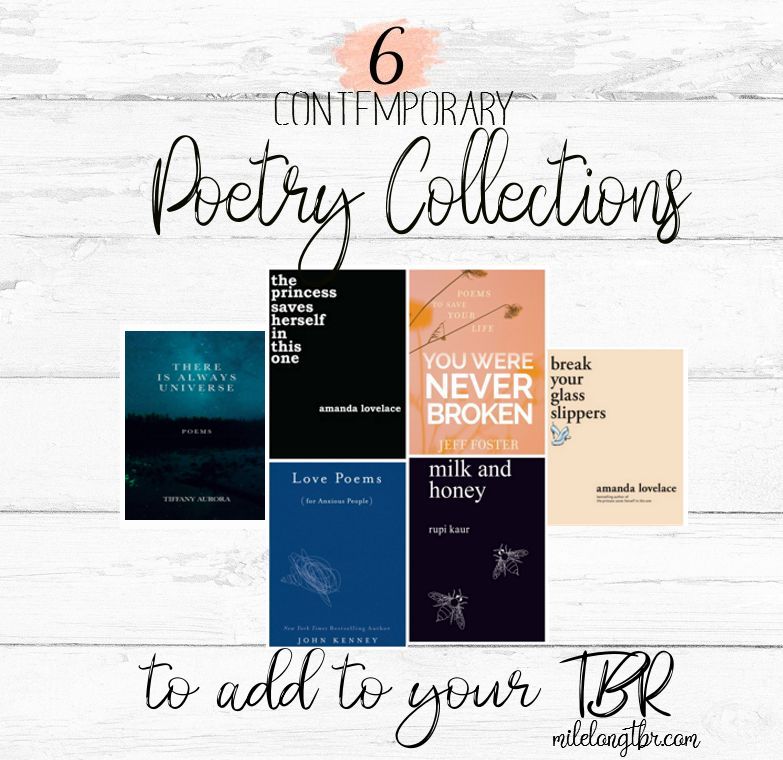 Poetry.
The word can evoke memories of Shakespearean sonnets, cliched lines, and English lectures you'd rather not revisit.
Modern poetry, however, is worlds away from the corny notes scrawled by your teenage sweetheart, and much less intimidating than the abstract stanzas you were asked to analyze in literature classes.
Since April is National Poetry month, it's the perfect time to delve into the verses of modern poetry .
Whether you're picking it up for the first time, or have already experienced the joys of contemporary poetry, here are recommendations for a new title you're sure to enjoy.
For Those New to Modern Poetry:
There are two quintessential poets who come to mind when it comes to contemporary poetry. For those familiar with the genre, the names Rupi Kaur and Amanda Lovelace likely stand out among the rest.
I've listed the debut collection from each author here, but if you've read those the follow-up titles are just as captivating.
1. Milk and Honey by Rupi Kaur
This book, published in 2014 helped spur a resurgence in poetry reading with its uniquely simple verses and lovely line drawings. The poetry is raw, cutting, and deeply sensual, and you'll feel seen and understood reading her words.
While milk and honey is a wonderful starting place, I also highly recommend the sun and her flowers which is my personal favorite from the two.
Whichever book you select from Kaur, you're sure to enjoy the soulful, contemplative poems and fresh approach to poetry.
---
2. women are some kind of magic series by Amanda Lovelace
Amanda Lovelace is a powerful wordsmith, crafting beautiful poems about often difficult topics. Her books probably contain most of the trigger warnings, so go in with that in mind and expect to be amazed by the force of her words.
This book is the first in her "women are some kind of magic" trilogy which are all unique and interesting explorations of love, loss, grief, and healing. I own and all three titles in the series, which all use different elements of classic fairy tales and myth to help tell the tales of women overcoming and finding strength within themselves.
---
For Those Looking to Read Further:
If you're familiar with the above titles and looking for great new poetry titles to add to your library here are some great ones to try.
---
3. break your glass slippers by Amanda Lovelace
Lovelace's latest work is the first in an entirely new collection, titled "You Are Your Own Fairy Tale."
break your glass slippers is filled with gorgeous illustrations and lovely, poignant poems in the forms of self-realizations, notes from the fairy godmother, as well as other voices that come together in this collection to tell a story of another princess who ultimately has all she needs within her the entire time.
Modern, feminist, and empowering, the follow up to the 'women are some kind magic' series poetry and break your glass slippers, her latest really spoke to me, and fans of her earlier work are sure to love it as well.
---
4. Love Poems for Anxious People by John Kenney
Love Poems for Anxious People by John Kenney is a great little collection that explores topics the anxious and socially awkward among us are sure to relate to. It muses on everything from forgetting someone's name, fighting "monkey mind" during meditation practice, and self-diagnosing on WebMD, as well as complications of working and parenting in the modern age.
While a bit more on the prosaic side than the poetry I typically gravitate to, and not really dealing with themes of love at all, I still found this to be a delightful read.
On second thought, these may not be lyrical verses on romantic love, but Kenney's words show that he intimately understands the struggles of an anxious person; the things that keep you up at night and the intricacies of who you are at your core. I can't remember when I last felt so understood. And perhaps that makes these the best love poems of all, at least for one anxious person.
This book is published April 21, 2020.
---
---
5. There is Always Universe by Tiffany Aurora (TBR)
I fell in love with Tiffany Aurora's work after reading Poems From a Turquoise Heart and its musings on all sorts of matters of the heart, from love in every form; romantic, familial, and self-love to healing from trauma and loss. This book may be hard to find, but her Instagram is filled with poems from her other collections. There is Always Universe really stood out to me.
This one explores themes of the universe at large and the one that is contained within us and the natural and emotional multitudes inside and around us.
Aurora's poetry is emotional, ethereal, and a healing to read, and I'm looking forward to taking this book off my TBR by the end of the month.
---
6. You Were Never Broken by Jeff Foster
Jeff Foster's new book, You Were Never Broken – Poems to Save Your Life is an intimate collection that draws on the author's own experiences of feeling anxious, restless, and even suicidal to share insight and hope with readers.
Part poetry, part self-help book, You Were Never Broken is a beautiful reminder of what it means to be human and how to deal with some of the more difficult feelings that arise in life.
Foster challenges readers in the most comforting of ways, encouraging them to sit with their fears and difficult emotions instead of masking and suppressing them. The rawness and vulnerability in the verses is apparent and the reader is encouraged to embrace their own vulnerabilities with radical self-acceptance.
You Were Never Broken is the best poetry collection I've read this year, but you'll have to wait until it comes out on July 28, 2020, to enjoy for yourself, or check if ARCs are available.
---
Hopefully a few of these great approachable titles stood out to you! Any of them would be a great pick to diversify your reading and celebrate National Poetry Month.
I'd love to hear your thoughts on Modern Poetry and what collections you've loved in the comments!