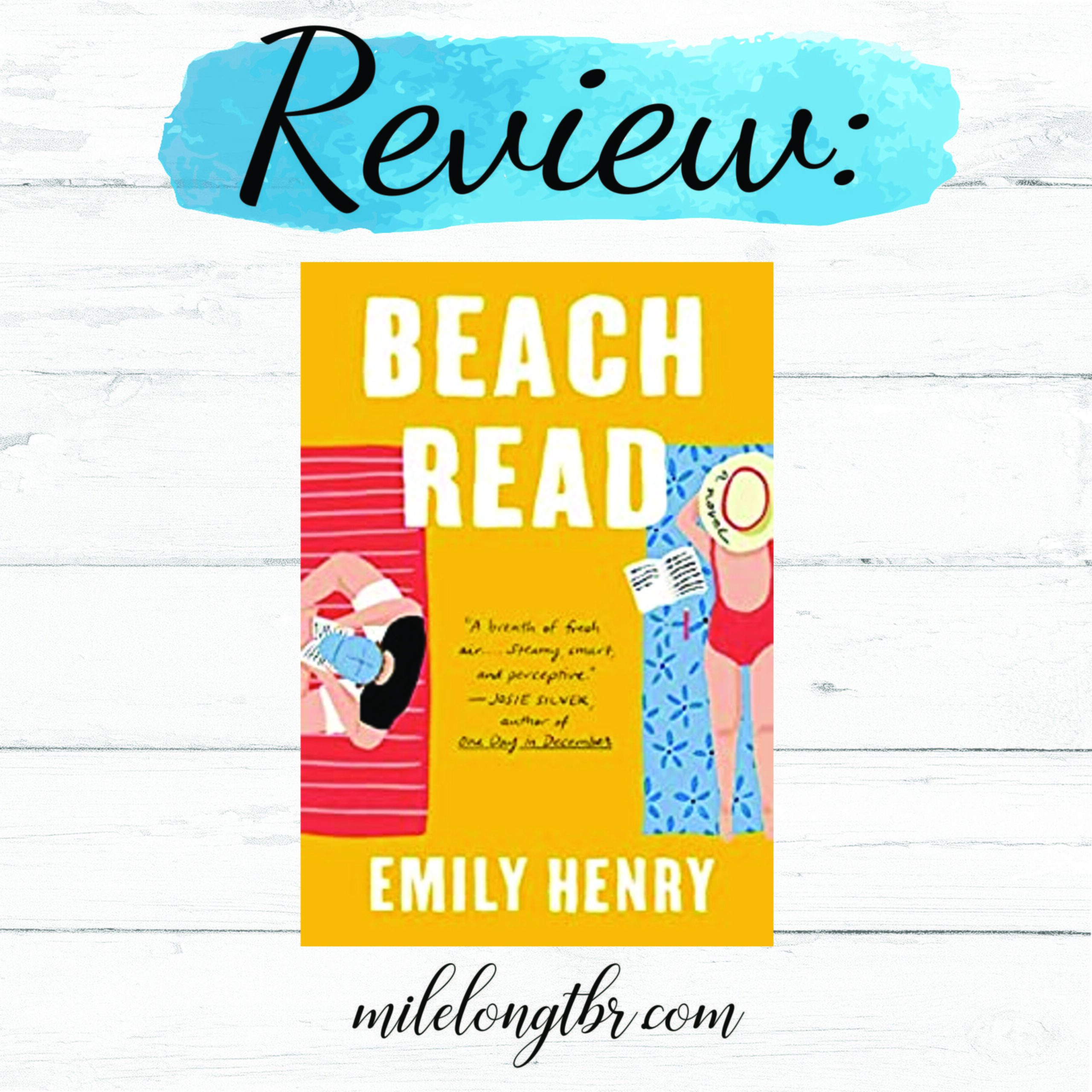 Beach Read was one of my Book of the Month picks for April and I am so glad I got to be an early reader of this book because it came at just the right time for me!
I've been finding myself drawn to lighter reads like contemporary romance lately, despite myself, and thanks to Emily Henry I finally understand why.
"I wasn't writing romance yet– I didn't even realize how much I loved reading romance until Mom's second diagnosis two years later, when I needed a good distraction– but I was definitely writing romantically, about a good world, where things happened for a reason, where love and human connection were all that really mattered."

-Emily Henry, Beach Read
---
I love this quote from the book– and how it put into words the longing I've had for this type of story. No, we can't always expect happy endings– but sometimes we need to read them. And now, with all the uncertainty in the world, is one of those times for many readers.
Yes, the name and cover of this book are slightly misleading. There's not much beach happening in the book. But, it's a lovely contemporary romance that provides a welcome escape.
Here's what you need to know about Beach Read.
Synopsis:
January Andrews is a bestselling romance novelist who stops believing in happy endings after the death of her father leads to the discovery that he had a secret house and lover. Then her longtime partner leaves her for being too sad.
Unsurprisingly, this makes it hard for her to do her job- write books where everyone lives happily ever after.
January is running out of options- and money- so she moves to the love nest her father left to her in the small lake town of North Bear, Michigan to get it ready to sell and to write her next book.
She doesn't have high expectations of North Bear, but what she didn't expect was for her next-door neighbor to be Agustus Everett- her college nemesis who has his own successful career writing literary fiction.
It's soon apparent that in a town this small there isn't much chance of not running into the other woman who she's always trying to avoid, let alone Agustus.
He's struggling with writer's block too, so to motivate themselves into writing they make a bet. Each writer agrees to write a book in the other's genre.
But, since Gus doesn't have much experience with happily ever afters and January needs research for her work, they agree on regular outings to educate each other on the necessary elements of each genre.
The thing is, these "research outings" start to look a lot like dates.
And January and Augustus find it increasingly harder to pretend that they don't enjoy each other's company.
But, will they be able to put their differences aside and be real enough with each other–and themselves to turn it into something lasting? Or is January better off finishing her book and getting the house sold as quickly as possible so she can get far away?
Analysis:
Enemies to lovers is one of my favorite romance tropes, and Beach Read is a fun example of just how entertaining it is when done well.
I would say that Augustus and January's coming together was less due to character development and more to them dropping the pretenses and being vulnerable to each other. While I love to see some transformation in the main characters, the book still had them come together in a satisfying way.
This book had lots of gems for bibliophiles, some literary jokes had me nearly spitting out the margarita I was sipping while reading this by the pool. There were a number of cheesy moments, but Henry embraces them and they work to make this a fun romantic comedy.
What the book was not?
Sappy. With a character that's a self-professed romantic at heart, albeit a temporarily disillusioned one, it could have easily gone the other direction. I'm glad Henry keeps it in check and makes things believable between the two characters.
A few minor characters really stood out as well. Pete and Maggie are full of all the small-town charm you'd expect from the endearing locale in the book. January's best friend Shadi is fun and quirky, and though most of her appearances in the book are virtual, it's evident that the two have a strong bond. It's refreshing to see healthy female friendships so supportive and genuine.
The pacing of this book worked well. The plot moved along at a pace to keep you reading and engaged, while still giving the feel of long summer days.
My main criticisms of the book are that I'd have liked to see more character growth and exploration of some of the deeper themes the book discusses. A bit more balance between the romance and literary fiction that the characters write, if you will. But for escapism, this book is hard to beat.
Takeaway:
Henry's Beach Read is the perfect Summer escape and my favorite Contemporary Romance of 2020 so far. I'm giving this fun summer romance four stars – and I'm looking forward to reading more from this author when I'm looking for a fun read.
Content Warning:
loss of family member, cancer, infidelity, adult language, sexual content
---