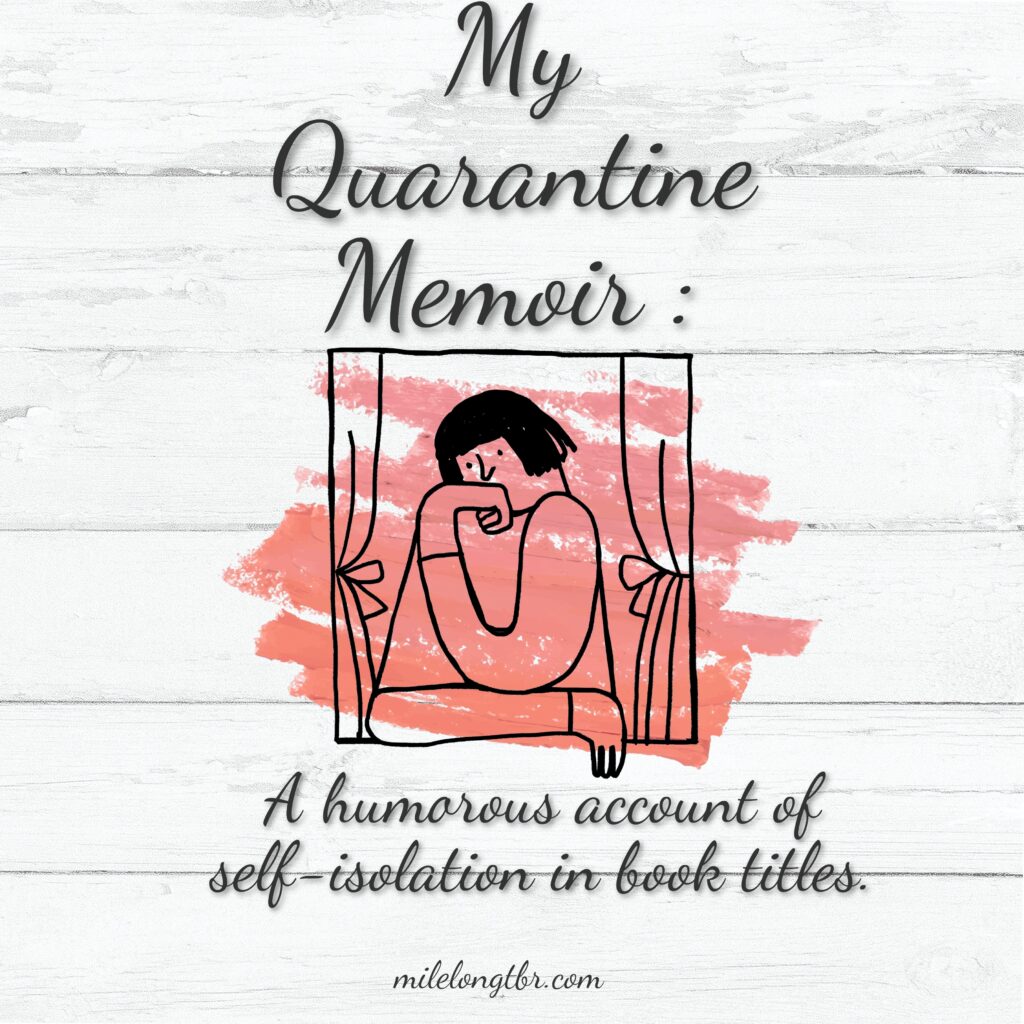 #myquarantinememoir
The hashtag started circulating the Bookstagram community a month ago thanks to an amazing idea from @janaireadsbooks.
The challenge: Describe your social isolation using book titles.
The results (nearly 300 of them!) have been hilarious and beautiful. This is my favorite Bookstagram challenge of the year and I've loved seeing everyone's creativity and browsing through everyone's posts.
Reading all these posts has been so much fun, and being able to laugh in the midst of trying times is so important. I know the creative energy put into writing the memoir was a good outlet for me, and many mentioned feeling the same way.
So, I rounded up 20 posts I especially loved from Bookstagram accounts big and small showing off their creativity in humorous, unique, and even poetic ways.
Take a look! And if you're seeing this and haven't made a #myquarantinememoir of your own, consider yourself tagged!
---
My Quarantine Memoir :
Here's what I came up with for the challenge
---
It was the Twelfth Night of Quarantine in April 2020, the year of The Plague. What could be considered an introvert's Paradise was beginning to feel more like One Hundred Years of Solitude.
The Unaccustomed Earth was making me anxious; the worry about to Tear Me Apart. So, I told myself to Calm the F*CK Down and breathe. I learned to open my eyes to The Things You Can Only See When You Slow Down and be Happier at Home.
Remember that You Are Not Alone in this and that we should all pull together in these difficult times. With any luck, we'll all be Living to Tell the Tale and can recount to future generations stories of the toilet paper crisis of 2020.
But for now, we must remain in isolation until it is safe to return Into the Wild world and things we took for granted. So We Read On, boats against the current, hoping these days will soon be in the past.
---
---
20 Quarantine Memoirs You'll Love
Short & Sweet :
1. The O.G. #MyQuarantineMemoir from @janaireadsbooks , summed up in one title…
2. … and part two, where she uses a classic thriller to describe her dire snack situation.
3. @abbyturnsthepage putting things in perspective and practicing gratitude
Lovely stacks, great stories :
4. inthecommonhours has a gorgeous stack and sweet dedication
5. Bright, beautiful, and creative from @bibliophilly
6. Flower goals from lpm_reads
Biggest Stacks In Sight :
7. @diaryofabookmum piled them up in a stack tall enough to satisfy the most avid readers
#MyQuarantineMemoir– Poetry Edition :
9. @thebooksheelf had to break her poetic pile into two stacks
10. @zubscovered even made hers rhyme!
Some lovely ladies got in the photo with their stack… looking way too put together for a lockdown:
11. love it, @downtogetthefictionon! I hope your husband is OK now!
12. meetmeinthestacks putting us all to shame with makeup AND earrings
13. @nic_reads_inheels showing off her impressive balance and fashion skills
A few furry model features:
14. @milesofpages showing off this face that's begging for kisses
15. a stack of killer thrillers and a sleeping pup from mary_regans_books
16. @andkellyreads caught a catnap behind her fun stack
Some bookstagrammers used children's books for the challenge:
17. @nonrunnercookielover used a bunch of favorite kiddie titles
18. kaciereads put together this hilarious memoir
And, finally, some great new accounts joining in on the fun:
20. loving the wrap and reviews from _endotique
---
Wow!
What an awesome bunch of posts with so many different ideas and interpretations of the challenge!
Be sure to check out the hashtag to find even more new and amazing memiors… I love them all!