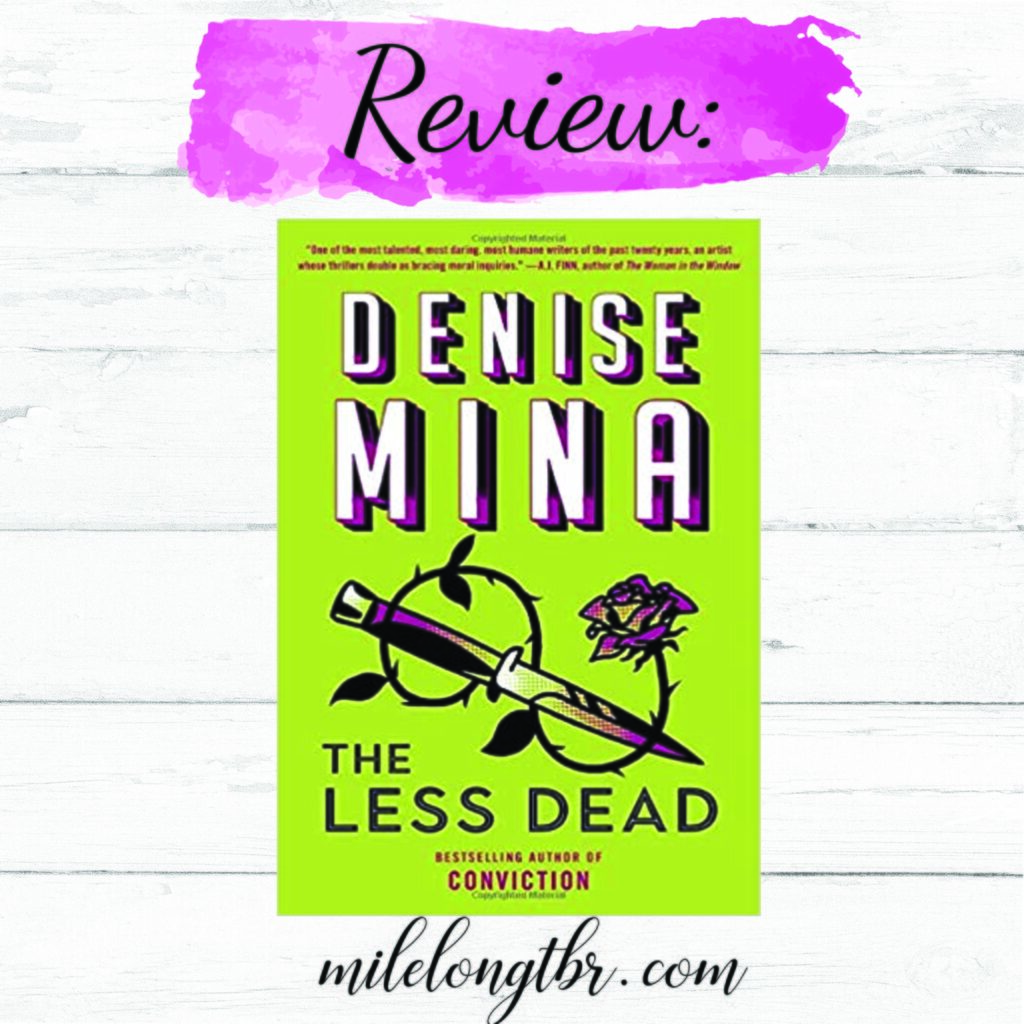 After enjoying Conviction last year I was eager to read more from Denise Mina. That was my first book from the author, which I selected because it was a Reese Witherspoon's Book Club Pick.
Unfortunately, The Less Dead did not deliver the exciting thriller I was expecting.
Keep reading this review to see what specifically about The Less Dead didn't work for me and see if it's one you want to read or consider skipping.
Synopsis:
The following quote is the promotional blurb for The Less Dead.
"She thought she was finding her birth mother.
Now she's searching for a killer.
Dr. Margo Dunlop is at a crossroads. Her adoptive mom just passed away, and Margo misses her so much she can't begin to empty the house—or, it seems, get her brother on the phone. Not to mention she's newly single, secretly pregnant, and worried about her best friend's dangerous relationship. In an effort to cheer herself up she goes in search of her birth mother. Instead she finds Nikki, her mother's sister. Aunt Nikki isn't what Margo expects, and she brings upsetting news: Margo's mother is dead. Worse, she was murdered years ago, and her killer is still at large—and sending Nikki threatening letters.
Margo is torn. Should she stay out of this mess, or try to find justice? But then Margo receives a letter, too. Someone out there has been waiting and watching, and in Margo sees the spitting image of her mother…
Darkly funny and deeply affecting, The Less Dead is a sharply modern new thriller from the bestselling author of Conviction, and a surprisingly moving story of daughters and mothers, secrets and choices, and how the search for the truth—and a long-hidden killer—will lead one woman to find herself."
Analysis:
What worked for me:
Mina attempted to humanize sex workers and show what might lead a person to that kind of life and challenge people's preconceptions of them.
The final paragraph was strong.
Short chapters made for a quick read.
There was tension in some of the scenes that reengaged my interest.
What didn't:
The writing. The style was uncomfortably choppy, the transitions between points of view and dialogue were sloppy, the tense changed intermittently.
The characters. They were unlikable, which isn't necessarily something that makes me dislike a book, especially thrillers. In this case, however, there was too much backstory in some aspects, and yet none of it added up to giving me an understanding of the main character or what would lead her to make many of the choices she did.
The Grit. It's a thriller, I expected the book to have some dark and difficult elements. In the case of The Less Dead, I found it to be distasteful. Virtually every trigger warning imaginable applies to this book. (See list at end of post.) I feel that Mina took this too far and at points, it seemed that certain elements were added in for shock value rather than to contribute to the plot.
Female friendships. Shockingly, the number one device I have a hard time getting past isn't the rape, murder, or even the pedophilia. It's the relationship Margo has with her "best friend" Lilah.In short, it's a toxic, competitive, and "frenemy"-like dynamic that I simply can't stand and also has no relevance to the plot.
The Plot. Most of the time I simply wasn't engaged and interested in what was going on. There was too much extraneous information and storylines which were never resolved. I didn't like the way Mina chose to end the story.
---
Takeaway:
Not sure what to say other than that, folks. The "What Didn't Work" list should speak for itself.
I hate to write negative reviews but have to be transparent about this book, especially if there are other readers out there who enjoyed Conviction and are expecting something similar.
I struggled to finish this book and likely would have DNF'ed it if I were not reading a review copy. Ultimately, I gave the book two stars.
Thank you to NetGalley and Mulholland Books for the advance copy.
Content Warning:
death of parent, abusive relationships, stalking, child abuse and neglect, prostitution, abortion, murder, violence, drug use, mention of suicide, pedophilia, rape, allusions to child pornography, defiling a corpse,