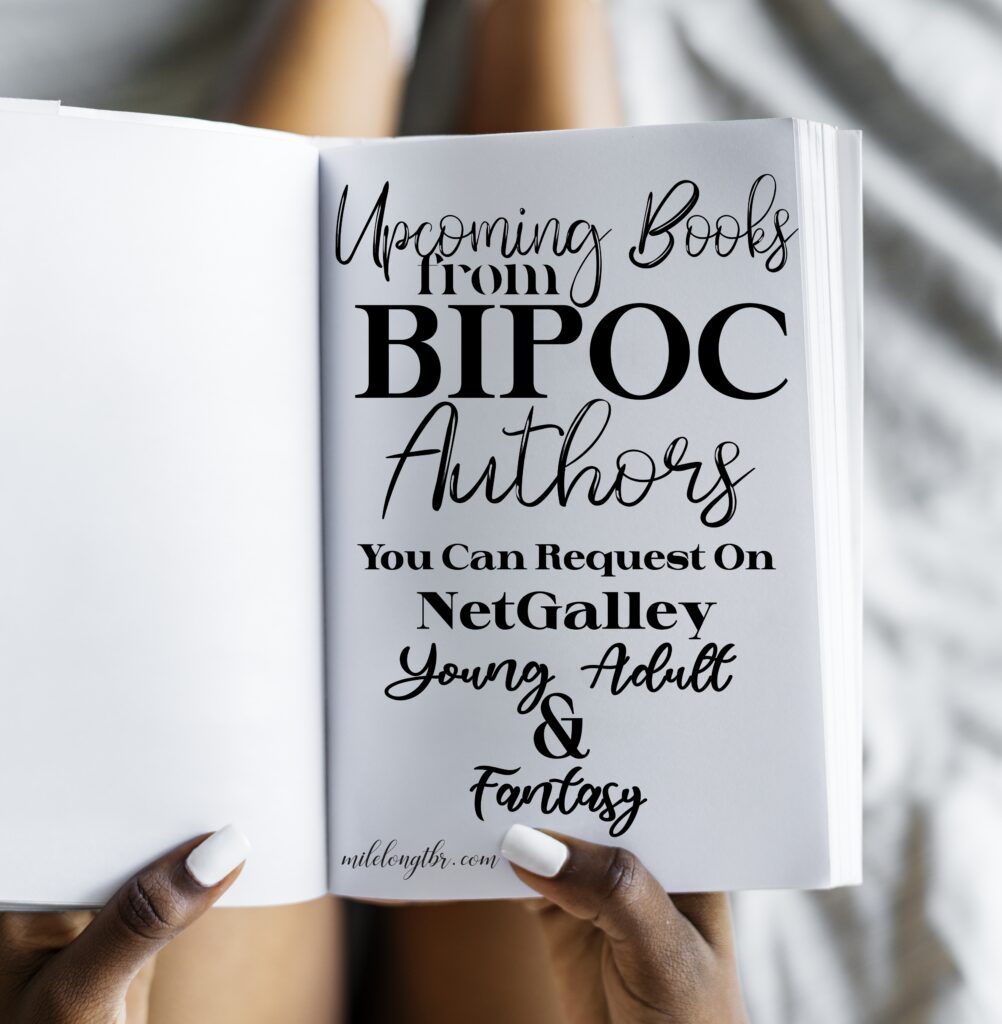 I've seen many great reading lists pop up around the internet but wanted to extend this to upcoming releases of Fantasy and YA books by BIPOC authors.
With so many of us striving to commit to diversifying our reading in light of current events, it's important to remember to keep reading books from BIOPC authors even when it's not "trendy."
Keeping up with upcoming book releases can be a great way to do that Whether you're looking for books to keep your teens busy this summer or want to get lost in a good read yourself, this is the perfect list.
This list features 16 books from BIPOC authors in YA and Fantasy that are set to be published in the next few months and are currently available to read now or request on NetGalley.
If you have already bought and read other recommended titles by BIPOC authors, are on a tight budget, or simply want to help amplify BIPOC writers by supporting their emerging titles, this can be a fantastic way to get more relevant titles to read.
I have listed the publisher and scheduled U.S. publication date with each title, but please bear in mind that these may vary based on your country and that COVID-19 has impacted a number of publication dates, so these are subject to change.
Unlike most of my recommendations, the books on this list are not all ones which I have read personally, but am suggesting for those trying to find new and diverse reads for kids.
They all sound like great choices, and if you aren't approved through NetGalley I'd consider preordering a physical copy from a Black-owned bookstore.
Young Adult Fiction by BIPOC Authors
These choices are perfect for teenage readers, but lets be honest… adults love YA too!
The Voting Booth by Brandy Colbert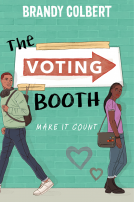 This book is scheduled to publish on 07 July 2020 from Disney Book Group.
NetGalley Description:
From Stonewall Award-winning author Brandy Colbert comes an all-in-one-day love story perfect for fans of The Sun is Also A Star.
Marva Sheridan was born ready for this day. She's always been driven to make a difference in the world, and what better way than to vote in her first election?
Duke Crenshaw is so done with this election. He just wants to get voting over with so he can prepare for his band's first paying gig tonight.
Only problem? Duke can't vote.
When Marva sees Duke turned away from their polling place, she takes it upon herself to make sure his vote is counted. She hasn't spent months doorbelling and registering voters just to see someone denied their right.
And that's how their whirlwind day begins, rushing from precinct to precinct, cutting school, waiting in endless lines, turned away time and again, trying to do one simple thing: vote. They may have started out as strangers, but as Duke and Marva team up to beat a rigged system (and find Marva's missing cat), it's clear that there's more to their connection than a shared mission for democracy.
Romantic and triumphant, The Voting Booth is proof that you can't sit around waiting for the world to change?but some things are just meant to be.
---
Dear Justyce by Nic Stone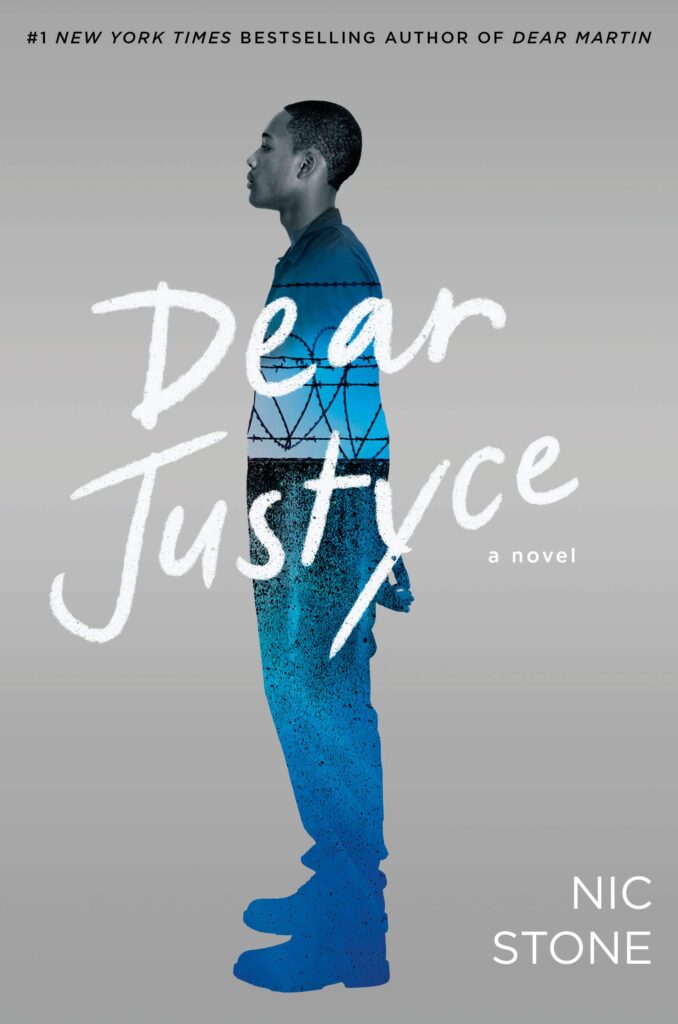 This book is scheduled to be released on 29 September 2020 by Random House Children's Crown Books for Young Readers.
NetGalley Description:
The stunning sequel to the #1 New York Times bestseller Dear Martin. Incarcerated teen Quan writes letters to Justyce about his experiences in the American juvenile justice system. Perfect for fans of Jason Reynolds and Angie Thomas.
In the highly anticipated sequel to her New York Times bestseller, Nic Stone delivers an unflinching look into the flawed practices and silenced voices in the American juvenile justice system.
Vernell LaQuan Banks and Justyce McAllister grew up a block apart in the Southwest Atlanta neighborhood of Wynwood Heights. Years later, though, Justyce walks the illustrious halls of Yale University . . . and Quan sits behind bars at the Fulton Regional Youth Detention Center.
Through a series of flashbacks, vignettes, and letters to Justyce–the protagonist of Dear Martin–Quan's story takes form. Troubles at home and misunderstandings at school give rise to police encounters and tough decisions. But then there's a dead cop and a weapon with Quan's prints on it. What leads a bright kid down a road to a murder charge? Not even Quan is sure.
---
This is My America by Kim Johnson
This book is scheduled to be published on 28 July 2020 byRandom House Books for Young Readers.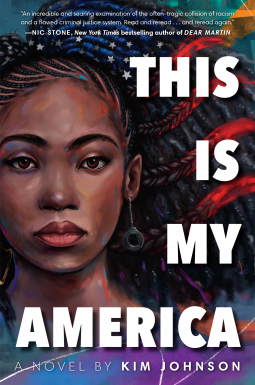 "Incredible and searing." —Nic Stone, #1 New York Times bestselling author of Dear Martin

The Hate U Give meets Just Mercy in this unflinching yet uplifting first novel that explores the racist injustices in the American justice system.
Every week, seventeen-year-old Tracy Beaumont writes letters to Innocence X, asking the organization to help her father, an innocent Black man on death row. After seven years, Tracy is running out of time–her dad has only 267 days left. Then the unthinkable happens. The police arrive in the night, and Tracy's older brother, Jamal, goes from being a bright, promising track star to a "thug" on the run, accused of killing a white girl. Determined to save her brother, Tracy investigates what really happened between Jamal and Angela down at the Pike. But will Tracy and her family survive the uncovering of the skeletons of their Texas town's racist history that still haunt the present?
Fans of Nic Stone, Tiffany D. Jackson, and Jason Reynolds won't want to miss this provocative and gripping debut.
---
Cinderella is Dead bt Kalynn Bayron
This book is scheduled to be published on
NetGalley Description:
"Wholly original and captivating." – Brigid Kemmerer, New York Times bestselling author of A Curse So Dark and Lonely

Girls team up to overthrow the kingdom in this unique and powerful retelling of Cinderella from a stunning new voice that's perfect for fans of A Curse So Dark and Lonely.
It's 200 years after Cinderella found her prince, but the fairy tale is over. Teen girls are now required to appear at the Annual Ball, where the men of the kingdom select wives based on a girl's display of finery. If a suitable match is not found, the girls not chosen are never heard from again.
Sixteen-year-old Sophia would much rather marry Erin, her childhood best friend, than parade in front of suitors. At the ball, Sophia makes the desperate decision to flee, and finds herself hiding in Cinderella's mausoleum. There, she meets Constance, the last known descendant of Cinderella and her step sisters. Together they vow to bring down the king once and for all–and in the process, they learn that there's more to Cinderella's story than they ever knew . . .
This fresh take on a classic story will make readers question the tales they've been told, and root for girls to break down the constructs of the world around them.
---
Smash It! by Francina Simone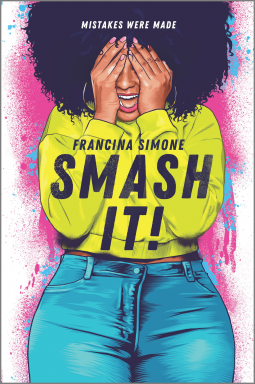 This book is set to be published on 22 September 2020 by Inkyard Press.
NetGalley Description:
Refreshingly authentic and bold… Don't miss this smashing #ownvoices novel from Francina Simone! Filled with heart, humor and a heroine to root for, Smash It! is a perfect read for fans of Julie Murphy, Ibi Zoboi and Ashley Poston.
Olivia "Liv" James is done with letting her insecurities get the best of her. So she does what any self-respecting hot mess of a girl who wants to SMASH junior year does…
After Liv shows up to a Halloween party in khaki shorts—why, God, why?—she decides to set aside her wack AF ways. She makes a list—a F*ck-It list.
1. Be bold—do the thing that scares me.
2. Learn to take a compliment.
3. Stand out instead of back.
She kicks it off by trying out for the school musical, saying yes to a date and making new friends. Life is great when you stop punking yourself! However, with change comes a lot of missteps, and being bold means following her heart. So what happens when Liv's heart is interested in three different guys—and two of them are her best friends? What is she supposed to do when she gets dumped by a guy she's not even dating? How does one Smash It! after the humiliation of being friend-zoned?
In Liv's own words, "F*ck it. What's the worst that can happen?"
A lot, apparently.
---
The Black Kids by Christina Hammonds Reed
This book is scheduled to be published on
NetGalley Description:
"Infused with honesty, heart, and humor, The Black Kids is a true love letter to Los Angeles, highlighting the beauty and flaws of the city, and the people who call it home." —Brandy Colbert, award-winning author of Little & Lion
Perfect for fans of The Hate U Give, this unforgettable coming-of-age debut novel explores issues of race, class, and violence through the eyes of a wealthy black teenager whose family gets caught in the vortex of the 1992 Rodney King Riots.
Los Angeles, 1992
Ashley Bennett and her friends are living the charmed life. It's the end of senior year and they're spending more time at the beach than in the classroom. They can already feel the sunny days and endless possibilities of summer.
Everything changes one afternoon in April, when four LAPD officers are acquitted after beating a black man named Rodney King half to death. Suddenly, Ashley's not just one of the girls. She's one of the black kids.
As violent protests engulf LA and the city burns, Ashley tries to continue on as if life were normal. Even as her self-destructive sister gets dangerously involved in the riots. Even as the model black family façade her wealthy and prominent parents have built starts to crumble. Even as her best friends help spread a rumor that could completely derail the future of her classmate and fellow black kid, LaShawn Johnson.
With her world splintering around her, Ashley, along with the rest of LA, is left to question who is the us? And who is the them?
---
Now That I've Found You by Kristina Forest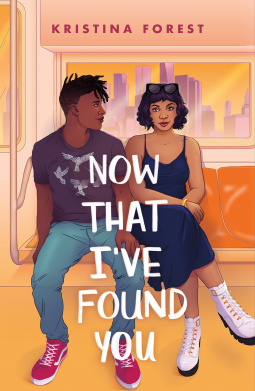 This book is scheduled to be published on 25 August 2020 by Roaring Book Press.
NetGalley Description:
Kristina Forest's Now That I've Found You is a YA novel about searching for answers, love, and your eccentric grandma in all the wrong places.
Following in the footsteps of her überfamous grandma, eighteen-year-old Evie Jones is poised to be Hollywood's next big star. That is until a close friend's betrayal leads to her being blacklisted . . .
Fortunately, Evie knows just the thing to save her floundering career: a public appearance with America's most beloved actress—her grandma Gigi, aka the Evelyn Conaway. The only problem? Gigi is a recluse who's been out of the limelight for almost twenty years. Days before Evie plans to present her grandma with an honorary award in front of Hollywood's elite, Gigi does the unthinkable: she disappears.
With time running out and her comeback on the line, Evie reluctantly enlists the help of the last person to see Gigi before she vanished: Milo Williams, a cute musician Evie isn't sure she can trust. As Evie and Milo conduct a wild manhunt across New York City, romance and adventure abound while Evie makes some surprising discoveries about her grandma—and herself.
Note: The publication date of this title has changed. The new publication date is 08/25/2020.
---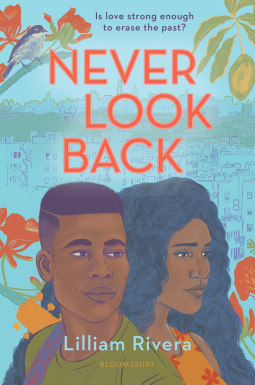 Never Look Back by Lilliam Rivera
This book is scheduled to be published by Bloomsbury YA on 01 Sep 2020.
NetGalley Description:
Acclaimed author Lilliam Rivera blends a touch of magical realism into a timely story about cultural identity, overcoming trauma, and the power of first love.
Eury comes to the Bronx as a girl haunted. Haunted by losing everything in Hurricane Maria–and by an evil spirit, Ato. She fully expects the tragedy that befell her and her family in Puerto Rico to catch up with her in New York. Yet, for a time, she can almost set this fear aside, because there's this boy . . .
Pheus is a golden-voiced, bachata-singing charmer, ready to spend the summer on the beach with his friends, serenading his on-again, off-again flame. That changes when he meets Eury. All he wants is to put a smile on her face and fight off her demons. But some dangers are too powerful for even the strongest love, and as the world threatens to tear them apart, Eury and Pheus must fight for each other and their lives.
Featuring contemporary Afro-Latinx characters, this retelling of the Greek myth Orpheus and Eurydice is perfect for fans of Ibi Zoboi's Pride and Daniel José Older's Shadowshaper.
Lilliam Rivera is an award-winning writer and author of the young adult novels Dealing in Dreams and The Education of Margot Sanchez. Her work has appeared in The New York Times, Elle, Lenny Letter, Tin House, Nightmare Magazine, and Magazine for Fantasy & Science Fiction, to name a few. Lilliam grew up in the Bronx and currently lives in Los Angeles.
---
Don't Ask Me Where I'm From by Jennifer De Leon
This book is set to publish on 04 August 2020 by Simon and Schuester's Children's Publishing.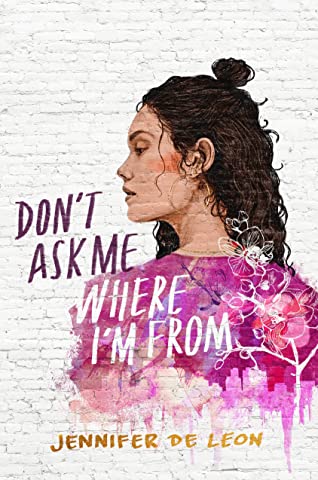 NetGalley Description:
"A funny, perceptive, and much-needed book telling a much-needed story." —Celeste Ng, author of the New York Times bestseller Little Fires Everywhere
"Written with humor and grace, with intimacy and empathy, Don't Ask Me Where I'm From is the perfect coming of age novel for our time." —Matt Mendez, author of Barely Missing Everything and Twitching Heart
First-generation American LatinX Liliana Cruz does what it takes to fit in at her new nearly all-white school. But when family secrets spill out and racism at school ramps up, she must decide what she believes in and take a stand.
Liliana Cruz is a hitting a wall—or rather, walls.
There's the wall her mom has put up ever since Liliana's dad left—again.
There's the wall that delineates Liliana's diverse inner-city Boston neighborhood from Westburg, the wealthy—and white—suburban high school she's just been accepted into.
And there's the wall Liliana creates within herself, because to survive at Westburg, she can't just lighten up, she has to whiten up.
So what if she changes her name? So what if she changes the way she talks? So what if she's seeing her neighborhood in a different way? But then light is shed on some hard truths: It isn't that her father doesn't want to come home—he can't…and her whole family is in jeopardy. And when racial tensions at school reach a fever pitch, the walls that divide feel insurmountable.
But a wall isn't always a barrier. It can be a foundation for something better. And Liliana must choose: Use this foundation as a platform to speak her truth, or risk crumbling under its weight.
---
Running by Natalia Sylvester
Running is set to publish on 14 July 2020 by Clarion Books.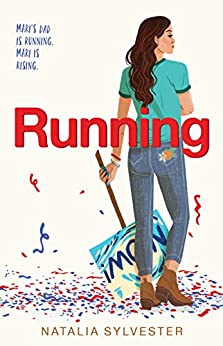 NetGalley Synopsis:
When fifteen-year-old Cuban American Mariana Ruiz's father runs for president, Mari starts to see him with new eyes. A novel about waking up and standing up, and what happens when you stop seeing your dad as your hero—while the whole country is watching.
In this authentic, humorous, and gorgeously written debut novel about privacy, waking up, and speaking up, Senator Anthony Ruiz is running for president. Throughout his successful political career he has always had his daughter's vote, but a presidential campaign brings a whole new level of scrutiny to sheltered fifteen-year-old Mariana and the rest of her Cuban American family, from a 60 Minutes–style tour of their house to tabloids doctoring photos and inventing scandals. As tensions rise within the Ruiz family, Mari begins to learn about the details of her father's political positions, and she realizes that her father is not the man she thought he was.
But how do you find your voice when everyone's watching? When it means disagreeing with your father—publicly? What do you do when your dad stops being your hero? Will Mari get a chance to confront her father? If she does, will she have the courage to seize it?
---
We Are Not Free by Traci Chee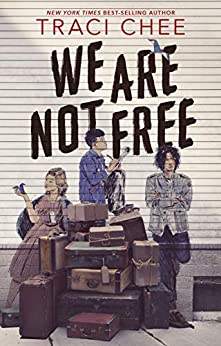 This book is set to be published on 01 September 2020 by Houghton Mifflin Harcourt Children's Book Group.
NetGalley Description:
"All around me, my friends are talking, joking, laughing. Outside is the camp, the barbed wire, the guard towers, the city, the country that hates us.
We are not free.
But we are not alone."
From New York Times best-selling and acclaimed author Traci Chee comes We Are Not Free, the collective account of a tight-knit group of young Nisei, second-generation Japanese American citizens, whose lives are irrevocably changed by the mass U.S. incarcerations of World War II.
Fourteen teens who have grown up together in Japantown, San Francisco.
Fourteen teens who form a community and a family, as interconnected as they are conflicted.
Fourteen teens whose lives are turned upside down when over 100,000 people of Japanese ancestry are removed from their homes and forced into desolate incarceration camps.
In a world that seems determined to hate them, these young Nisei must rally together as racism and injustice threaten to pull them apart.
---
Legendborn by Tracy Deonn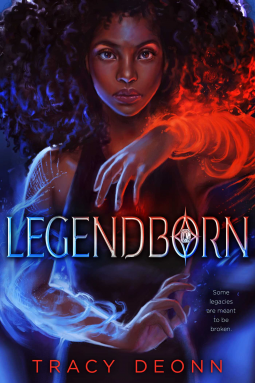 This book is schedule to be published 15 September 2020 by Margaret K. McElderry Books.
NetGalley Description:
Filled with mystery and an intriguingly rich magic system, Tracy Deonn's YA contemporary fantasy Legendborn offers the dark allure of City of Bones with a modern-day twist on a classic legend and a lot of Southern Black Girl Magic.
After her mother dies in an accident, sixteen-year-old Bree Matthews wants nothing to do with her family memories or childhood home. A residential program for bright high schoolers at UNC–Chapel Hill seems like the perfect escape—until Bree witnesses a magical attack her very first night on campus.
A flying demon feeding on human energies.
A secret society of so called "Legendborn" students that hunt the creatures down.
And a mysterious teenage mage who calls himself a "Merlin" and who attempts—and fails—to wipe Bree's memory of everything she saw.
The mage's failure unlocks Bree's own unique magic and a buried memory with a hidden connection: the night her mother died, another Merlin was at the hospital. Now that Bree knows there's more to her mother's death than what's on the police report, she'll do whatever it takes to find out the truth, even if that means infiltrating the Legendborn as one of their initiates.
She recruits Nick, a self-exiled Legendborn with his own grudge against the group, and their reluctant partnership pulls them deeper into the society's secrets—and closer to each other. But when the Legendborn reveal themselves as the descendants of King Arthur's knights and explain that a magical war is coming, Bree has to decide how far she'll go for the truth and whether she should use her magic to take the society down—or join the fight.
---
Fantasy Books by BIPOC Authors :
Disclaimer: I found these books in the Sci Fi & Fantasy category on NetGalley. Personally, I feel the titles inculde a number subgenres including fantasy, dystopian, and horror. If any of these are of interest to you, keep reading for some great books by BIPOC authors .
Master of Poisons by Andrea Hairston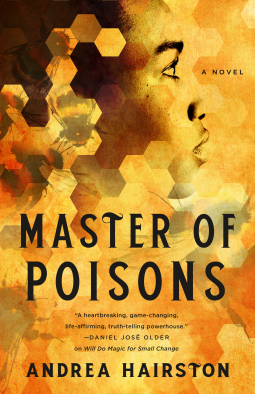 This book is scheduled to be released on 08 September 2020 by Macmillan-Tor/Forge.
NetGalley Description:
Award-winning author Andrea Hairston weaves together African folktales and postcolonial literature into unforgettable fantasy in Master of Poisons
The world is changing. Poison desert eats good farmland. Once-sweet water turns foul. The wind blows sand and sadness across the Empire. To get caught in a storm is death. To live and do nothing is death. There is magic in the world, but good conjure is hard to find.
Djola, righthand man and spymaster of the lord of the Arkhysian Empire, is desperately trying to save his adopted homeland, even in exile.
Awa, a young woman training to be a powerful griot, tests the limits of her knowledge and comes into her own in a world of sorcery, floating cities, kindly beasts, and uncertain men.
Awash in the rhythms of folklore and storytelling and rich with Hairston's characteristic lush prose, Master of Poisons is epic fantasy that will bleed your mind with its turns of phrase and leave you aching for the world it burns into being.
---
Wild Child (Croxroads Book One) by LaVerne Thompson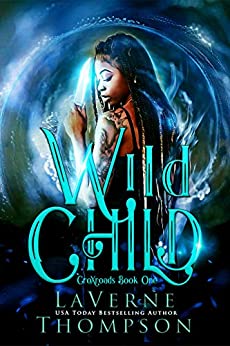 This book's publication date was 02 June 2020, but it is still currently available on NetGalley to request, or on Amazon to purchase. Also, keep your eye out for more installments!
NetGalley Synopsis:
The road you take cannot be undone.
Kasha never quite fit in. So she left home long ago to pursue her career in art. Hell, she ran as fast as she could away from her minister father and his judgmental ways. Yet, she loved her parents, so when the dreams surrounding a church filled with fire and blood kept repeating itself, it was all she could paint. She had to warn them. Only to arrive too late to save them. Now she found herself running once again, only this time away from a nightmare.
In her mad flight, she took a turn off the highway. Soon realizing she might have run toward something even worse. This time she couldn't run, she couldn't lie to herself anymore. She was more than an artist. She had to learn to fully embrace and unleash her powers within. She had to know who and what she truly was and learn to stand her ground.
*WARNING* This does end on a cliff hanger
---
Crosshairs by Catherine Hernandez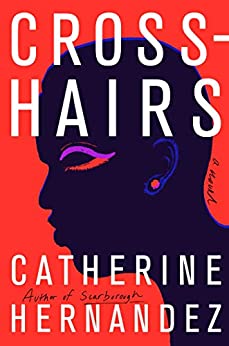 This book is set to be published on 08 December 2020 by Atria Books.
NetGalley Description:
The author of the acclaimed novel Scarborough weaves an unforgettable and timely dystopian tale about a near-future, where a queer Black performer and his allies join forces to rise up when an oppressive regime gathers those deemed "Other" into concentration camps.
Set in a terrifyingly familiar near-future, with massive floods leading to rampant homelessness and devastation, a government-sanctioned regime called The Boots seizes on the opportunity to round up communities of color, the disabled, and the LGBTQ+ into labor camps.
In the shadows, a new hero emerges. After he loses his livelihood as a drag queen and the love of his life, Kay joins the resistance alongside Bahadur, a transmasculine refugee, and Firuzeh, a headstrong social worker. Guiding them in the use of weapons and close-quarters combat is Beck, a rogue army officer, who helps them plan an uprising at a major televised international event.
With her signature "raw yet beautiful, disturbing yet hopeful" (Booklist) prose, Catherine Hernandez creates a vision of the future that is all the more frightening because it is very possible. A cautionary tale filled with fierce and vibrant characters, Crosshairs explores the universal desire to thrive, love, and be loved for being your true self.
Ring Shout by P. Djeli Clark
This book is scheduled to be published on 13 October 2020 by Macmillan-Tor/Forge.
NetGalley Description:
Nebula, Locus, and Alex Award-winner P. Djèlí Clark returns with Ring Shout, a dark fantasy historical novella that gives a supernatural twist to the Ku Klux Klan's reign of terror
IN AMERICA, DEMONS WEAR WHITE HOODS.
In 1915, The Birth of a Nation cast a spell across America, swelling the Klan's ranks and drinking deep from the darkest thoughts of white folk. All across the nation they ride, spreading fear and violence among the vulnerable. They plan to bring Hell to Earth. But even Ku Kluxes can die.
Standing in their way is Maryse Boudreaux and her fellow resistance fighters, a foul-mouthed sharpshooter and a Harlem Hellfighter. Armed with blade, bullet, and bomb, they hunt their hunters and send the Klan's demons straight to Hell. But something awful's brewing in Macon, and the war on Hell is about to heat up.
Can Maryse stop the Klan before it ends the world?
---
The Year of the Witching by Alexis Henderson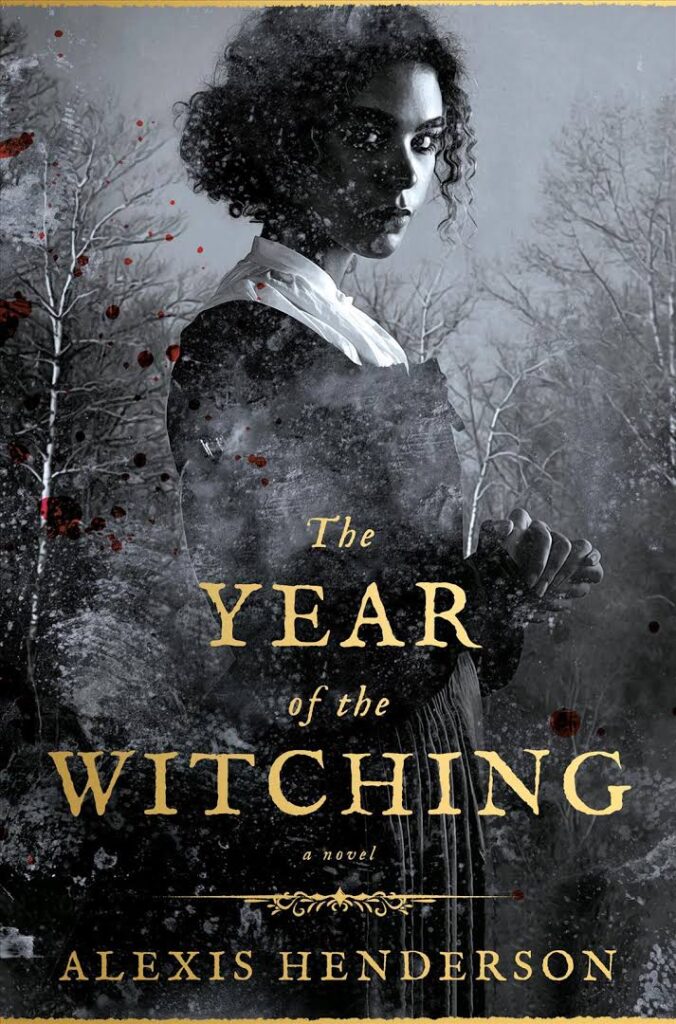 This book will be available on 21 July 2020 from Ace Books.
NetGalley Description:
A young woman living in a rigid, puritanical society discovers dark powers within herself in this stunning, feminist fantasy debut.
In the lands of Bethel, where the Prophet's word is law, Immanuelle Moore's very existence is blasphemy. Her mother's union with an outsider of a different race cast her once-proud family into disgrace, so Immanuelle does her best to worship the Father, follow Holy Protocol, and lead a life of submission, devotion, and absolute conformity, like all the other women in the settlement.
But a mishap lures her into the forbidden Darkwood surrounding Bethel, where the first prophet once chased and killed four powerful witches. Their spirits are still lurking there, and they bestow a gift on Immanuelle: the journal of her dead mother, who Immanuelle is shocked to learn once sought sanctuary in the wood.
Fascinated by the secrets in the diary, Immanuelle finds herself struggling to understand how her mother could have consorted with the witches. But when she begins to learn grim truths about the Church and its history, she realizes the true threat to Bethel is its own darkness. And she starts to understand that if Bethel is to change, it must begin with her.
---
The books on this list are a great starting point for upcoming books by BIPOC authors in YA and Fantasy.
Please keep publication dates in mind as reading and posting timely and constructive reviews to retail sites is a great way to amplify BIPOC voices.
And, of course, also consider requesting your local library buy these books, purchasing a copy for family or friends (preferably from a Black-owned bookstore), posting honest favorable reviews to retailer sites, and searching for backlist titles by one of these authors.
Start reading these books by BIPOC authors and stay tuned for more upcoming own voice titles in nonfiction, and a number of other adult fiction genres.