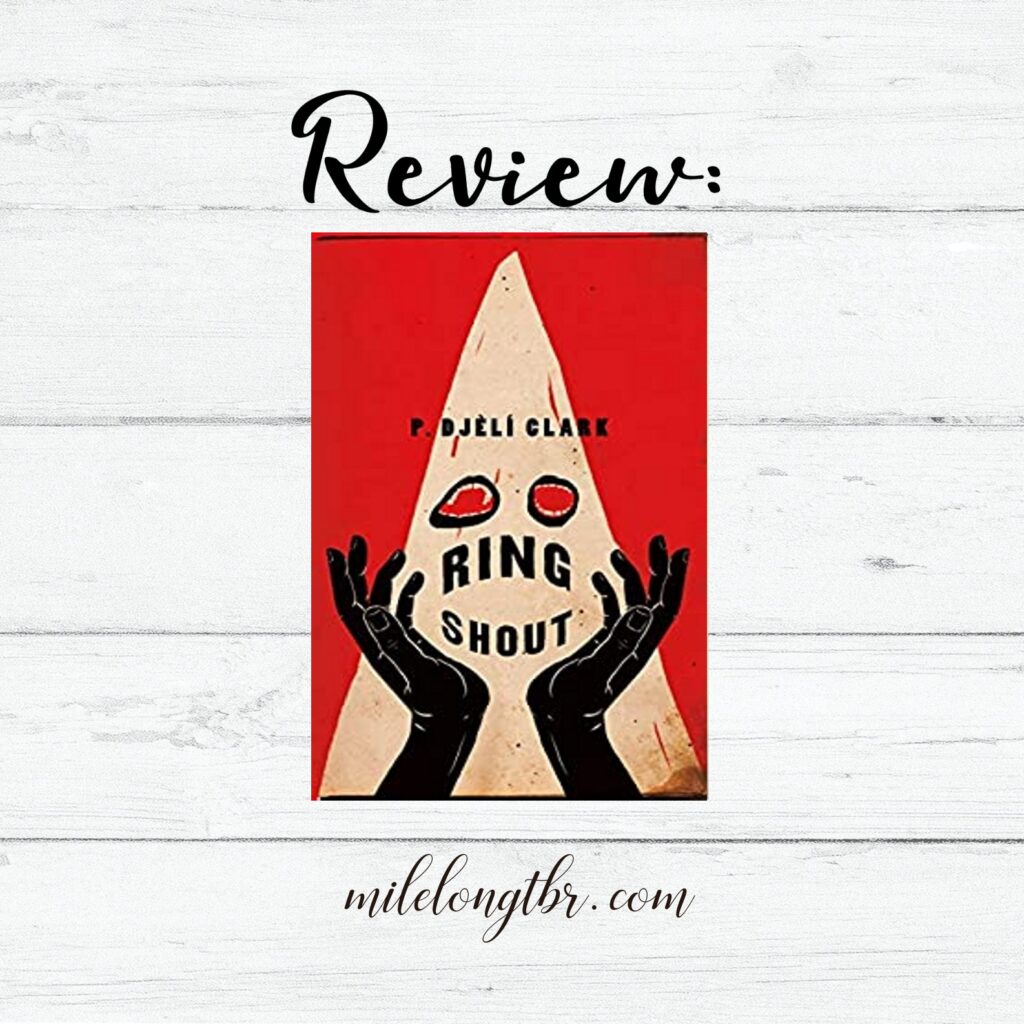 Ring Shout or Hunting Klu Kluxes in the End Times came out earlier this month and I've seen nothing but rave reviews pouring in for it.
It's billed as dark fantasy and horror- and I certainly see elements of both genres present in the story, but for me, it was the speculative fiction element that made me pick up the book.
Keep reading this full review of Ring Shout to see if it lives up to the hype and if it's a good choice for genre readers or for everyone.
Synopsis:
Essentially, Ring Shout is a genre-bending novella set in the 1920s Deep South that reimagines KKK members as literal monsters from hell.
Here's a summary from the publisher:
IN AMERICA, DEMONS WEAR WHITE HOODS.
In 1915, The Birth of a Nation cast a spell across America, swelling the Klan's ranks and drinking deep from the darkest thoughts of white folk. All across the nation they ride, spreading fear and violence among the vulnerable. They plan to bring Hell to Earth. But even Ku Kluxes can die.
Standing in their way is Maryse Boudreaux and her fellow resistance fighters, a foul-mouthed sharpshooter and a Harlem Hellfighter. Armed with blade, bullet, and bomb, they hunt their hunters and send the Klan's demons straight to Hell. But something awful's brewing in Macon, and the war on Hell is about to heat up.
Can Maryse stop the Klan before it ends the world?
Analysis:
I've said many times that one of the features I appreciate most in a novel is the author's ability to transcend and jump between genres, and Clark has proven himself a master of this here.
Maryse may just be my favorite heroine of the year. She is a force; hunting down monsters, yet still showing her vulnerability and softness.
This book is harrowing, intense, and profound. There's a lot of commentary on race, humanity, rage, and hate that's very relevant in our world today, making it a very important read.
There's so much going on in the story. It moves fast- it has to fit so much action and world-building in less than 200 pages. My only criticism is that at points it's a lot to keep up with- though it's a small problem, and one I admit may be my own fault. My typical reads are usually set in reality and don't involve this level of world building.
There's also a significant amount of gore- again, typical given the horror genre- so keep that in mind along with the other content warnings at the end of the article. I point these things out only so that you go in with these things in mind and don't hold it against the book in reviews on retailers sites. These reviews can prevent a book from getting to the audience who needs to read it, and that's never a good thing!
Audio Review:
The audio was narrated by Channie Waites, who did a phenomenal job bringing this story to life.
She did different coices for a number of the characters- both human and supernatural, and it definitely added to the tension of this book. The sense of urgency she created to the characters is unparalleled and she did the more tender moments of the book just as well.
This was my first time listening to Waites narrate, but I'll definitely be on the lookout for more of her projects after this.
Go over to Libro.fm to get a copy of Ring Shout for free with my link and choose a Black-Owned Bookstore to support with your subscription.
Takeaway:
I've seen Ring Shout on many must-read lists this year and hope from this review you can see why it earned a spot there. This is my first read from award-winner Clark and I'm eager to check out his earlier works – even if they're out of my genre comfort zone.
Go ahead and add this five-star read to your TBR- it's a fast read so there's no reason not to!
Many thanks to RB Media and NetGalley for the ALC.
Content Warning:
gore, death, mutilation, Racism, Lynching, White Supremacist imagery, violence to humans and animals,