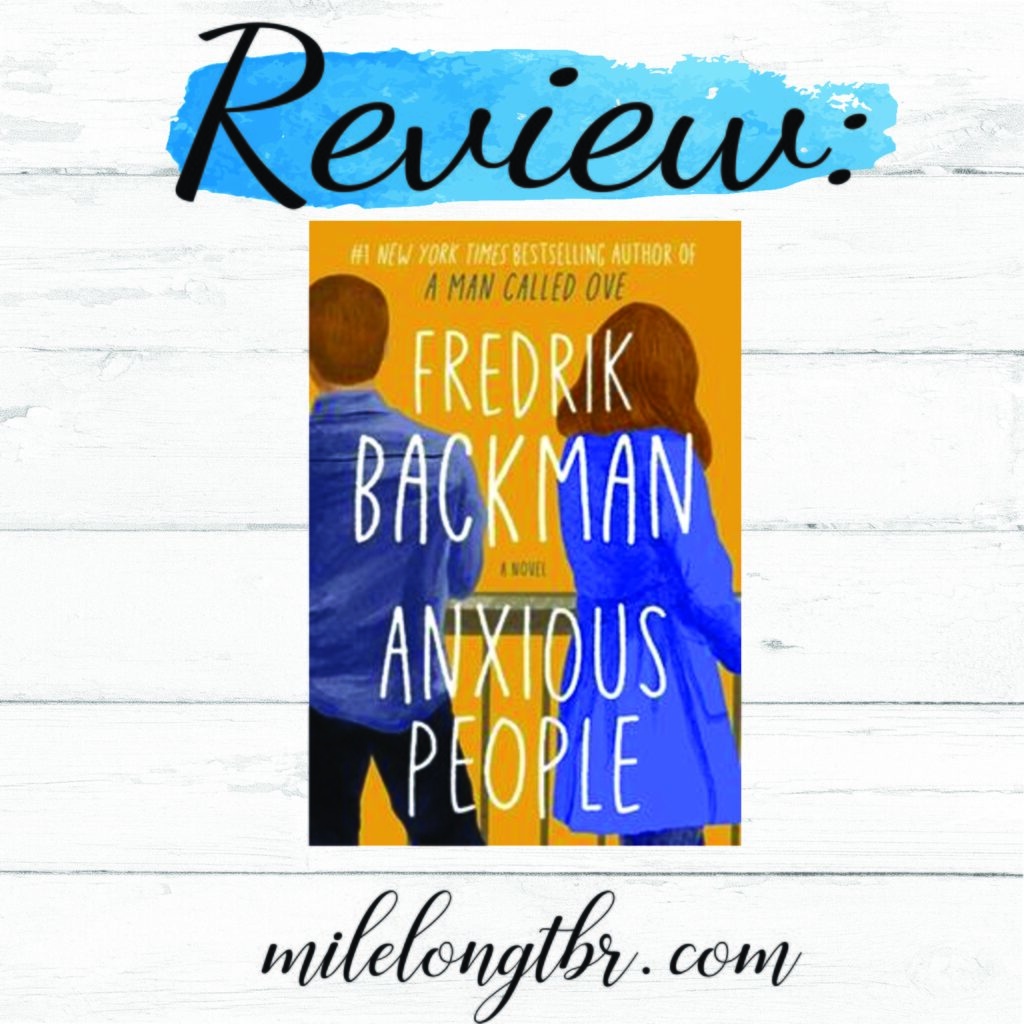 " The problem is that everything is relative. Happiness is based on expectations"

Fredrik Backman, Anxious People.
Fredrik Backman's latest book was one of my most anticipated releases of 2020. I adore everything of his I've ever read. When the early feedback started coming in I saw one rave review after the next as I anxiously awaited my own copy. Needless to say, my expectations for Anxious People were high.
Still, I tried to keep them realistic- surely not every book the man writes can be a masterpiece.

Keep reading this full review to see whether Anxious People lives up and deserves a spot on your own TBR, whether you're new to the world of Fredrik Backman, or a devoted follower like myself.
---
Synopsis:
This is the part where I'm supposed to tell you what the book is about.
Anyone familiar with literary fiction in general and Backman in particular knows a simple summary couldn't do justice to the work as a whole.
I could try to tell you the premise of the story, but thankfully the author has done that for me. I'll just use his words.
"This is the story about a bank robbery, an apartment viewing, and a hostage drama, but even more it's a story about idiots. But, perhaps not only that."




Fredrik Backman, Anxious People

To say it's not only about these things is an understatement.
Yes, there is an attempted robbery, and a hostage situation that evolves into a locked room mystery.
There is also a procedural element as two small-town-cops-turned-hostage-negotiators try to free the hostages and identify the perpetrator.
But idiots? I can confirm this description applies to the characters in the book. And why would you want to read a book about a group of idiots?
To answer that question I can only defer again to Mr. Backman.
"This story is about a lot of things, but mostly about idiots. So it needs saying from the outset that it's very easy to declare that other people are idiots, but only if you forget how idiotically difficult being human is. Especially if you have other people you're trying to be a reasonably good human being for."

Fredrik Backman, Anxious People
---
Analysis:
To be an idiot is human.
I'm paraphrasing both Alexander Pope and Fredrik Backman here, but I feel that this really could be the adage of modern times.
Simply put, there is no other author today who writes about what it is to be human with the insight and emotion that Backman does.
Or, as he demonstrates here, who writes about idiots with such compassion and truth.
This book is everything Backman fans have come to love and expect of him. From the signature simple writing style to the nuanced story full of emotional surprises and alternating timelines, it's a comfort for those who love the feel of his books.
Anxious People is a largely character-driven novel and it's the ensemble cast of quirky idiotic misfits that make the book shine.
There are more than ten key characters, each with complex backstories and unique personalities. It's easy to imagine this could be a case of too much information. Or that there wouldn't be enough about some of them to give us insight into their lives.
Again, Backman strikes a perfect balance, giving us glimpses into these characters and the result is the characters are like no one we've ever met before, almost too rediculous to be real at times. And yet, they're all of us- flawed, struggling, and deeply human.
As in most of his books, there's exploration of difficult subjects, the predominant one in Anxious People being suicide. It is discussed multiple times from various viewpoints since it's something that's made an impact on many of the characters.
Overall, I think the topic was handled sensitively, though I can see how it being discussed so much in the book may be difficult for some.
There are so many parts of this book that made me start to tear up, but just as many that had me laughing out loud.
The dark humor was expertly executed and gave another level to an already fantastic book. When the hostage situation is underway, part of the irony is that the strangers held at gunpoint end up being more trying for the would-be bank robber than the other way around.
The characters from this small Swedish town are emphatically not Stockholmers. Yet they each come to empathize with their captor- and each other- before they leave the apartment.
The beauty in this book is how the lives of these unlikely strangers are woven together; their pasts, presents, and possibly even futures. They each have something to learn, something to teach one another and help one each other. And maybe, with enough kindness, the whirlwind events of the day will leave them all in a more hopeful place than they were when it began.
---
Takeaway:
---
Perhaps every book Fredrik Backman writes won't be a masterpiece, but Anxious People won't be the one to break the spell.
Not only did the book live up to the hype and my personal expectations- it's easily a front-runner for my favorite book of the year.
All the stars for this beautiful, beautiful book.
It's one I recommend to everyone, regardless of the genres they typically gravitate to because of the way it deals with the human condition- something that applies to us all.
Thank you to libro.fm and Simon & Schuster Audio for the ALC and the opportunity to review this book.
Content Warning:
suicide, infidelity, loss, of partner, grief, divorce, hostage situation, mental health topics
---