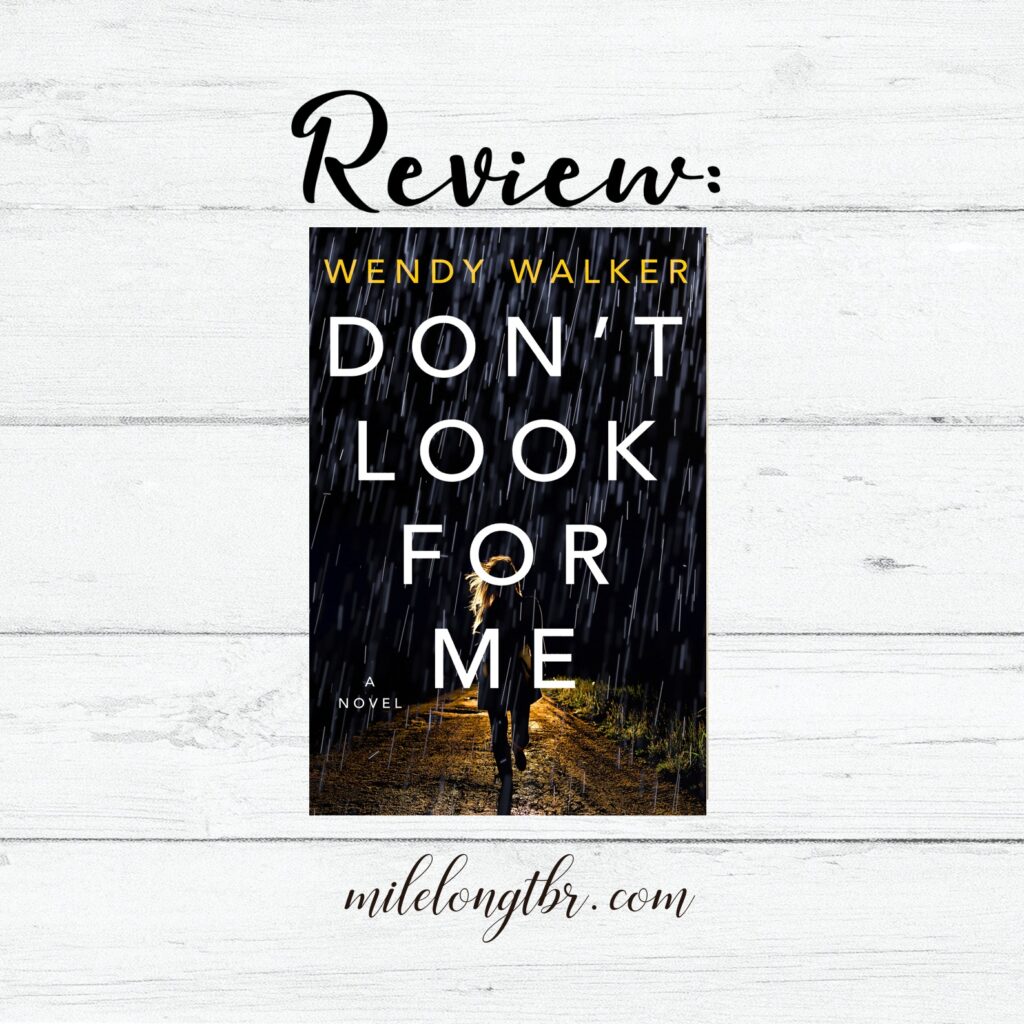 This was the thriller I've been waiting for. I waited way too long to actually start it, but after seeing it all Bookstagram and reading @a_novel_idea11 's review, I knew it had to be on the top of my October TBR. Once I started the book I could not put it down- and finished it 16 hours later. (I was sleeping for at least a few of them.)
Does this one have the makings for best thriller of the year, or is it another average release? Keep reading this review of Don't Look For Me to find out!
Don't Look For Me Synopsis:
(From the publisher to keep it spoiler-free.)
"They called it a "walk away." The car abandoned miles from home. The note found at a nearby hotel. The shattered family. It happens all the time. Women disappear, desperate to start over. But what really happened to Molly Clarke?
The night Molly disappeared began with a storm, running out of gas, and a man offering her a ride to safety. But when the doors lock shut, Molly begins to suspect she has made a terrible mistake.
A new lead brings Molly's daughter, Nicole, back to the small, desolate town where her mother was last seen to renew the desperate search. The locals are sympathetic and eager to help. The innkeeper. The bartender. Even the police. Until secrets begin to reveal themselves and Nicole comes closer to the truth about that night—and the danger surrounding her."
Analysis:
Don't Look For Me is a gripping story sure to be an absolute binge read for thriller lovers. My heart was racing the entire time I read the book- the tension in this one is high and constant, with one unexpected twist after another.
There were so many times my jaw dropped, so many times I could see what was about to happen just before the events unfolded and yet was shocked by how they played out. Honestly, I don't think there's ever been a book where I've wanted to grab the characters and say "No, don't do that, girl!" so many times. 
And it's not because of any fault of the characters. It's just that with alternating timelines sometimes the reader knows more than they do and the pressure is so high you know something bad is hiding at every turn if the page.
In a world of thrillers oversaturated with unreliable, unlikable, female narrators it's great to have these believable and strong characters.
Walker did an excellent job crafting this novel and I look forward to reading more from her. The story was told from two different timelines a few weeks apart -from the night of Molly's perspective, starting the night of her disappearance, and then from the point of view of her daughter-Nicole a few weeks later as she looks for answers about what happened to her mother. 
Takeaway:
If you're looking for an intense five-star thriller to read during spooky season, this is it, yall! Currently, Don't Look for Me is neck and neck with The Night Swim for favorite thriller of the year.
Many thanks to St Martin's Press and NetGalley for the advance copy.
Don't Look For Me Content Warning:
death of child, trauma, kidnapping/abduction, child neglect, child abuse, murder, wrongful imprisonment