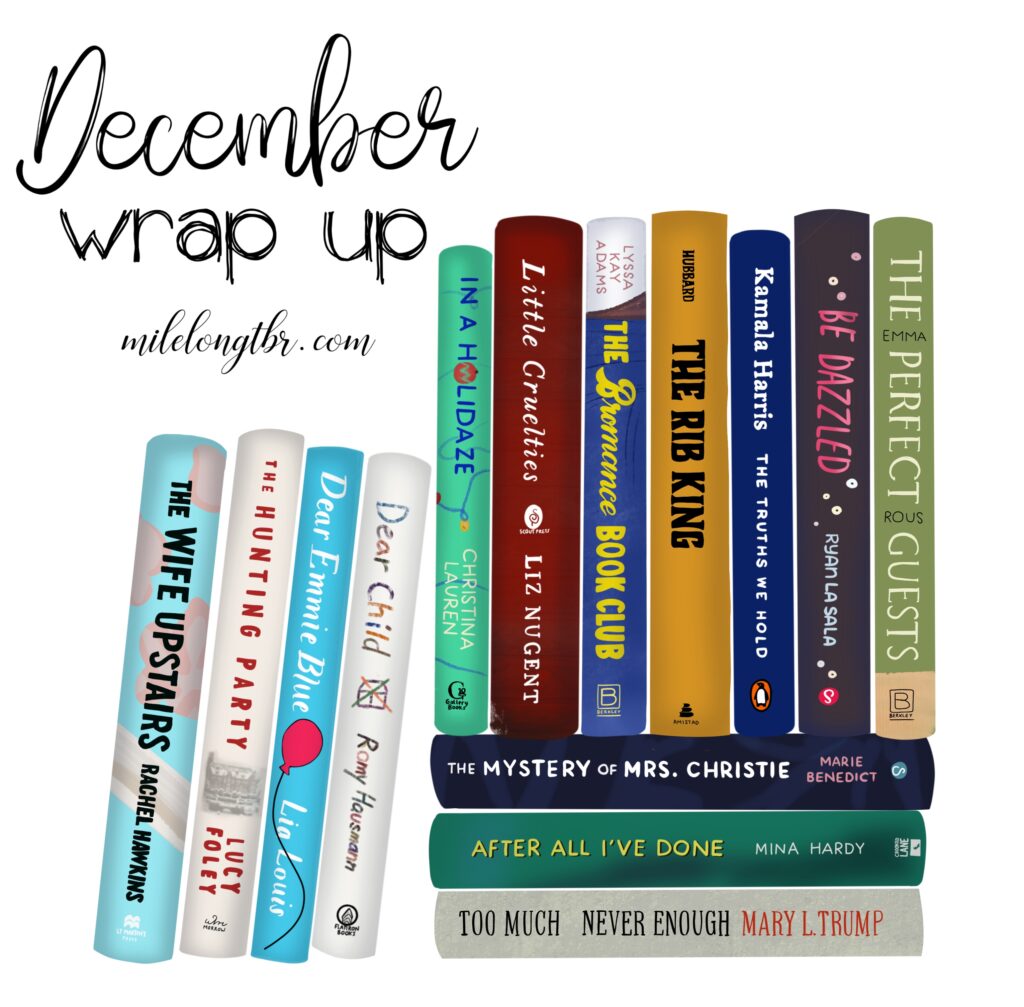 Hi, friends!
I'm a little bit late getting my monthly wrap-up posted for December, largely because I read 14 books making it one of my biggest reading months ever.
These were all enjoyable reads, but for this post, I'm breaking them down into books I loved and books I liked. Let's get started!
---
Books I Loved
---
First, we have this Queer YA romance. I'm so glad  I read this book in the final days of 2020- it immediately slid in to take a spot as one of my 5 Favorite YA reads of the year. 
This book is an absolutely delightful YA read. I love the characters Raffy and Luca and their journey as they navigate first loves and coming out, as well as how to really show up for each other.
The premise of the Cosplay competition a' la Project Runway was so much fun, and I absolutely loved it even though I've never been to a Comic-Con.
Many thanks to Dreamscape Media and NetGalley for the advance copy.
---
Next up is this multigenerational family drama. Little Cruelties is a completely engrossing read. I couldn't put the book down as I tried to find out what would happen next to the Drumm brothers.
This book is dark and twisted, the Drumms are anything but a happy family, and their continual betrayals and cruelties to each other are awful yet in families things are often more complex than they appear.
Read this if you like reading about dysfunctional families or enjoyed Ask Again, Yes.
Many thanks to Scout Press and NetGalley for the advance copy.
---
The Rib King is a riveting work of literary historical fiction centering around black employees in a white household struggling to maintain their affluent lifestyle. The characters in this book are so complex and fascinating- they are ones that will stay with you long after finishing the book.
The author has seamlessly woven the history of the time and commentary on a number of social issues such as race and class disparities into a fascinating narrative. Despite the story being set 100 years ago, the issues raised are still relevant today, making this an especially important read.
Many thanks to Amistad and NetGalley for the advance copy.
---
Hearing the story of our soon-to-be Madame Vice President in her own words was nothing short of inspiring, and reading this book left me confident in her leadership.
This book tells Harris' story of being raised by a single mother who challenged her and taught her to believe in herself in her abilities. It goes on to talk about her early career in politics and the policies she believes in the most.
So much of Kamala's appeal is in her relatability and insistence that government must work for everyone- even those in the most marginalized groups, and this book shows both her heart and struggle which is why she is a fantastic leader.
---
I've seen a lot of buzz about these books and finially decided to see what the hype is about. Well, it lived up to it, guys!
With his marriage on the line Minor League Baseball player Gavin joins the Bromance Book Club – a gathering of guys who read romance novels in an attempt to keep the ladies in their lives happy.
This book is funny, sweet, and steamy and easily became one of my favorite romances of the year. Now I just need to get a hold of the rest of the series!
---
"She's lost her best friend, her husband–and possibly, her mind."
After All I've Done a delightfully twisted domestic suspense/thriller with multiple POVs, and the ultimate unreliable narrator- one dealing with memory loss. I did figure out a couple of the surprises relatively early on in the book, but there were a lot that I didn't guess, some that were absolutely shocking.
This was an enjoyable psychological thriller and I look forward to reading more from the author.
I loved the multiple narrators for the alternating points of view and thought they each brought something unique and exciting to the story. Highly recommend the audio.
Many thanks to Dreamscape Media and NetGalley for the advance copy.
---
I've been an Agatha Christie fan for about 20 years- I couldn't have been more than ten years old when my mother first gave me a copy of And Then There Were None. In the years since then I've reread that favorite many times and regularly read other titles by the author.
This book imagines what may have happened surrounding the author's mysterious 11-day disappearance in 1926. There are a number of details about Christie's life as well as a book within a book, making this the perfect read for fans of her work.
---
Hausmann has given us a complex and well written psychological thriller. There are so many twists, yet the story is never hard to follow.
This is an impressive debut and I look forward to reading more from the author, though I did feel the ending was a little rushed, especially in comparison to the depth earlier in the book. Still an enjoyable standout thriller.

Many thanks to Flatiron Books and NetGalley for the advance copy.
---
Books I Enjoyed
---
Dear Emmie Blue is such a charming and heartfelt read! It has such a lightness, just like Emmie's balloon and there are so many good and kind characters that it warms my heart.
Much more than a romance novel, this is a story of unexpected things giving us far more than the plans we have in mind.
Many thanks to Emily Bestler Books and NetGalley for the advance copy.
---
After enjoying Rous's debut novel The Au Pair I was eager to read more from her.
The Perfect Guests is a gothic thriller full of suspense, family drama, and multiple timelines. I love the "Clue" and Agatha Christie vibes, as the guests are summoned to a dinner party at Raven Hall, a long abanonded mansion, for a game.
Sadie is desperate, so she accepts the job acting as a guest in a murder mystery . But could it be too good to be true? She soon learns of a tragedy that occured there years ago, when the previous owners lived there. But is something sinister still inhabiting Raven Hall?
I had some suspicions that ended up being correct, but there were so many twists that therer were still a ton of surprises in store. I love how everything connected, albiet in a very tangled way.
Many thanks to Berkley Publishing Group and NetGalley for the advance copy.
---
The Wife Upstairs is Jane Eyre reimagined as a modern gothic thriller set in Alabama, where Jane meets recently widowed Eddie Rochester.
Jane sets her sights on him, but she may be in for more than she'd realize as it becomes clear he's not just mysterious- he's hiding something. I loved all the twists and how Hawkings pays homage to the Bronte classic throughout the novel while giving readers a new book.
It's a suspenseful and twisted book full of surprises, and I think Jane Eyre fans will appreciate it and thriller and domestic suspense readers will love the book as well.
Many thanks to St. Martin's Press and NetGalley for the advance copy.
---
This book by Mary L. Trump, the President's niece reveals Trump family history that lead to him becoming the man he is. There are also a number of details of the questionable choices and actions he's made over the decades.
The author is a psychologist, so this adds another level of insight to her revelations. Many parts of the books are hard to read. Still, Mary L. Trump's insight is something that is worth being shared and I'm glad I read this book for deeper understanding.
---
This cute Christmas romance was a fun read for the holidays!
Mae gets stuck reliving her Christmas holiday after an accident sends her back to the past. The Groundhog Day vibes were fun, though I was honestly expecting more of an emotional punch with this one.
Still, it's a fun ride as Mae realizes that this may just be an opportunity for her to save her annual holiday spot and reveal her feelings for her longtime crush.
---
Finally, we have this chilling wintery thriller by Lucy Foley. A group of friends goes away to celebrate the new year, but one of them doesn't make it home.
With close quarters, no outside access to their remote location, and enough tension that anyone could have a motive it's clear that one in the group is a killer.
This book had a lot of tension and I loved the atmosphere and messy character relationships, though the book wasn't quite as shocking as I'd hoped. Still, it's a fast and readable thriller- perfect for snowy days!
---
There you have it, friends!
One of my best reading months ever to wrap up the wild year that was 2020.
Have you read any of these titles? If not, I hope you've at least found one to add to your own TBR!
Tell me one of your favorite December 2020 reads in the comments!