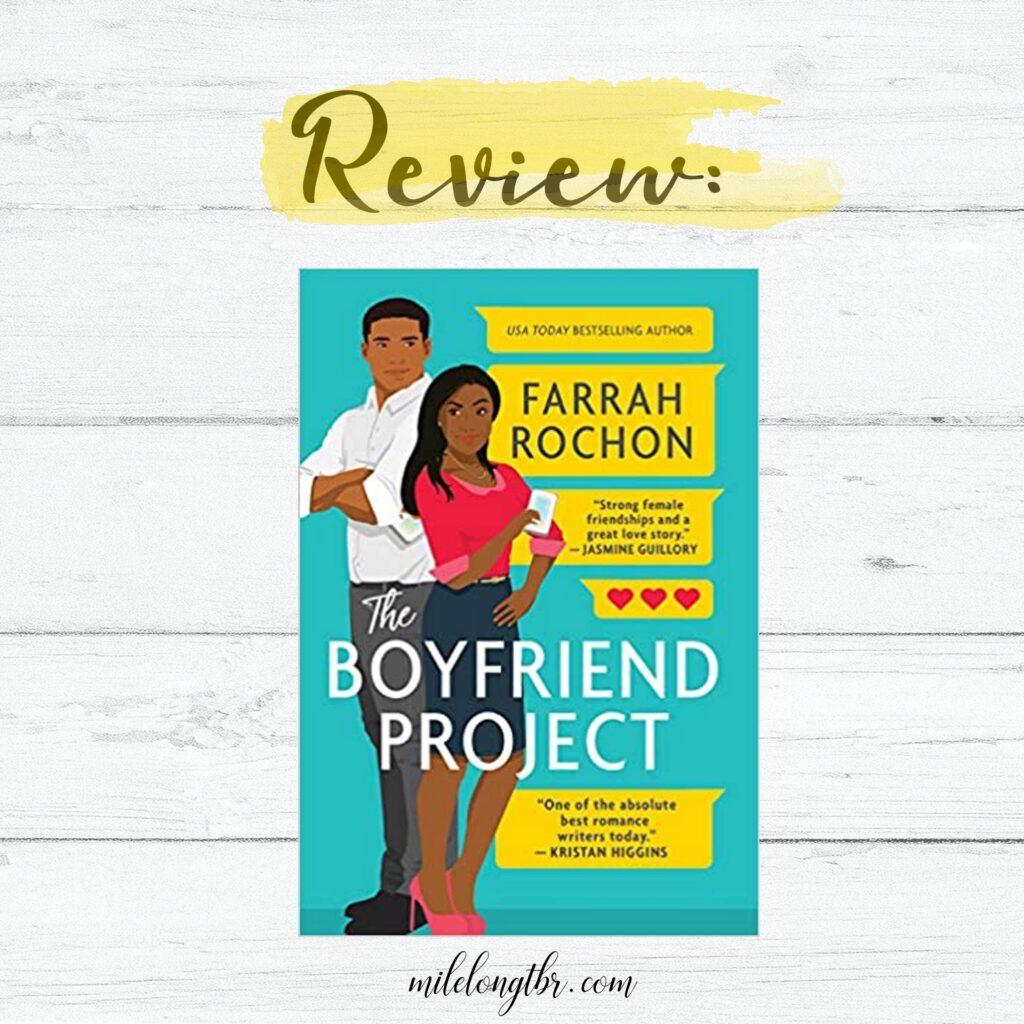 What would you do if the man you're dating & the TWO other women he's dating all meet at a restaurant? 
That's how Farrah Rochon's The Boyfriend Project, which was published today, begins. The rest of the book is just as much fun to read. I adored the characters and seeing the relationship between them unfold between them more than I have with any other romance novel this year. (Beating Beach Read and a couple of Christina Lauren books.) Keep reading this full review to see why The Boyfriend Project is an important book to read right now, and why it's shaping up to be one of my favorite romances of the year.
Synopsis:
After Samiah accidentally discovers on Twitter that a woman is on a date with the man she's been going out with, she rushes to the restaurant to confront him. When she and the third girl he's seeing show up to crash the couple's dinner plans, the three women instantly form a united front against the man who's been deceiving them. They leave together, determined not to let him spoil their night.
Unfortunately, a bystander catches the scene on video. Before Samiah returns to work at her high-profile tech job on Monday it's gone viral. Everyone has seen her in one of her worst moments.
Brought together by the experience, the women become fast friends. They're true squad goals as they encourage each other to put themselves first and focus on their personal goals instead of finding a man to meet societal expectations. 
So, they commit to meeting for dinner and drinks weekly and to giving up dating while they work on their respective projects.
Samiah wants to focus on finally developing the app she's had on her mind for years.
London, a successful doctor with not much of a personal life wants to find a hobby she's passionate about.
And Taylor wants to get her career as a personal trainer on track.
Samiah is ready to commit to herself and finally making her dream a reality and getting the app finished,. Then the new guy in her office threatens to distract her from her mission.
Daniel is sexy, smart, and seems to care more about Samiah's well-being after the incident and the fallout from the video than the coworkers she's worked with for years.
The more time they spend time together, the more she likes him… but isn't this the time she's supposed to be focusing on herself and how she doesn't need a man?
Daniel has his own reasons for why he should not get involved with Samiah, He's hiding a number of secrets… including who he really is and what he's doing working at Trendsetters.
---
Analysis:
The first thing that makes this book so endearing is its characters. Farrah Rochon really gave us some great insight and even the characters with smaller roles are multidimensional and well-personified.
Samiah's character in particular is strong, ambitious, kind, and completely believable. I love her level of self-awareness and honesty with herself and others. She is a Black woman working in the male-dominated tech industry, and there is a lot of timely social commentary about how hard she's had to work to make it to where she is in her career.
And Samiah isn't only looking out for herself. She also talks about how important it is to exceed expectations in the office to help pave the way for other women of color in the industry.
This priovides insight into discrimination in the workplace and the systematic racism that too often goes unnoticed by those who aren't subject to it. Additionally, there is discussion that no matter how successful a women is in her career, society still puts pressure on her to find a man.
Rochan manages to incorporate all these important social themes while still keeping the tone of the book fun and exciting.
Another thing in this book that stands out about The Boyfriend Project is female friendship in the book. It warmed my heart to see these women come together and build each other up. I love seeing books that show women supporting and uplifting each other and this girl group was absolute squad goals. The other two women in the group have stories just as interesting as Samiah's.
This book provides a lot of insight into what's going on in the character's heads. While I loved much of what this exposed, I feel that on Daniel's part, this was a bit overdone. I do understand why Rochon had to include this element. Because of Daniel's deception, we readers need to believe that he had good intentions and feels bad about betraying Samiah. Unfortunately, at a point it seemed like he was harping on himself. I feel that Rochon could have made this point without being so repetitive.
The steamy bits of this book are HOT! There was some real passion, and definitely more explicit than some romance novels out there. I did notice a few phrases that were repetitive here too. Still, overall very sexy and the chemistry between Daniel and Samiah is strong and believable.
At times the pacing of the story in The Boyfriend Project seemed a bit off, and I had to reveiw the previous pages to see if I'd missed something because the previous scene ended abruptly.
Still, the book worked overall and I love the way the elements of the novel come together for a smart, sexy, and fun read.
---
Takeaway:
If this review of The Boyfriend Project tells you anything, it's that you should go order a copy right now!
I rated this book four stars, with only a few of the above things keeping me from giving it a full five stars. Still, it's an enjoyable and smart read and discusses a number of relevant social issues.
It's also worth noting that this book will be the first book in a series. It looks like we'll get to continue the journey with these characters as Taylor and London realize their own goals- and maybe find love as well. Hopefully there will be lots of appearances by Samiah and Daniel in the upcoming books! Check out Farrah Rochon's website to sign up for the newsletter to keep you up to date with new releases.
Go purchase a copy for yourself from your favorite Black-owned bookstore.
Many thanks to @readforeverpub @netgalley for the Advance Copy!
Content Warning:
Explicit sexual content, discusses gender inequality and racial discrimination in the workplace.