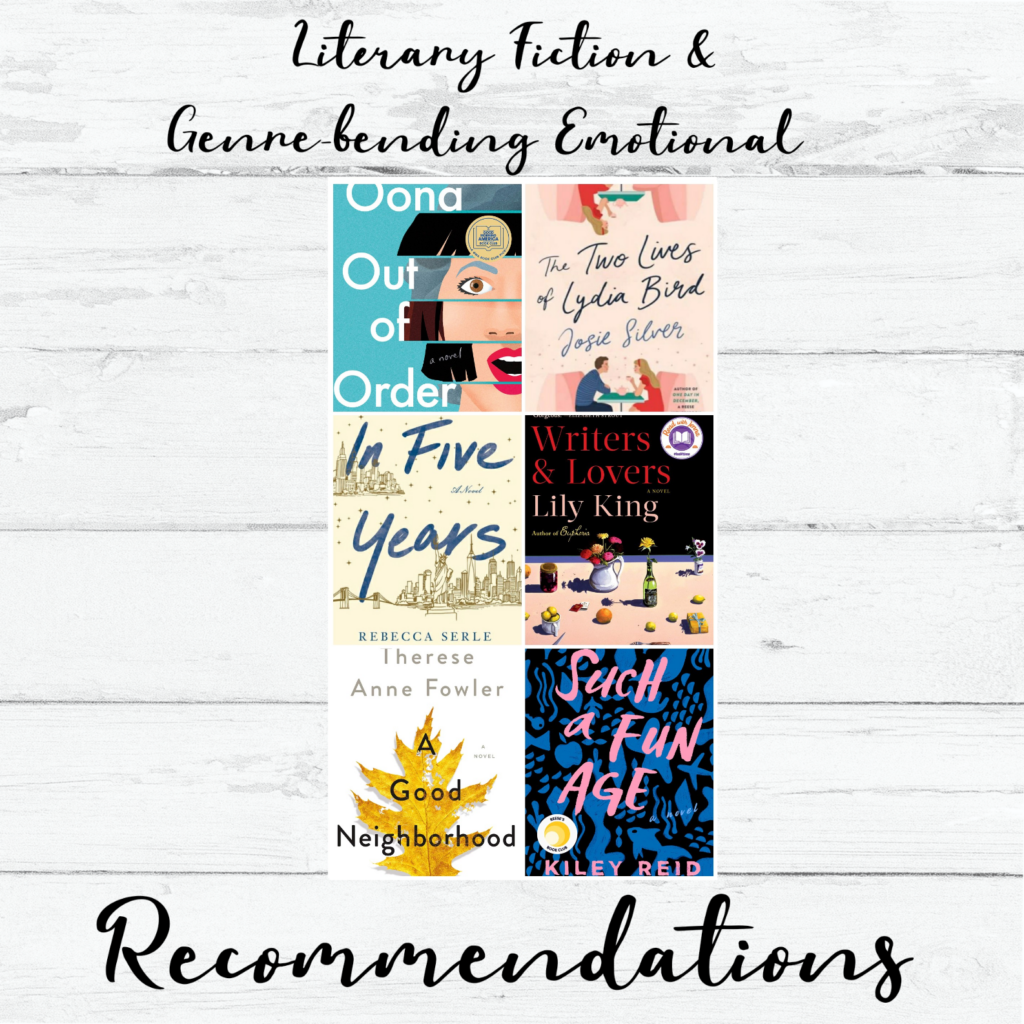 This list of titles is the best books of 2020 I've read that stand out in the genres of literary fiction and genre-bending emotional fiction, plus one from each category that I'm looking forward to so much that they've made their way to my TBR shortlist. 
I've been loving these two categories lately because they're so immersive and really give the reader an opportunity to escape reality and be in someone else's life for a while. If you're looking for a book to get lost in, make you think, and make you feel any of these titles would be the perfect choice. These may not be light reads, but they'll definitely be worthwhile ones.
Best Books in Literary Fiction 
These books all feature important themes, stunning writing, and well-developed characters. 
---
The writing in March's Read With Jenna book is stunning, some of the richest prose I've had the pleasure of reading lately. The plot is slow moving, but nuanced and none the less a compelling read.
The nuanced characters and exploration of Casey's effort to live a creative life, overcome her grief, and choose a path in life will give readers cause for contemplation. Ninteys era Boston is brought life and becomes a character of its own thanks to King's evocative writing. 
As an added bonus, the book is peppered with countless literary references, which is always a treat for bibliophiles. 
---
This Reese's Book Club pick is a modern tale that provides commentary on race, class, prejudice, and privilege. The story is compelling and fresh, with humor to bring an air of levity to the serious themes. You'll find yourself cheering for Imira to stand up to her boss and stand up for herself in the aftermath of the viral video where a stranger makes false accusations based on the color of her skin and presence in an affluent neighborhood.
This book is one you'll want to talk about. And, if the story and conversations this book has started aren't impressive enough, this is Reid's debut novel. 
---
A Good Neighborhood has received countless accolades for being a powerfully  provocative story, discussing sexual abuse, race, privilge, and environmental issues. Count on Fowler's lyrical writing and rich characterization to balance out the difficult issues that arise in this story of injustice and forbidden love.
With all the amazing things I've read about this book, I'm glad I added it to my Book of the Month box because it's going right to the top of my TBR list.
Best Books in Genre-bending Emotional Fiction 
Ok, this may be a subgenre of my own creation. These books all combine and transcend genres to tell magical stories that pack an emotional punch. 
---
Growing up is hard enough, but try aging chronologically. 
Part magical realism, part coming-of-age story, Onna takes us on a unique adventure as she wakes up on her 19th birthday in the body and life of her 51-year-old self. She hardly has time enough to adjust to the changes in her body, let alone society during the 30 years she missed before it's time for another leap.
You'll love the pop culture references through the decades and the way Oona deals with the complications of living out of order. It's a fun book, but don't let that undermine the heavy emotions that arise as a complication of Oona knowing too much- or not enough – about her own life. 
---
Serle's latest delight, In Five Years, is lovely women's fiction with a touch of magical realism as Dannie wakes up to spend an hour five years in the future, much of it in bed with a man who is definitely not the one she just got engaged to.
That one magical hour is always in the back of her mind as her career advances and relationship stalls over the next four and a half years, until one day she meets the handsome stranger from her future. Or is it past?
Things unfold for Dannie in unexpected ways, and what could have been a simple romantic comedy turns into a much richer and emotional exploration of female friendships, fate, and love. 
Josie Silver's sophomore novel deals with love and grief as Lydia's long-time boyfriend Freddie is killed on her 27th birthday. This is just the beginning as a devastated Lydia is struggling to function let alone learn to move on from her loss. So, she eventually takes sleeping pills to cope with the long, lonely nights.
They do help her sleep, but also open up the door to a magical parallel universe; one where Freddie is alive. Although far from your typical romance novel, The Two Lives of Lydia Bird has received a lot of praise and has all the makings of a book that makes you cry and warms the heart at the same time. 
I'll be reading this one as soon as I get stocked up on tissues.
---
Well, there you have it!
Six of the best books I've read from 2020 that you're sure to love if you're looking for something thought-provoking, emotionally charged, and unique. Enjoy and be sure to comment your thoughts about any you've already read.