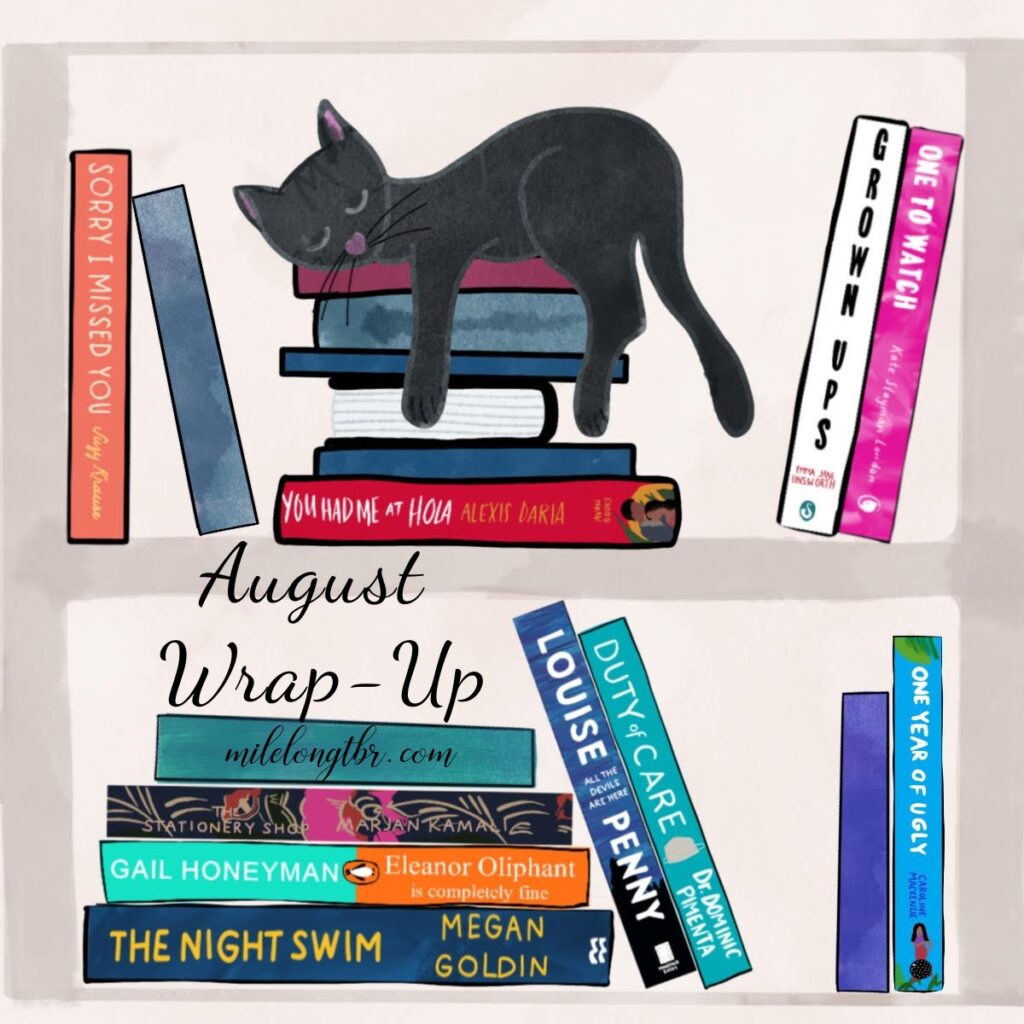 Hi, guys!
In August I managed to read 10 books. It's a respectable number, especially considering I fell into a bit of a slump and didn't open a book for over a week.
Here's how the titles I read stack up, sorted into books I loved, ones I really enjoyed, and a couple I don't recommend.
Books I Loved:
1. The Stationery Shop by Marjan Kamali
The Stationery Shop is a heartbreaking and emotional historical fiction novel that spans decades, generations, and continents. I can't recommend this book enough – and everyone I've talked to who has read it has it on their shortlist for top books of the year as well.
Check out my full review and discussion of the historical events from the book here.
---
2. The Night Swim by Megan Goldin
---
The Night Swim is officially my favorite thriller of 2020 so far!
Not only does the book provide two interesting cases to unravel and strong female characters, there is also some important social commentary on the treatment of victims of sexual crimes.
This book was made for audio, so I highly recommend listening to it on Libro.fm. You can go check out my full review of the book here.
---
3. One to Watch by Kate Stayman- London
One to Watch is said to be the perfect book for reality TV lovers and Bachelor fans, of which I am neither.
Still, I am so glad I read the book for so many reasons. Yes, it is fun and flirty. It's an enjoyable read. But it's so much more. This book is body-positive, sex-positive, and the heroine Bea is more focused on herself and career than in finding a man.
That's refreshing to see in the romance genre, although Bea's reason for this isn't quite what I expected. That allowed for some amazingly transformative character growth which elevated this book above everything else in the genre. One to Watch is definitely one to read- ASAP.
Many thanks to Dial Press Trade Paperback and NetGalley for the advance copy
---
4. Duty of Care by Dr. Dominic Pimenta
Duty of Care is a deeply personal account of Dr Dominic Pimenta, a doctor for the British NHS. Not only was he fighting the virus on the frontlines in intensive care units, he was also a vocal advocate for early lockdowns and taking it upon himself to reach the public through social media and start a charity to help fellow healthcare workers amid the COVID-19 crisis.
I listened to the audiobook format, which was engaging and well-paced. Pimenta does a fantastic job narrating and telling his story.
This book provides a lot of insight into the healthcare profession from a number of perspectives and I highly recommend it, especially as proceeds from the sale of Duty of Care are donated to the HEROES charity Pimenta founded to assist healthcare workers in need. Many thanks to the publisher and NetGalley for the ALC.
---
5. Eleanor Oliphant is Completely Fine by Gail Honeyman
If you've listening to me talk books for long, you'll know this is one of the top two books I never shut up about.
This was a reread to help boost me out of a reading slump and I'm pleased to say it did the trick.
I highly recommend going into this book without reading much about it- I picked it up only on Reese Witherspoon's recommendation a few years ago- but go check out my review for more information, including content warnings.
---
Books I Enjoyed:
6. You Had Me at Hola by Alexis Daria
You Had Me at Hola about Jasmine, a rising access and Ashton, a star actor who are the cast opposite each other as leads in a telenovela.
Though they keep getting off on the wrong foot, Ashton and Jasmine find that their chemistry and connection may not just be an act.
This book was so much fun to read and also had a number of important things to say about everything from representation and diversity in the workplace, consent, gender roles, and cultural norms.
While there were a lot of great thinking points Alexis Daria managed to keep the book fun and fast-paced, flashing between the actors' interaction and their characters' scenes.
Keep in mind that the steam in this book is VERY HIGH, so if that's not your thing you may find yourself skipping a few pages.
Many thanks to NetGalley and Harper Collins for the advance copy!
---
7. Sorry I Missed You by Suzy Krause
After loving Karuse's debut novel Valencia & Valentine I was eager to read more from her.
I can't say I loved this book quite as much as V&V, but it was a charming story filled with eccentric characters. I loved the exploration of unlikely friendships, second chances, and the elements of mystery thrown in.
The "ghost" story element is so clever and great food for thought. This is the perfect read for those looking for a light palate-cleansing book to add to the fall TBR.
---
8. All the Devils Are Here by Louise Penny
All the Devils Are Here by Louise Penny was an enjoyable listen. I did not immediately realize this was part of a series, but was able to follow along with the story and characters just fine.
I am, however looking forward to looking into Penny's earlier works in the Gamache series.
The writing was atmospheric and great, slowly building to a wild climax.
If you're familiar with this series, it's worth noting that this book takes places in Paris, which was very enjoyable for me, though I understand that is a departure from the rest of the series.
I really enjoyed this thriller and the way the narrator brought the story to life. Many thanks to Macmillan Audio and NetGalley for the advance copy.
Books I Don't Recommend:
---
9. Grown Ups by Emma Jane Unsworth
Grown Ups by Emma Jane Unsworth is a book that explores the toxic and consuming relationship we can have with social media and how that can impact our relationship with ourselves and those around us.
I really wanted to love this character-driven novel centers around Jenny, a 35-year old journalist who is, for lack of a better term, a hot mess. Nothing in her life is going right and most of it is of her own doing, though she lacks the self-awareness to see this.
I appreciate Grown Ups for what it attempted to do, but unfortunately, the execution didn't quite deliverer for me. This book doesn't seem ot fit very well in it's billed genre of women's fiction- to me, it reads more like a satire piece, though I'm not sure it satisfies there either. There were a number of parts that had me chuckling, but even with my dry sense of humor, I was more annoyed with the character than anything else.
Of course, my opinions don't mean this won't be an enjoyable book for you, though I've been seeing mainly lukewarm reviews for this book.
Many thanks to Gallery/Scout Press and NetGalley for the advance copy.
---
10. One Year of Ugly by Caroline Mackenzie
One Year of Ugly by Caroline Mackenzie was an interesting novel, but I'm not sure what it accomplished what it set out to do.
For a White Trinidadian to tell the story of Venezuelan refugees there needs to be a significant amount of research and care put into the writing.
While the premise was promising and there was some good humor, there were some parts handled less than sensitively that took away from the story and added to the problems.
You can read my thoughts on it here, as well as see some other Own Voice Latinx books I recommend.
Many thanks to Simon & Schuster, 37 Ink, and NetGalley for the opportubuty to read this book.
---
How was your reading month? Did you read any of the same books as me, or are any of these on your TBR for the coming months?