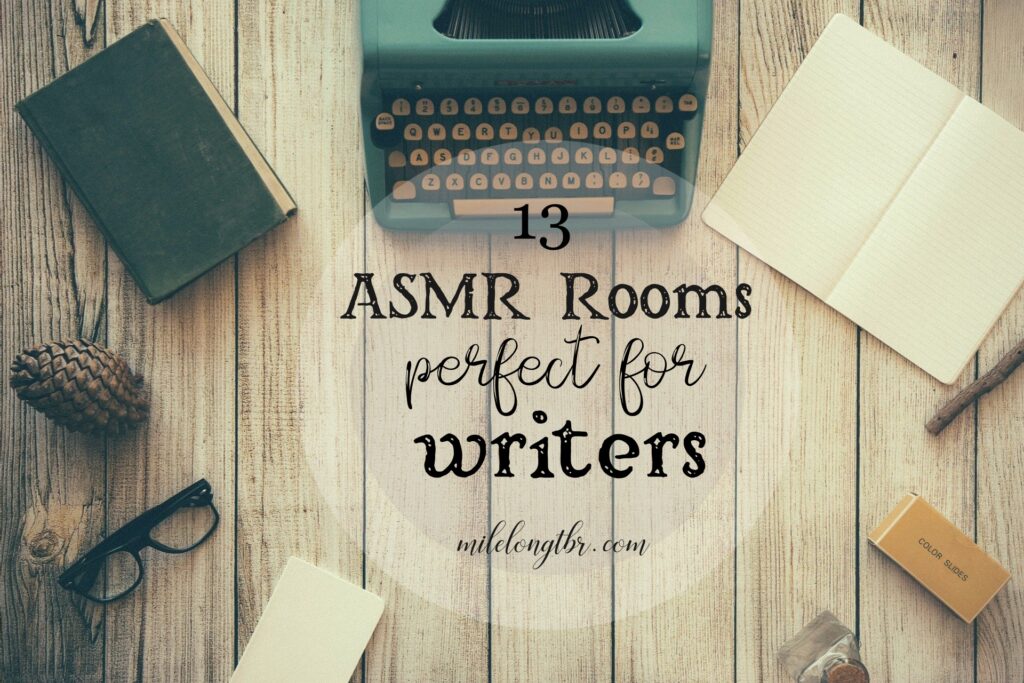 ASMR rooms have been one of my favorite additions to my reading life in 2020 and with National Novel Writing Month just around the corner, I wanted to put together a list of rooms with writers in mind.
With so many write-in events cancelled worldwide and people not feeling comfortable writing outside of the home, ASMR rooms may be the answer for those of you looking to create some ambiance and have consistent background noise.
For those of you unfamiliar with the term, ASMR is an acronym for Autonomous Sensory Meridian Response, which essentially means that the noises here are meant to soothe and trigger a brain response that leads to deep relaxation.
This is, of course, an overly simplified explanation, but you can read more about the science behind ASMR here. There are over 15 million ASMR videos on YouTube, with videos featuring everything from haircuts, book pages turning, and eating being done in a repetitive and soothing enough manner that people want to watch for this response.
Personally, I love ASMR rooms, which feature animated scenes and accompanying background noise to create whatever ambiance is desired. I've found this not only relaxing and enjoyable but that it helps improve my focus when reading and my productivity when writing. They're also great for studying and getting work done on the computer- any time you want a little white noise in the background.
Also, as a bonus, all of the rooms featured here are free from ads in the middle of the video to keep you focused.
Additionally, if you're looking for something a little more seasonally inspired, here are 10 ASMR rooms with autumn vibes that I'm loving this fall.
Whether your dream writing environment is a clean home office, a coffee shop, a library, or somewhere with a view, I have a list of great suggestions here. Happy writing, everyone!
---
1. Charles Dickens Writing Room
This is the perfect Victorian study- it's not hard to imagine Dickens sitting at the desk working on drafts of Little Dorrit or one of his other classics. This room features rain on the window panes, logs on the fire, and rustling of paper as if someone is reading and writing in the room.
2. Writer's Library from the 1930s
With all the books in this beautiful library it's hard to not want to sit down and write one of your own. This ASMR has cozy vintage vibes and features a crackling fire nearby and birdsong outside. There's also the sound of creativity in progress- writing, sketching, and turning pages.
3. Friday Cafe
If your dream writing environment is a busy café with jazz playing and lots of noise from nearby conversations, this is the room for you. This ASMR video features a number of different cafe scenes with consistent audio. There's even the sounds of coffee being made in the background- When the steam starts hissing you can almost smell it!
4. Desk In Front of a Rainy Window
For a more contemporary home office, this ASMR room is hard to beat. It earns bonus points for having one of my favorite A. A. Milne quotes on the wall and a cute animated tabby on the desk. The audio features the rain outside and some handwritten notes in this otherwise quiet work space.
5. Cozy Cabin Ambience
Getting to work on your next novel in a remote cabin in the woods sounds like a dream to most writers. It's scenic and away from distractions – what more can you ask for? Set up camp at your work station with this cozy ASMR room and have a virtual getaway while you write. There are typewriter sounds and a thunderstorm outside the windows to provide ambient noise.
6. Cozy Autumn Cafe
If you're looking for a quiet café with the vibe of an independent bookstore and colorful leaves falling outside, this is the perfect room for you. This ASMR room is so tranquil- there's no music, just distant chatter and faint birdsong from outside. Pull up a chair next to the sleeping kitty and get writing!
7. Luxury Train & Rain
If you find yourself missing travel then hop aboard this ASMR room set in a first class train car. You can hear the rain outside and the sounds of the moving train as you write and imaging you're off to a picturesque location. The inside of the cabin is stately, but the real beauty lies out the window. The train goes through forests, mountains, and a number of quaint little villages, each of them unique.
8. Easy Breezy Fall Study Ambience
This video features birds chirping, chimes, and beautiful falling leaves in the background. I especially love it for the inspirational note and picture of the cat on the desk. Our desks might not be this clean and organized, but with this video, it's not hard to imagine! I love this video for when I'm working on my computer.
9. Relaxing Morning Ambiance
If the sun streaming through the windows doesn't make you want to sit down and write a few chapters, I don't know what will. This ASMR room is so inviting. My kitchen doesn't get this beautiful light in the golden hours, but if it did I'd be here with a cup of tea every day. Listen to the soft sounds of fire and kitchen sounds. If you're finding it hard to write you may look up to see rose blooms- or pancakes fly across the room!
10. Outdoor Coffee Shop
Do you prefer writing outside? This gorgeous ASMR room takes you to the streets of a picturesque European village. There's birdsong and chatter from passersby, but overall this is a quiet room. The real magic is that night falls on this quiet town and then the sun rises again during the duration of the video.
11. Old Library
If you love the idea of being surrounded by books and listening to a storm outside, this is your ideal ASMR Room. The thunder and rain are distant, but soothing and the ambiance of this library is fantastic for those who want to write their next novel surrounded by inspiration. You can also hear the sounds of others working nearby.
12. Study Room
More office goals in this ASMR video that features a fire crackling in the distance and the sounds of someone writing on paper. The streams of light and antique book collection really set this room apart.
13. Writer's Room
This fun writer's room is a little on the spooky side- but it's fun and realistic. There's lots of typing on the keyboard, some handwritten notes being written down and wind howling outside.
---
Which ASMR room are you trying out first?
I hope you'll give one of these ASMR rooms a chance next time you're sitting down to wrote and see what it's like to work in one of these inviting environments. Your word count will thank you for it.